These aubergines stuffed with quinoa and bulgur with chermoula carry a yogurt sauce that you will be surprised, and although the name is rare and you will see that you have all the ingredients at home to be able to make them. Quine knows me knows that I love Eggplant and that I usually prepare memudo in different ways.
The chermoula is a mixture of spices of African origin, super easy to prepare and that gives a rich rich flavor. Chermoula is a mixture of spices used in the cuisine of North Africa, often to season the fish but that my love for seasoning salads and vegetables and serve them with yogurt.
Prepares the mixture and rub eggplants before cooking them in the oven and they are then covered with what you like. I prepare them with quinoa and bulgur because I love the mix but you can do it with qiuinoa, with lentils, chickpeas or simply with a few tomatoes. It all depends on what you feel most like.
What I do say is that the flavor of the chermoula is spectacular. The first time I tried it was in London a few years ago in a restaurant of Yotam Ottolenghi, an israeli chef based in the United Kingdom which I love because he knows very well mix the oriental flavours with European textures.
I have many of your books and I love the flavors as a mixture. The version that I do is spicy, because you know that I like but gettin the same intensity of flavor without the chile, so you should not go to take back only because it spicy won't you. I hope you enjoy it.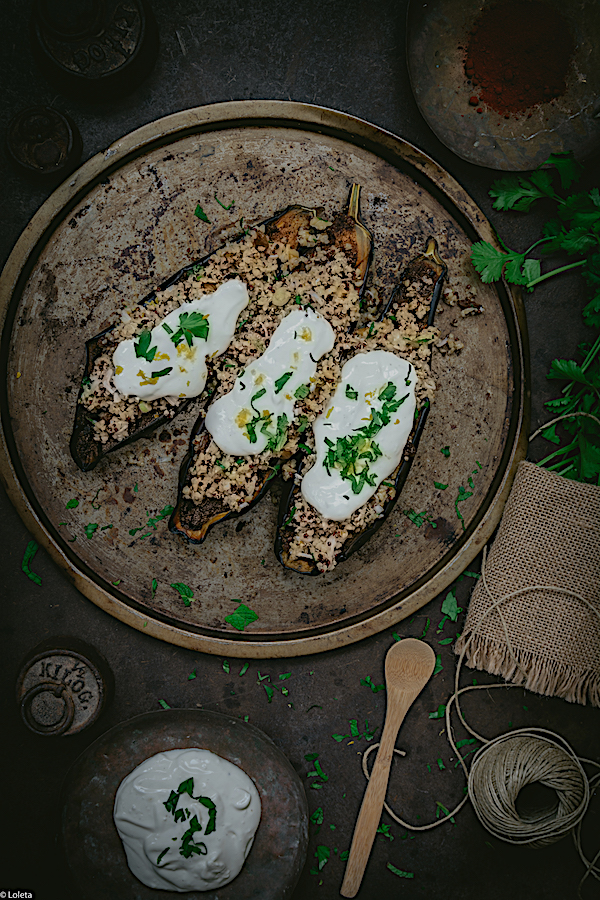 Ingredients:
For the chermolula:
2 cloves of garlic, crushed or minced very
1 tablespoon ground cumin
1 teaspoon ground coriander
1/2 teaspoon ground chile
1 teaspoon sweet paprika
zest of one lemon
160 ml extra virgin olive oil
salt
For eggplants
2 aubergines
1 cup of quinoa mixed with bulgur
a bit of fresh cilantro
a bit of mint
2 tablespoons raisins
1 very chopped fresh chives
Turkey Breast
feta cheese
a handful of chopped walnuts
For the yogurt sauce
2 Greek yogurts
1 tablespoon of lemon juice
a little extra virgin olive oil
Directions
Preheat the oven to 180 degrees.
To prepare the chermoula, mix in a small bowl (crushed or very chopped) garlic, cumin, coriander, chile (depending on how the spicy you like), paprika, lemon preserves, two-thirds of the olive oil and 1/2 teaspoon salt.
Cut eggplants in half lengthwise. Now we will make cuts in oblique as forming rhombuses. The chermoula penetration, the cuts must be deep but not come to cut the skin. This will help q sauce well permeating the Eggplant's flavor.
With the help of a spoon and opening a little eggplant, cover with mixture (in my stories you have how-to featured videos). Bake for 30 minutes until eggplants are tender.
Meanwhile put the quinoa and bulgur mixture in a saucepan and add twice the volume of water: 1 cup of quinoa and bulgur mix and 2 cups water. Leave to cook. After 5 minutes cover and let stand.
In a large bowl we will put the raisins, the well-chopped herbs (leaving a little for the final decoration), the nuts, the chopped fresh scallion, the shredded chicken and the feta cheese and nuts and mix well. Add the quinoa and burgur and mix so that everything is well integrated. Reserve.
In a bowl mix the yogurt with the lemon juice, some salt and black pepper.
When the eggplants are done, remove them from the oven and put them on our tray or dish. Cover with the quinoa and bulgur salad and with a spoon, cover with yogurt. To finish we sprinkle with a little chopped herbs and a drizzle of extra virgin olive oil.
Tips and Tricks
You can fill them with lentils or chickpeas or couscous
Difficulty: easy
Preparation time 40 minutes
Servings: 4