These chocolate scones have been with us for many years now. The first sones I prepared in my life were the English classics that carry nothing but basic ingredients and that open in half a leg take them with clotted cream and homemade jam.
But I soon discovered at home the pleasure of adding to the scones more ingredients like raspberries, orange, lemon, pumpkin and of course chocolate!
Scones are a cupcake halfway between cookies and buns. I like to take them at breakfast or snack although there are those who take the chocolate scones around at any time.
They are so easy to prepare that you can prepare the chocolate scones quietly with the little ones of the house and they are also kept very well in the freezer un baked and also baked.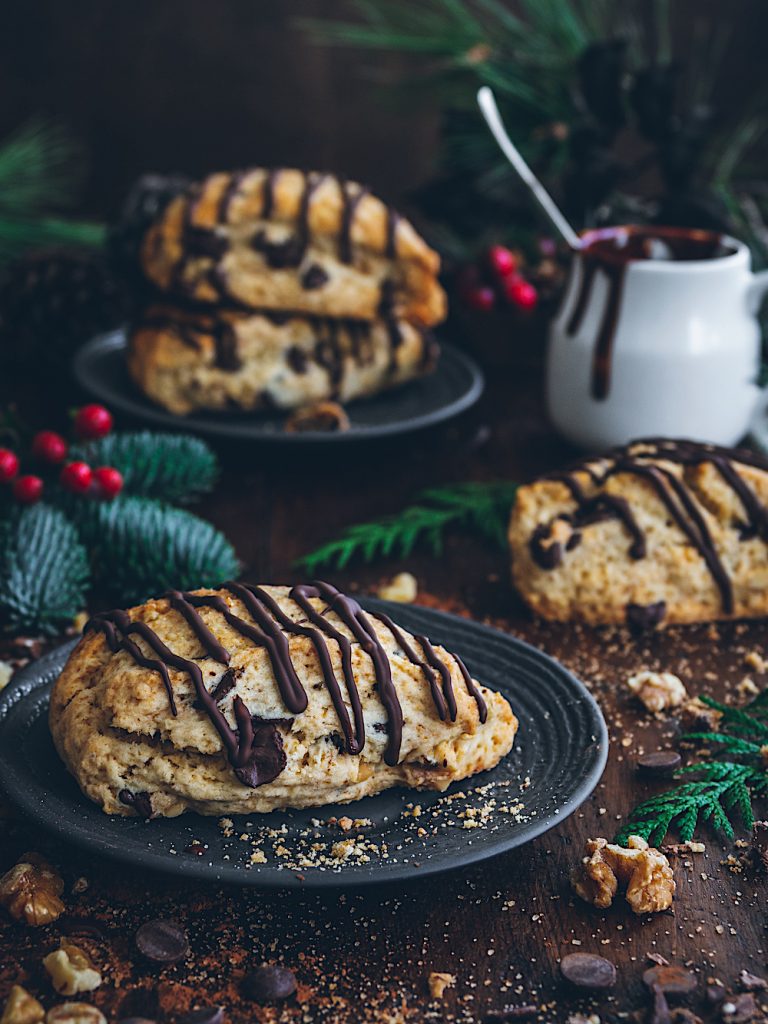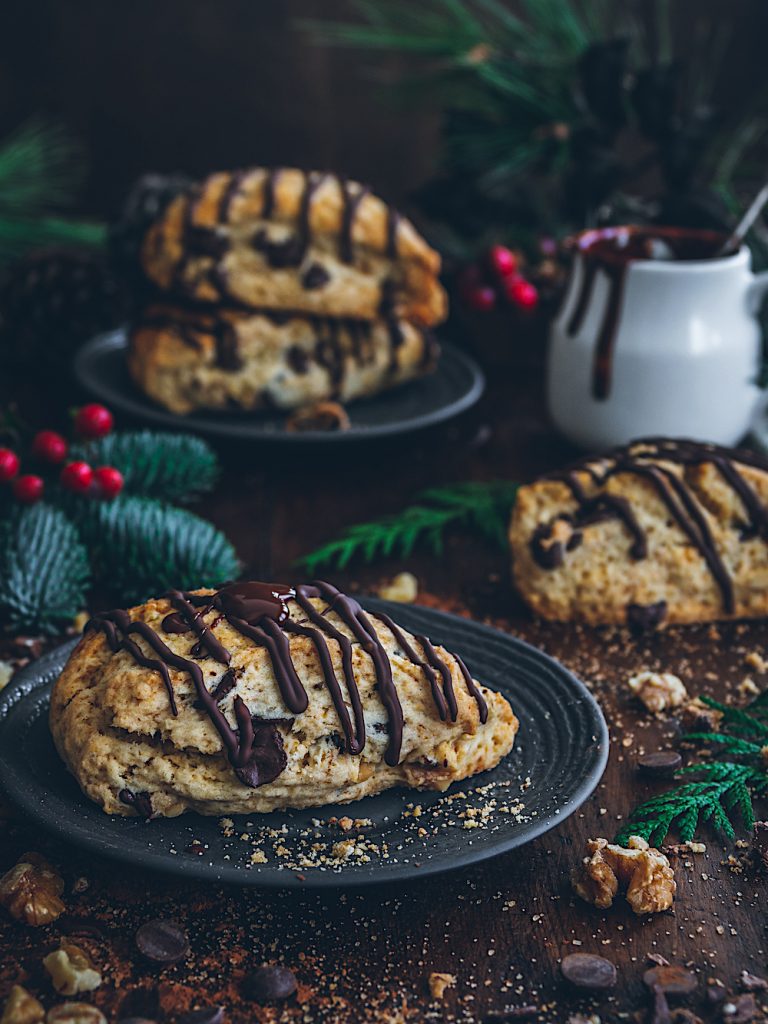 Ingredients
450g wheat flour
6 teaspoons yeast powder
2 teaspoons salt
150 g brown sugar
225g very cold butter
150 ml of semi-denated grout at room temperature (I use semi-unsnated because it's the one we take at home, but you can use the one you prefer)
1 egg
1 teaspoon pure vanilla extract

110g dark chocolate (you can use beans or chopped chocolate) and you can use your favorite chocolate

50g chopped walnuts (optional – it also looks great with shredded coconut or with the zest of an orange)
Directions
We started making our chocolate scones. Using a knife or grater, chop the butter. If we have a fat vegetable-like grater it's much easier and faster but it doesn't serve us a fine cheese grater. Still, with a knife in small pieces, it looks great. We booked in the fridge.
In a large bowl, mix the salt and flour and with the help of a strainer, sift the powdered yeast on top. We move well to make it well mixed.
Now we add the cut butter and work with the tip of the fingers or with two knives until we have a texture similar to fat sand and in which we do not see large pieces of butter.
Add the sugar and mix well.
Now put the beaten egg with vanilla and milk (leaving a reserved tablespoon of this mixture), and mix until smooth. Add the chocolate and walnuts and remix.
We knead in the bowl all the ingredients of the chocolate scones until no ingredients loose. If it has been too wet we can add a little more flour and if it has become too hard and the dough does not stick in the form of a ball, we can add a tablespoon of milk until it is glued. We'll knead by bending the dough over itself as if it were any bread dough.
We pass the dough to the slightly floured work surface, and form a mass disc about 3-4 cm thick.
With the help of a knife we cut the disc in half, and every piece we get cuts it back in half. We'll have four equal pieces. Now each piece we cut it in half again to get 8 chocolate scones in total.
With the tablespoon of egg and milk we had reserved, and with the help of a cooking brush, we painted the chocolate scones.
Bake at 180 degrees with hot air for about 15 minutes until they start to brown at the edges
Tips and Tricks
You can freeze before or after baking by putting them in an airtight bag or container so they don't get taste or smell
Replace chocolate with fruit if you prefer: blueberries or raspberries
Preparation time: 30 minutes
Difficulty: easy
Rations: 8 scones