This onion soup has become the one of choice at home to have between dinners and copious meals of these parties.
The onion soup is served with a few slices of bread that you can toast in the roaster, in the oven or even fry to make them crisp. Then they are topped with abundant grated cheese that gives it a fantastic creaminess and a unique flavor.
It is an onion soup that I make all year round but that in these cold days I do especially well because it is easy to prepare, very light and everyone likes it!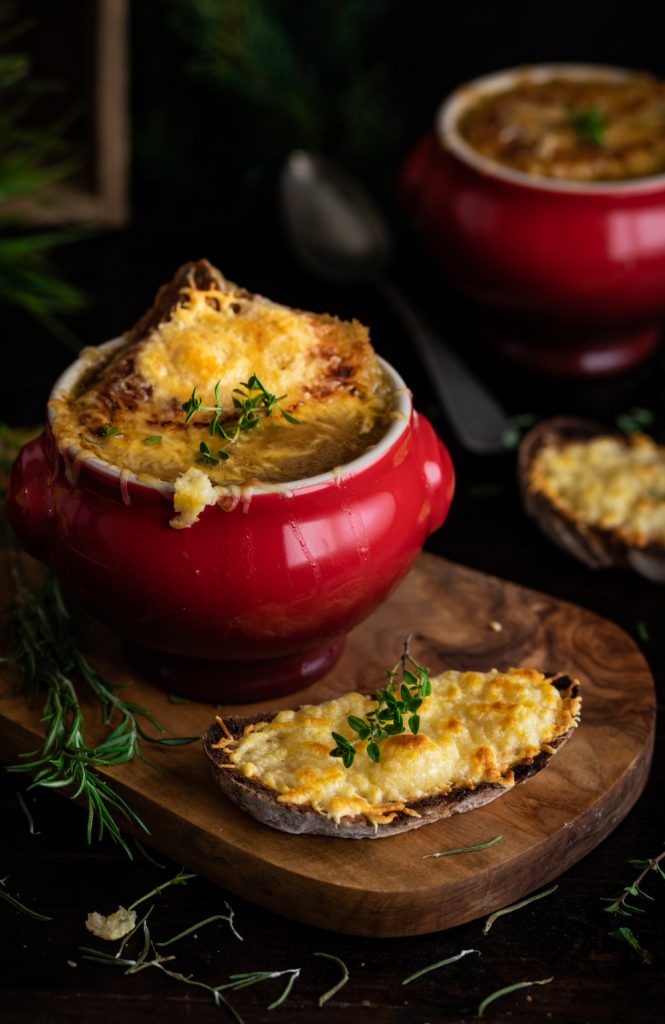 Ingredients
4 sweet onions
70g salted butter
1 l vegetable or chicken broth
1 tablespoon of flour
250ml white wine or chamomile
Emmental cheese
4 slices of bread
Salt
Black pepper
Directions
Cut all the onions finely in julienne.
In a saucepan melt the butter and when melted, add the onions in julienne. Sauté and sauté over a gentle heat for about 20 minutes until the onion is golden.
Add the flour and move non-stop let it brown for a couple more minutes.
Add the wine and broth and move well so that there are no lumps left (the best is with a spoon of stick). We rectify salt and let move for about 10 more minutes.
In the meantime, we roast the bread and spread it with butter.
When the soup is ready, we serve it in bowls. We put on top of a slice of bread and cover everything with abundant shredded emmental cheese
Place in the oven and bake for a few minutes until the cheese is gratine. Serve immediately
Tips and Tricks
You can finely chop the onion to make the pieces smaller
You can prepare it in advance and gratin it just when you're going to take it
Preparation time: 30 minutes in crock pot and 50 minutes in normal saucepan
Difficulty: easy
Servings: 4