These pumpkin and walnut scones I prepare since I became fond of using pumpkin in sweet recipes also many years ago.
Scones are cupcakes halfway between cookies and rolls. The first time I prepared them I made the traditional English recipe, but soon I discovered the pleasure of the most modern scones to which are added an endless number of ingredients
For this recipe I have used the California nuts Because they are my favorites and because you find them very easily in all supermarkets
They are so easy to prepare that you can prepare them quietly with the kids of the house and they also keep very well in the freezer without baking and also baked, so I make them, freeze them and the day I feel like having breakfast or snack I take them out of the freezer and that's it!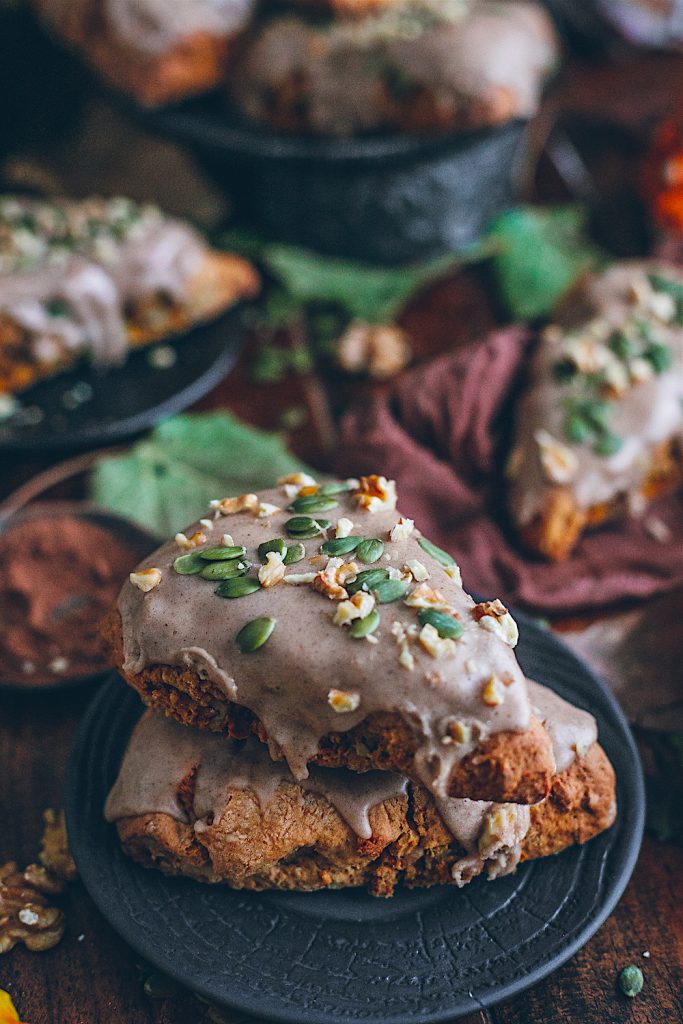 Ingredients
275 g flour
115 g Moreno sugar
2 teaspoons of baking powder
1 teaspoon baking soda
1 teaspoon of cinnamon powder
1/2 teaspoon ground ginger
1/2 teaspoon nutmeg
1/4 teaspoon salt
1/4 teaspoon baking soda
170 g cold butter
2 teaspoons pure vanilla extract
63 ml buttermilk
1 large egg
140 g pumpkin puree
165 ml liquid cream
60 g California walnuts
For glaze
280 g icing sugar
1/2 teaspoon salt
1 tablespoon cinnamon
2 tablespoons melted butter
1 teaspoon vanilla
2 tablespoons maple syrup
2 and a half tablespoons milk
40 g pumpkin seeds
40 g roasted walnuts
Directions
Mix the yeast, sugar, nutmeg, cinnamon, salt, ginger and baking soda with the flour in a large bowl.
Cut the butter into small pieces and add it by mixing with your fingertips. Add the chopped walnuts.
Mix the egg, pumpkin, vanilla extract and buttermilk (if you do not have it at home, mix 1 tablespoon of white vinegar to 63 ml of milk and let stand for 5 minutes). Add the chopped walnuts.
Put the dough on a lightly floured surface, and with the help of your hands, form a disc 3 cm thick.
Cut it into 8 wedges and put them in the freezer for half an hour.
Meanwhile put a baking paper on a baking sheet and preheat the oven to 200 degrees.
Put the wedges on the baking sheet and bake for 25-30 minutes.
While cooling, prepare the frosting. To do this in a bowl mix all the ingredients of the frosting and with the help of rods, mix gently until all the ingredients are well integrated.
Once the scones are cold, cover them with the frosting.