These pumpkin and cinnamon crepes are my breakfast or lunch favorite in cold season, especially on holidays, when I can leave them prepared the day before and simply warm pumpkin pancakes the next morning. almost always prepare them Christmas morning and fill up the House of a rich smell of cinnamon cloves and nutmeg.
The pumpkin's role in these super because in addition to give them a darker color that I love, it gives them a taste and a rich texture. I am delighted to accompany them chocolate because the flavors marry nicely. In addition, if we do not get sugar to the dough, we can take them with a savory filling.
At Christmas usually make pumpkin pancakes, so that in the morning we can take them first with cheese cream and salmon or ham and cheese, then with cream and chocolate. What I do is a mountain of pancakes I prepare the day before. I keep them in the fridge well covered with plastic wrap. AS the next morning the bag from the fridge and give them heat in the microwave. I prepare dishes with different ingredients: cheese, ham, salmon, cream cheese, salami, rocket leaves, fruit fresh, whipped cream and melted chocolate. What is a crepes bar, and each prepares them as you want to. A feast without a doubt that every year I try to repeat with as many others as you can imagine. The breakfast #chezloleta at these parties are total madness.
Tomorrow morning we're at home all together with my parents and therefore I have prepared these delicious pumpkin pancakes so we can begin the day enjoying the company and its rich flavor. Let's get them!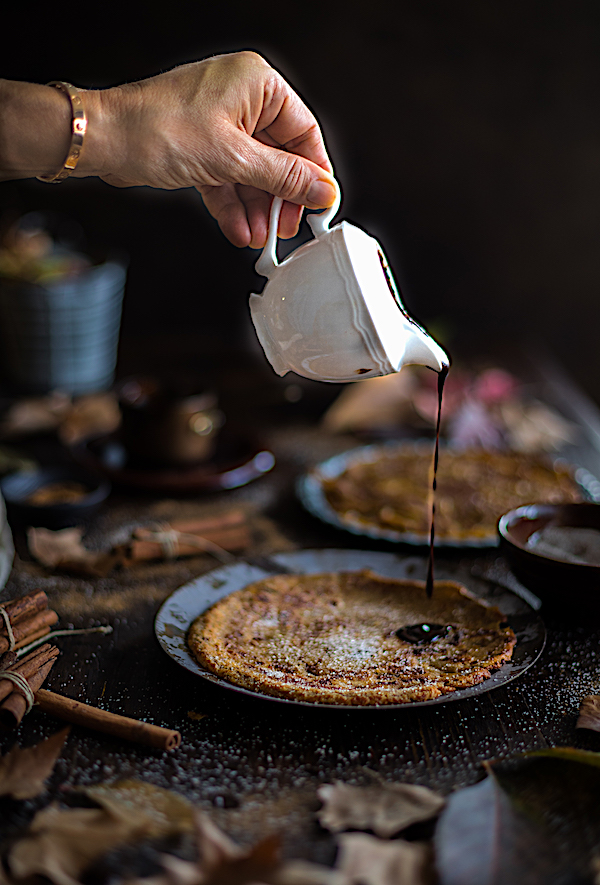 Ingredients
2 eggs
60 g of melted butter
60 g of roasted pumpkin
1/2 teaspoon cinnamon
1/4 teaspoon of ground cloves
1/4 teaspoon ground nutmeg
1/4 teaspoon ground ginger
2 tablespoons and half of sugar
125 ml milk
2 tablespoons water
a pinch of salt
1/2 teaspoon pure vanilla extract
8 tablespoons of flour
For the filling
2 tablespoons melted butter
3 tablespoons sugar
1 teaspoon of ground cinnamon
150 g dark chocolate
Directions
Put all the ingredients except the butter in bowl of electric mixer or food processor. Beat well until all are integrated. Add melted butter and mix again.
We can do it by hand putting all the ingredients except the flour in a bowl. mix with rods and when we do not have lumps gradually add the flour, taking care to mix well and there are no lumps before adding more flour.
When all the ingredients are well integrated, put in a glass or bowl and let stand for a few minutes.
Heat a frying pan anti adherent. Brush with butter with a kitchen brush. Pour a ladle of the mass of pancakes. Let set for a few minutes until small bubbles appear on the surface. This will indicate that the mass is cooked on that side and that we can turn it over. Leave to cook on that side a minute. Remove the crepe from the Pan and set aside in a dish.
While heating in the microwave the chocolate with 1 tablespoon of maple syrup. It must be done at intervals of 30 seconds being careful not burning.
Serve pancakes with sugar co cinnamon and chocolate sauce hot.
Tips and Tricks
When we have the pancake in the Pan, sprinkle with sugar cinnamon faith. The heat will melt it and will be a very rich sauce
Serve with a little whipped cream
Preparation time: 10 minutes
Difficulty: easy
Servings: 5 crepes