This marinated salmon with beet recipe I saw in one of the last books that I bought, Afternoon tea at home. The author is Will Torrent, one of the leading experts in pastry and chocolate in the United Kingdom who has worked with Heston Blumenthal, Jamie Oliver and James Martin.
I loved the book and as well as other recipes that I have on my list, I saw a marinated salmon with beets that I fell in love because of its color. And is that salmon takes a Fuchsia color on the outside while keeping the orange on the inside.
And as I am, as my father says, very vehement, nothing more close the book I went to the market to buy a salmon filet.
Its taste is unique and beautiful color. is super easy to prepare and very simple ingredients also.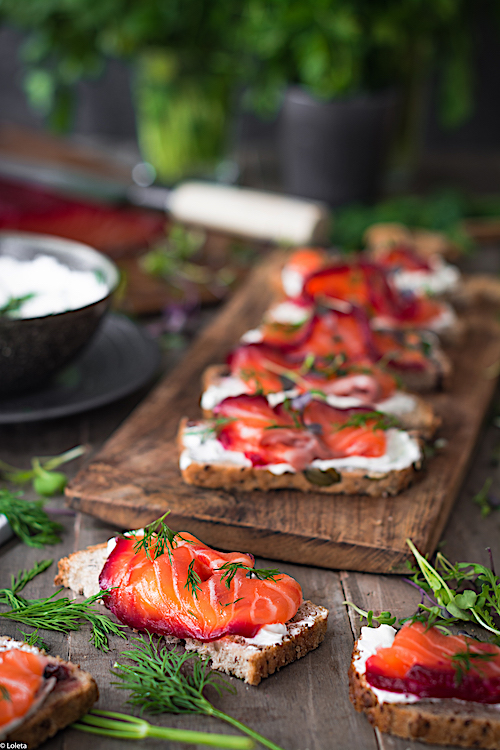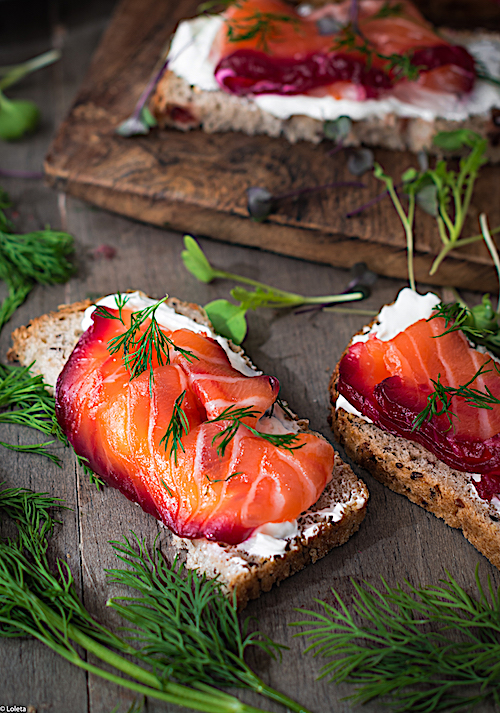 Ingredients
1 1.5 kg of fresh Norwegian salmon fillet
1 bunch of fresh dill
3 chopped fresh beets
zest of 1 lemon
zest of 2 oranges
1 tablespoon coriander seeds
1 / teaspoon freshly ground black pepper
4 tablespoons full of rock salt
3 tablespoons full of brown sugar
To serve
cream cheese
fresh dill
fresh sprouts
Directions
Ask the fishmonger to remove us scales and spines. The salmon must be perfectly clean but with the skin.
On a tray, place several layers of plastic wrap and reserve.
In a large bowl mix all ingredients. I rallé the beetroot in a crusher along with all the ingredients even though you must be careful not to form a puree.
Place a layer of sugar beet on the plastic wrap and place the salmon on top. Cover the salmon with the remaining mixture and wrap in plastic wrap package can be tightly closed.
Placed on a table and on her something with weight to press it well. Put in the fridge at least 10 hours (ideal for 24-48 hours) to macerate.
This past time, remove from the fridge, and carefully remove the plastic wrap. Rinse under water and dry with a paper towel.
Cut into thin slices and serve on rye bread spread with cream cheese and a few sprigs of dill.
Tips and Tricks
It can be frozen once marinated, cut or uncut
Serve with sour cream and salad
Preparation time: 20 minutes more rest time
Difficulty: easy
Servings: 10