Today I bring you a cacio e pepe risotto that is one of my favorites. This recipe is very typical of La Lazio, the region of Rome and it is usual to take it with spaghetti and prepare it with Roman pecorino, one of the cheeses par excellence of that area.
However, it is a very difficult cheese to find in Spain depending on where you are, so today I bring you my version prepared with grana padano, a much more affordable cheese that you can buy in almost all supermarkets and that is also very rich.
It has no difficulty and also in the broth we will take advantage of the bark of the cheese, the one that we always throw away but that the Italians take advantage of in various ways, even fried in the form of chips. Today we will make it to prepare a broth that makes a difference in this risotto. Buon appetito!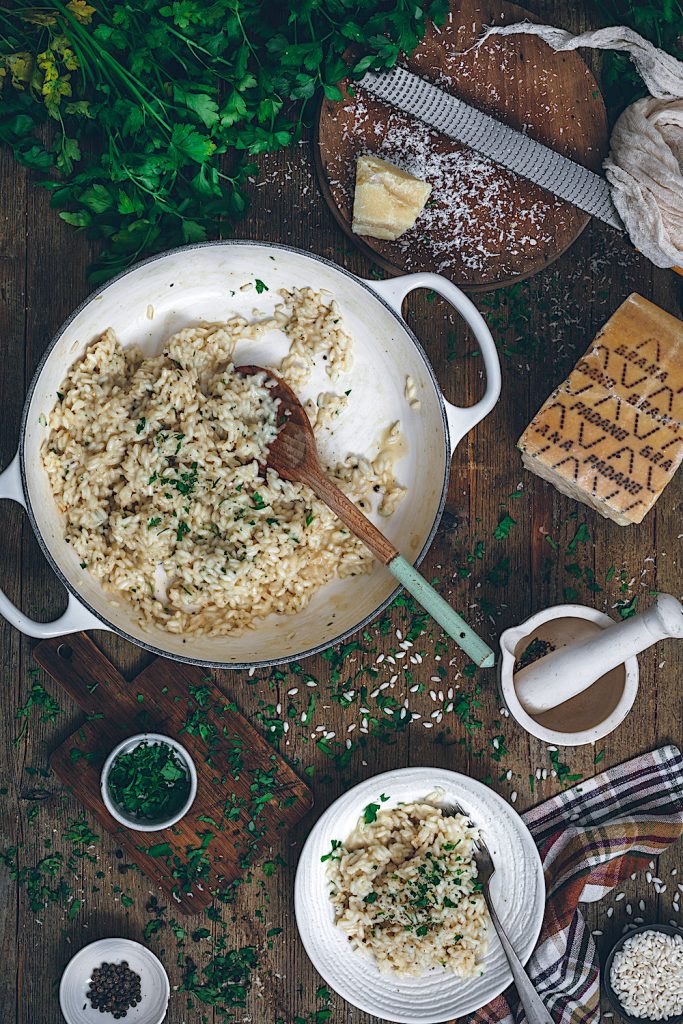 Ingredients
For broth:
Water 1.5 l
Coarse salt to taste
Black pepper to taste
1 shallot
the bark of a piece of padano or parmesan or Roman pecorino
For rice or risotto
320g carnaroli or arborium rice
1 tablespoon extra virgin olive oil (AOVE)
1 tablespoon black peppercorns
100 g of grana padano cheese (or grated Roman parmesan or pecorino which is actually used but which is harder to find)
45g butter
2 garlic cloves minced
2 shallots or tender onions
a little fresh parsley to decorate
Directions
To prepare the broth, cut the crust of a piece of grana padano cheese, or Parmesan or Roman pecorino. We peeled the shallot in half. Put the shallot and crust of the cheese in a saucepan or saucepan and add the water, pepper and salt. Let simmer for 30-40 minutes. After this time we strained the broth and booked.
In the meantime, let's prepare the risotto ingredients. We put the peppercorns in mortar and crush gly (we want bits of black pepper left)
We call the grana padano and book.
In a saucepan or satin, put the rice and roast it slightly dry with nothing else. We pulled out of the saucepan and booked. Put a tablespoon of oil and add the garlic and shallots very chopped. Let's saute over medium low heat until soft. Add the rice and take a few turns.
We start to gradually add the hot broth letting the rice suck the broth until the rice is cooked.
Add the butter, grated cheese and almost all the pepper, res reservating a little for the final decoration.
We serve with a little pepper and some grana padano lacquers on top.
Tips and Tricks
This sauce is also amazing with pasta
Difficulty: easy
Preparation time: 20 minutes
Servings: 3