Today I bring you an easy recipe for Brussels Sprouts with Shitake mushrooms and Parmesan. We go back to the routine and not are you but I have to take care of myself to waist. holidays are wonderful because at least in my case, they entail a total relaxation. Who want a piece of nougat, then give that a glass of wine, then also. But now we have to go back to the routine and to debug a little body after much slack.
Last year I spent a Christmas regular. I had a virus that attacked my liver and as a result it had to follow a very strict diet for more than three months. Tell us, that I did the operation bikini in winter and even though it was hard, discovered the direct and Visual effects that eating well have on our body. So besides losing enough weight (which is not the important thing), my skin took a different color, hair brighter, stronger nails, I slept better and I was full of energy.
So this year have proposed them in house uy challenge, and it is to make this month a diet similar to that it had last year. That does not mean that one day we can not take a piece of cake or a sandwich, but that in our day we are going to increase vegetables and decreasing animal fat, leaving the role of proteins to chicken and white fish. And this easy recipe for Brussels sprouts has been one of those that have already repeated a couple of times.
For now my son who is more the grouser carries it well. Warm vegetables without fat, many vegetables and fresh fish rich rich. These Brussels sprouts have been all a discovery for him. First because I didn't want to even try them and cost me a hard negotiation get to try them, and second because proved them when it realized that "aren't so bad". We are going that he ate them without complaint.
They are not cooked, just baked so they are crisp but not hard. The touch olive oil gives it a good extra (I like always use OMED because I love its flavor) and a bit of cheese to give a little taste. I think that the secret to eat them is. the texture is not the same as the cooked, so I hope you give them a chance. Let me know.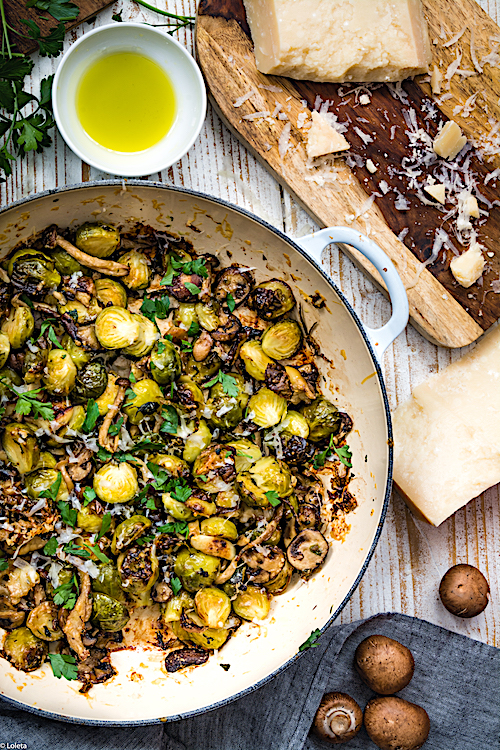 Ingredients
400 g of Brussels sprouts
100 g portobello mushrooms
100 g of shitake mushrooms
3 cloves garlic minced
3 tablespoons extra virgin olive oil OMED Arbequina variety
a pinch of salt
freshly ground black pepper
50 g grated Parmesan cheese
1 bunch of fresh parsley
Directions
Preheat the oven to 200 degrees.
Wash and cut the Brussels sprouts in half. Peel and finely chop the garlic.
Wash and chop the mushrooms and sliced Shitake mushrooms and reserve.
In a large bowl put sprouts cut with the chopped garlic and mix well. Add the olive oil and sprinkle with freshly ground pepper and a little salt. Place on an oven safe pan or a tray of oven and let bake for about 20 minutes
Remove from the oven and add mushrooms and mushrooms. Move well and return to oven 5 minutes more until, that sprouts are no longer hard, but they are not too soft.
Serve with a little Parmesan grated and sprinkled on top and a little chopped fresh parsley.
Tips and Tricks
You can add an egg poached up to have a more complete dish
Difficulty: easy
Preparation time: 30 minutes
Servings: 3