For many years now I enjoy doing Shortbread, and these Almond prepared them every Christmas. I start them soon because I like to give the first.
And it is precisely when I've given polvorones some friends when they asked me please to publish the recipe before the bridge of the Immaculate, so that everyone who wants to make them at home.
It is a recipe for almond Shortbread some easy polvorones that you will love baking for your family, and be warned, once you try them, you will never buy them again because the luxury of having some almond shortbread Homemade is a great pleasure
They can be prepared in one bowl. I use my from Tala Cooking bowl, that besides being beautiful, has a perfect size to work on it with your hands. My absolute favorite.
You can aromatize them if you want or even give them some flavor with a natural extractjust as I do with these mantecadosbut I like them with almonds (I add chopped almonds to crust) so this, my favorite Almond Shortbread recipe , is what I bring you today.
A list of simple ingredients not difficult to find and a really simple preparationwill do the rest and in just an hour you will have the whole house smelling of Almond Shortbreads, and neighbors stopping on the staircase to smell the unmistakable scent of home cooking. I hope you enjoy them and remember: do not eat them all at once!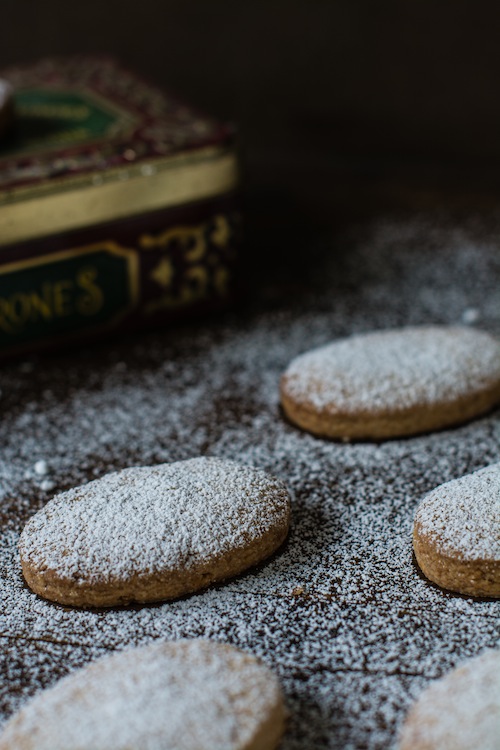 Ingredients:
500 g flour. I used Santa Rita cake flour that I love for these kind of recipes for € 0.35
125 g of ground almonds 2.00 €
300 g of Iberian lard at room temperature 1,38 €
300 g of icing sugar and a little more for dusting (you can buy or make at home in a grinder or a food processor) € 0.22
50 g chopped almonds € 0.60
1/2 teaspoon ground cinnamon € 0.04
1/2 teaspoon vanilla powder € 0.04
A pinch of salt € 0.01
Total € 4.64 for 36 polvorones, ie € 0.13 per unit Are not you believe it? Yes, they are so cheap
Both the bowl and the spatula of wood used in the production are logging cooking
Directions
1. The first thing to do is brown the flour. We can do it in a tray was oven or in a pan being careful not to burn us because we would have to discard it and start again.
2. In the oven to 165 degrees will do well distributed and put the flour on a square sheet. Bake for about 10-15 minutes making sure that we do not burn. If we do it in a pan we go looking after moving to be browned on all sides. When browned remove and let cool completely.
3. Now it's time for ground almonds or almond flour. The roast in the same way and when it begins to brown remove from the heat and reserve until cool completely.
4. in a bowl we sift the flour so that it spreads well and add the butter at room temperature, icing sugar, salt, cinnamon, chopped almonds and vanilla. Mix well until almost US sticking in the hands.
5. Preheat oven to 190 degrees (200 degrees heat up and down).
6. To make the shortbread, extend the dough with a rolling pin and cut with an oval mold (we can also cut round at my house but the shortbread round and oval cut polvorones)
7. When you are trained, put them in a baking tray with baking paper. Bake for about 15 minutes until edges are slightly toasted.
8. Carefully (currently they are still hot, polvorones are very fragile and they can break) were spent to a wire rack and let cool completely. Sprinkle with icing sugar.
9. silk wrap in papelilos we can decorate and keep them in a can
Tips and Tricks
Give your shortbread craftsmen who want the holidays. It is a lovely touch and made for you
Add some toasted sesame sesame or above
Difficulty: easy
Preparation time: 40 minutes
Servings: 36 polvorones