This Chinese style which is also orange, lemon chicken tastes like sweet and sour chicken of Chinese but much healthier restaurant and is one of the new recipes I did when suddenly I planted in my kitchen with many kilos of citrus.
It is that recently gave me a box of oranges and lemons green of the Orange and lemon trees that one of my sisters-in-law has in Alhaurin de la Torre, in the Guadalhorce Valley, one of the areas and I decided to make many new recipes and the usual. Then came this beautiful Staub cocotte and just to see it I knew I had to do something with my citrus. And I remembered this rich lemon chicken Chinese style which like so much at home.
But that Furthermore, Staub wants to give you one like this. This year I'm like bullets with much work and many changes and although the blog the age of 6 in April Let's celebrate them starting now. Because who says that we can not celebrate before or after? and never too late if Bliss is good don't you think? So if you want to have a cocotte nice ta and precious like this valued at €199, you only have to:
1 Follow @Zwilling_es on Instagram
2. Follow @loletabyloleta on Instagram
3 continue to Loleta Cooking on youtube (you don't have youtube channel, just follow me)
Leave me a comment on the photo of this recipe on my Instagram profile here – this link takes you directly. tagging a friend. You can participate as many times as you want
the winner will be announced on Monday in the same photo
open to all residents in Spain if you reside outside can participate but will have to take charge of the costs of transportation and taxes if there are
You have until Monday at 12:01 to participate. And you can take it home for free good luck!
And now we return to our lemon chicken Chinese style that is perfect for those days that you want to cook the chicken in a simple but different and rich. Uncomplicated and just 20 minutes you could have this rich Chinese-style lemon chicken to suck fingers. Would you like? You will not regret.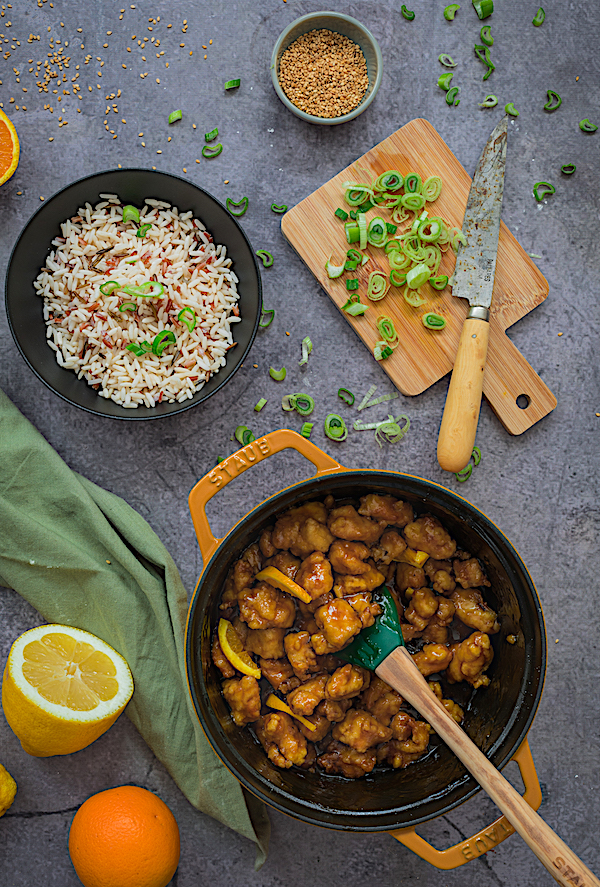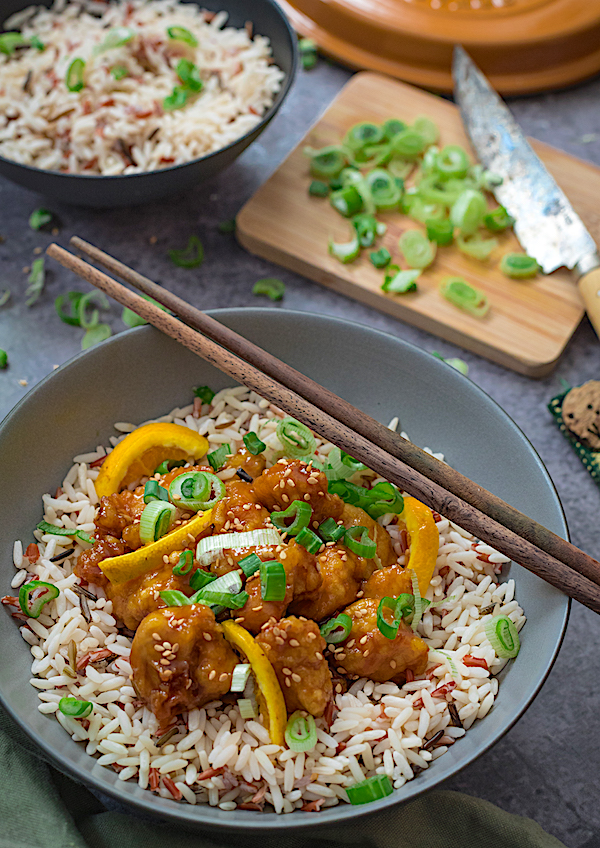 Ingredients
1 kg of chicken breast
2 eggs
2 tablespoons of soy sauce
60 ml white wine
6 tablespoons cornstarch
2 tablespoons vegetable oil
oil for frying
For the lemon and orange sauce
250 ml of chicken stock
85 ml soy sauce
the juice of three lemons
the juice of an orange
2 teaspoons chopped garlic
6 tablespoons sugar
3 tablespoons honey
half a teaspoon of salt
4 tablespoons of water + 3 tablespoons cornstarch
the stem of two fresh onions
1 tablespoon of sesame seeds
long boiled rice
Directions
Chop chicken into pieces of about 2 cm and put it in a large bowl. I put it in my gorgeous Staub cocotte.
Beat eggs, soybean, 3 tablespoons of cornstarch and wine in a bowl and add to the chicken. Move well. Cover and marinate for 30 minutes.
Put chicken pieces drained (pulling the marinade), in a frozen or large zip bag. Add the remaining cornstarch to the bag, close and shake to completely cover chicken. Prepare a large plate and cover with paper towel. Book
Heat the oil in a pan and when it is ready, to about 180 degrees, fry the chicken pieces until browned (about 3-4 minutes). You will see that the cornstarch makes they extra crispy.
Put the pieces already fried on the plate with a paper towel.
In the cocotte put broth, sauce of soy, lemon juice, garlic, sugar, honey and salt and beat to mix well. Bring to a boil over medium-high heat. In a small bowl mix the water) and the cornstarch until dissolved. Add to the boiling sauce and reduce heat to medium-low. Cook without stopping moving until it thickens.
Add the chicken to the casserole and move with the sauce until it is very hot. Serve our lemon chicken Chinese style on a little long boiled rice and a fresh green onions cut finely. Decorate with a few thin slices of orange or lemon
Tips and Tricks
If it is not a time of spring onions, you can use the Green stalk of fresh onion
If you can't wait 30 minutes, leaving only chicken 10 minutes marinate although it will not be as juicy will also be very rich
Difficulty: easy
Preparation time: 30 minutes
Racion:6