This hake in sauce that I bring you today comes with an oriental touch that you will love.
This type of curry is very typical of Bengal, an area to the North of the India and which is formed by Bangladesh (independent country) and Bengal (State of the India) and I've decided to bring it to you in the form of bengali sauce. These curries are based mostly on fish and that's what I bring you a delicious curry fish today, since it is an area where crops and livestock is difficult to maintain.
I wanted to bring you a different and original fish as usual to surprise you, and I deliberately went to the Asian cooking that I like so much. I should have brought you this hake in sauce before, but the recording of the new program "Impress with Loleta" took 100% of me last week!
It's a hake in sauce with, two main steps: a first in which we marinate the fish, and another in which we cook it. In this case, however, the Marinating time is limited to what it takes to prepare the ingredients of the recipe, so we can cook it with no time in advance needed. Recipe quick and always different. It is also a very light and healthy recipe that helps us to continue with our summer goal diet!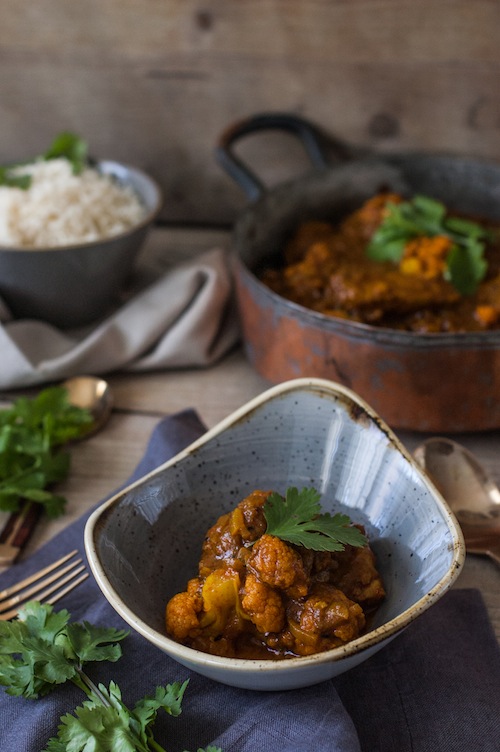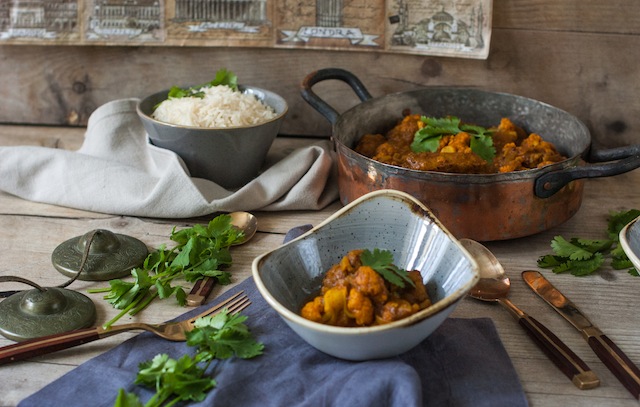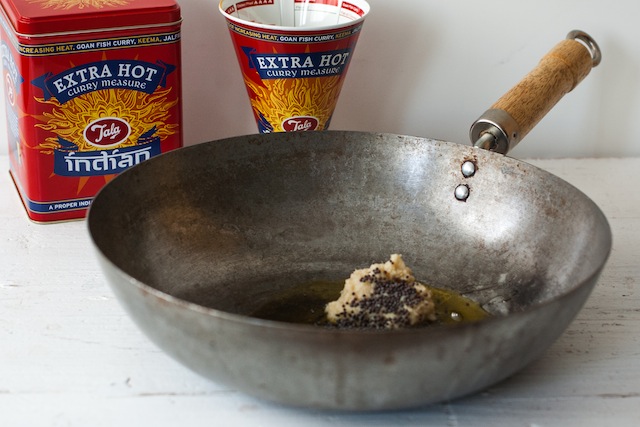 Ingredients
For the marinade
2 teaspoons coriander ground €0.10
½ teaspoon of turmeric (if you cannot find it you can use turmeric, that is the equivalent in Europe, but the turmeric is more aromatic, so it is best to try to buy it at an Asian grocery store) €0.05
¼ teaspoon of salt €0.01
1 tablespoon of lemon juice €0.03
1/2 teaspoon red chile powder €0,05
For the fish
450 g (1 lb) of hake or cod, cut into chunks €3,50
6 tablespoons mustard oil €0.35
12 flowers of cauliflower (half cauliflower chopped into small florets) €0.60
½ teaspoon Nigella seeds (in Asian stores) €0.10
2 green peppers sliced €0,20
1 teaspoon crushed garlic or garlic paste €0.15
2 teaspoons grated ginger or ginger paste €0.20
2 medium onions chopped €0,50
2 teaspoons mustard grains €0.18
1 teaspoon and a half of coriander ground €0,15
1 teaspoon and a half of turmeric (if you cannot find it you can use turmeric, that is the equivalent in Europe, but the turmeric is more aromatic, so it is best to try to buy it at an Asian grocery store) €0.10
2 teaspoons red chili powder €0,20
4-5 tablespoons of tomato concentrate €0.35
3 €0.11 fish bouillon cubes
2 tablespoons coriander leaves chopped €0.25
Total €7.63, i.e., 1.53 for each of the five portions coming out with these quantities
Curry kit of from Tala Cooking
Directions
1. Mix all the ingredients for the marinade in a large bowl. Add fish fish and mix so that the marinade covers the fish. Let stand while you prepare the rest of the recipe. As long as we cook Asian food first thing is have all ingredients ready to incorporate them without waiting during cooking.
2. In a large skillet (preferably in a wok), over medium-high heat, add two tablespoons of mustard oil. Fry the fish gently for 1 to 2 minutes, to seal them well. Remove and drain on kitchen paper.
3. In the same pan, and with the same oil, saute the cauliflower for 2 minutes, until browned on all sides. Remove and place in a bowl. Cover with plastic wrap and allow to sweat.
4. Lower the heat to medium and add the remaining mustard oil. When it is very hot, add the Nigella seeds, chilli, garlic and ginger. Sauté for 2 minutes, until they are slightly brown. Then increase the heat to high and add the onions. Fry for 2 minutes.
5. Lower again the heat to medium and add 120 ml of water. Mix well and cover. Cook the onions for 10-12 minutes until they are soft and toasted, stirring occasionally. Add the mustard and ground coriander, the turmeric and chili powder. Move well and cover for 1 minute.
6. Then add the tomato puree and mix well.
7. Add then the 250 ml of water. Dissolve the fish stock in the sauce and cook over high heat for a couple of minutes. Then add the cauliflower and cook over low heat, uncovered, for about 15 minutes.
8.Finally add the fish and cook it for 1 minute until it has warmed up. Salt to taste and add the chopped cilantro. Serve and enjoy!
Tips and Tricks
Add some shrimp to complete this dish
Serve with basmati rice
Difficulty: easy
Preparation time: 25 minutes
Seating: 5
Churchill dishes