This chicken with vegetable Cous Cous is one of those meals that I love but which costs me work eating out unless the restaurant is high since you normally prepare it with lamb, and the lamb is one of my passions. The true couscous is light and tasty and I love with chicken or vegetables, so I prepare at home and all we sucked the fingers.
In the South it is fairly easy to find the ras-el-hanout, spice more characteristic of this chicken with vegetable Cous Cous, which thus tends to be on the menu every couple of months without fail. It is a Moroccan dish that they prepared with great care and that together with the Pastillarepresent my favourite dishes of the Moroccan cuisine, desserts and sweets and that with the sweet that I am.
But it is that also the Cous Cous today helped me brand new this precious tajine. I wanted a crazy to have one and Revol you have this which, in addition to beautiful, has the advantage of being of porcelain, which makes it infinitely lighter than iron I'd seen before. Porcelain distributes heat very quickly, so it is convenient to work at medium temperature, i.e. that we save up energy. A pasote and beautiful. I took it directly from my kitchen table and it always looks so pretty.
Today I leave you my version of chicken with vegetable Cous Cous. I always do twice the amount because love to my mother and my sister and not to be on the black list, whenever I do, I have to bring a little bit of this Cous Cous with vegetables chicken... and I delighted! I hope you enjoy it as much as to them.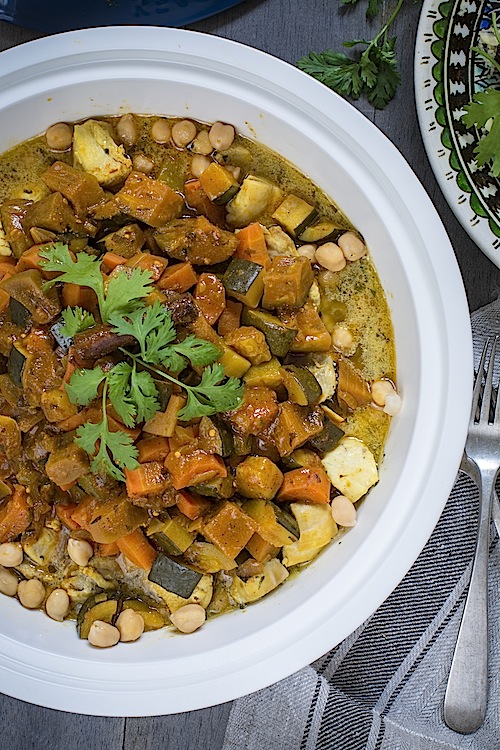 Ingredients
Ingredients for chicken:
2 thighs and antemuslos boneless and Skinless and a clean breast of chicken and coarsely €1,90
1 onion €0.25
1/2 tsp saffron €0.15
1/2 teaspoon salt €0.01
1/2 teaspoon pepper €0.03
1/2 teaspoon ginger grated €0.04
a mixture of cilantro and finely chopped parsley 2 tablespoons €0.30
3 tablespoons olive oil €0.65
1 bowl of chickpeas (I used half pot cooked chickpeas) €0.40
Ingredients for vegetables
1 teaspoon Ras el Hanout €0,20
1 teaspoon of turmeric €0.05
1 teaspoon salt fat €0.02
1 tsp saffron €0.30
1 stick of cinnamon €0,20
1 leaf of laurel 0l, €05
1 teaspoon ginger grated €0.08
1 teaspoon black pepper ground €0.06
1 tablespoon parsley chopped €0.15
1 tablespoon cilantro chopped €0.15
4 carrots €0.45
1 Eggplant €0.25
2 Zucchini €0.65
2 tomatoes 0.80
1 onion €0.25
3 tablespoons extra virgin olive oil €0.16
3 tablespoons sunflower or corn oil €0.07
For the couscous
2 cups couscous €0.65
3 cups water €0.05
1/2 teaspoon salt €0.03
1 handful of raisins €0.30
1 handful of almonds €0,20
Total €8.58 that between the 8 you rations that they come out with these quantities, are €1.07 per serving. Cheap and delicious will transport you to a medina.
Directions
1. first prepare the chicken with its ingredients. Chop the onion. In a saucepan put the chopped onion, the chopped chicken, herbs and spices and oil. Mix well and put to the fire for a few minutes until the onion is soft. Cover chicken with water and cook for 30 minutes over low heat.
2. now spans to prepare vegetables. Grate the tomatoes. Cut into squares, Zucchini and eggplant. I cut wheels as of 2 or 3 cm in thickness, and each wheel into 9 pieces, so all the pieces are the same and cooked at the same time.
3. in another saucepan put the onion with oils and herbs and spices. Mix well. Put a 1000W heat until the onion is Sauté and is soft.
4. add grated tomatoes and sauté e over medium heat for 5 minutes.
5. then add the rest of the vegetables and mix well. Cover with a little water and cook over low heat until the vegetables have softened. After 30 minutes, add the chickpeas to the chicken and Cook 10 minutes more. Book.
6. in a bowl, put 2 bowls of pre-cooked cous-cous. In a saucepan, bring to a boil 2 bowls and a half of water. When the water breaks to boil, pour over the bowl with cous-cous and cover for five minutes. At 5 minutes, uncover and add extra virgin olive oil. Add a handful of raisins. Stir well so that the oil helps to separate the grains of couscous. Add raisins and almonds and toss well. Book.
7. on a large dish put chicken. It placed over cooked vegetables forming a pyramid. Finally drizzle with a little of the broth from the vegetables and serve with the couscous.
Tips and Tricks
Try to make a vegetarian cous-cous meatless. It is also delicious
Difficulty: easy
Preparation time: 1 hour
Servings: 6