"Hope is like the Sun, it throws all the shadows behind us"
Madrid is revolutionized gastronomically speaking, to the 'green' current flooding local markets and urban gardens, joins the opening of which is called to be, the new great gastronomic space of the capital: Platea. In the words of the magician in the kitchen, David Muñoz (Diverxo) ".. .is a spectacular concept, nothing in Europe equal..." It is going on, the new move gastronomic Madrid"
It was literally three days that had opened up the new place from the city. Located in Goya street number 7, in the Plaza de Colón, Platea ocupa un antiguo cine Carlos III que ha conservado sus plateas y sus 2 plantas, quiere convertirse en lugar de referencia gastronómica de Madrid, y potencial tiene. Dispone de una sucursal de una de las fruterías más destacadas de la ciudad, Gold gourmet, así como de la segunda tienda de la exquisita pastelería Mama Framboise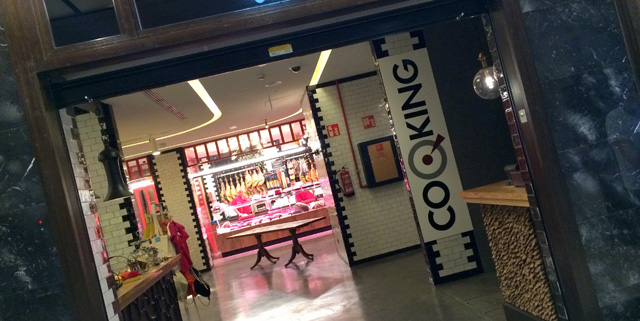 ¿Pero cómo funciona Platea? Sencillo, un sistema de consumición tipo mercado (muy al uso ahora) en el que eliges barra y producto, y te lo llevas tu propia mesa en los espacios habilitados para ello. En la mayor parte de los locales tiene su oferta diseñada de la mano de chefs de reconocido prestigio, como son: Paco Roncero, Pepe Solla and Mark Moranthey have named you Synergyoffering in the trough, Castizo and bites little pieces of your kitchen, while in Entrecortes and spoon, offering Spanish cuisine of spoon, such as rice, soups, and other hot dishes.
The offer "informal" culinary joins him paired through appetizers, wines, cocktails and combined, which once again puts them Diego Cabrera (known for its spaces of) cocktail Le Cabrera) and also Luca Anastasio, so there is no one reason for not enjoying a drink while click bossanova Dj on the stage.
On the other hand, if you want to raise the bar and enjoy the cuisine of Ramón Freixado not hesitate to come to your restaurant Upwhere it lands with all its magnificent know-how in the kitchen, and where you can enjoy a panoramic enviable of stalls.
I loved the site. It is elegant, chic and offers a concept more modern, multifunctional and night than they were until now markets the city gourmet. The great discovery was however a small place located in the plant basement and called Blockhousea space of Italian cuisine where you take some delicious focaccia and delicious pizzas and especially about supplì (promise to upload now mismito recipe).
I had to go without dessert because Mama Framboise closes at 21:30, so if you finish dinner later (which is normal), you run out of something sweet Finally... Sin capital. I discussed it with one of the hostesses and confirmed me they planned to fix this imbalance in a few days, so safe that it is already solved and you can enjoy the cakes of this magnificent Madrid pastry.
He had long wanted to make a mini madeleines. I had always wanted to verify if really bake out those beautiful slots or if they would be smooth. So taking advantage of Lékué had given me this mold, I decided to do them. That Yes, not with any recipe. Inverted and sweet milk sugar. Do you want to try? Because we will