These cookies Linzer stuffed with jam Strawberry home are a bane. First because the Strawberry Jam is a delicacy, and although the that we need to fill and it should have a consistency thick, (which gets let it cook too long), it is incredibly rich. It's funny because I don't like the pot of Strawberry Jam. Peach and apricot, but of strawberries take it only if it is home and this recipe is the most.
Cookies, all that tells you is little. They are cookies crunchy, very thin and with an incredible flavor. They need to have all the same thickness (about 4 mm) then when they are stuffed and double, are comfortable to eat, and I assure you that you will not regret making them. And it is these cookie Linzer stuffed with homemade Strawberry Jam, have amazing flavor and texture.
It is true that need your step by step but we can simplify:
1. the of strawberry jam We can do it weeks in advance. What's more, if we jam our favorite fruit, crushed, we make sure that we can always use it to fill in cookies. We will only have to watch the texture, but if it is too wet, blow will have to put it to cook one little longer in a bucket and arranged affair. Blow I ask one thing: do the homemade jam for you will not regret
2. the mass of cookies can make it until 3 days before, even make it, stretch it out and freeze. If we do it before cutting cookies, then we will just have to use our short pasta and bake directly. If you prefer, we can freeze them already cut, so that then we will only have to place them on a sheet of oven and bake.
In this way we simplify the work and above all the organization. but you are sure that you will not regret to prepare them, because they are absolutely delicious. Let me know... That with them we celebrate this year Valentine's day! together with other recipes rich that will put a big heart on your table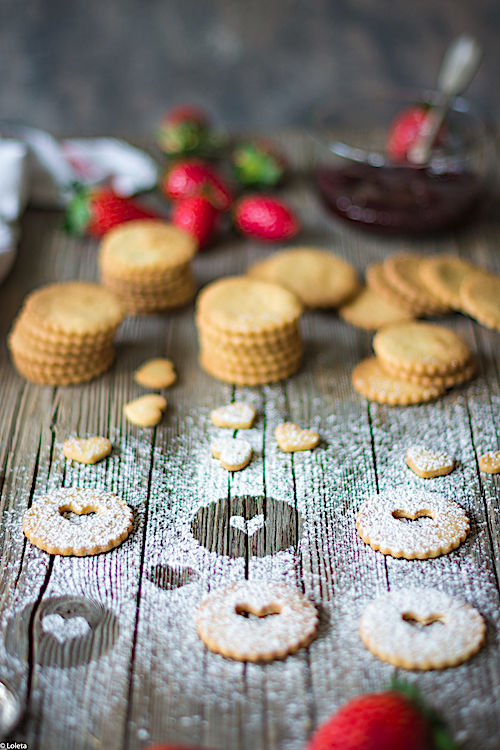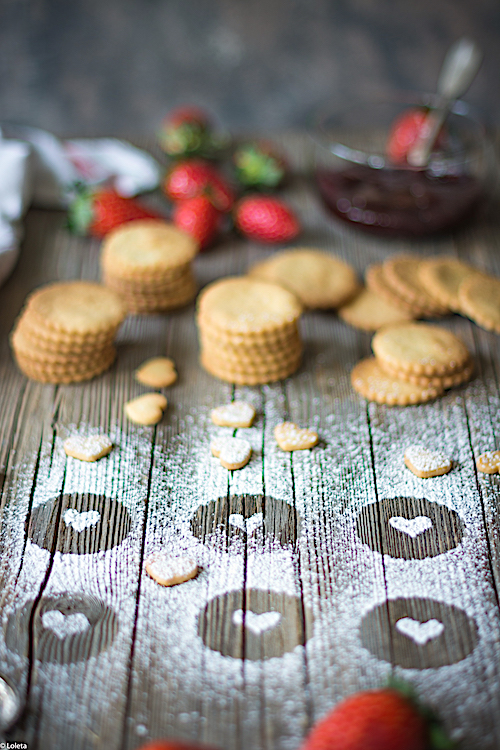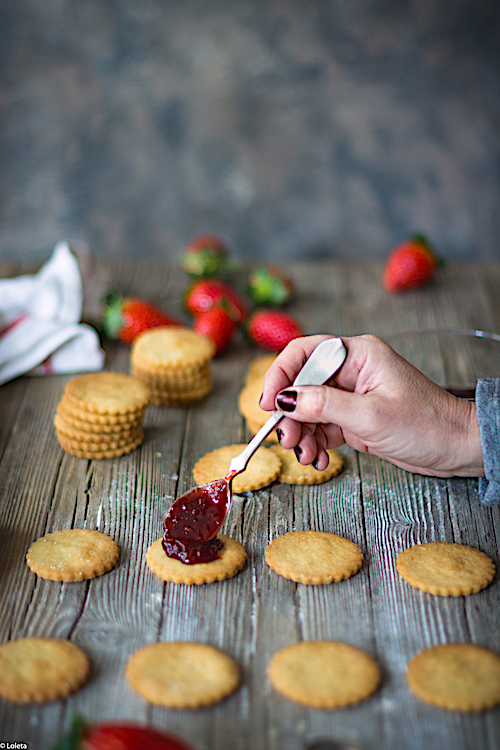 Ingredients
375 g flour
3 g of salt (a pinch)
255 g of butter without salt at room temperature
190 g granulated sugar
1 large egg yolk
1 teaspoon and a half of pure vanilla extract
icing sugar for sprinkling
for the Strawberry Jam
500 kg fresh strawberries
250 g sugar (normal or special for jams)
1 tablespoon of pectin (optional)
the juice of one lemon
Directions
Begin preparing the jam.
To do this, chop the strawberries. In a saucepan, put the crushed strawberries, lemon juice and sugar. Bring to the boil for 5 minutes over a high heat until you start foaming. When they boil, turn down the heat to half power and let it cook for about 50-60 minutes until the jam has thickened. It is important to crush the fruit so that in the end there is a smooth jam without lumps.
If we use normal sugar pectin, or if we use sugar jams, with 30-minute special will be enough to get a thick texture and spreadable.
After this time, I'll let it cool down. When it is cold, check if the texture is thick enough to spread it. If not, we will re-cook for half an hour until we get the necessary consistency. Book
For the cookie dough, in a medium bowl, combine flour and salt. Book
In the bowl of the electric mixer, put blade attachment (T-shaped), put the butter and sugar and beat on medium speed, about 2 minutes, until it is soft and fluffy.
With the help of a spatula down what has been glued to the sides and Add egg yolk and vanilla, and mix at low speed, about 15 to 30 seconds, until you have joined. It may not be completely mixed, but it is better not to mix more because the cookies could break to the bake.
Again, get off what has been glued to the sides with a spatula and add the flour mixture in three times, mixing at low speed about 30 seconds each, until you have joined. Before you finish enter the last part of flour, scraping the sides of the bowl to get what has been pasted on the walls of the Bowl
In the work surface pour the dough and divide into 2 equal portions. Form a round disk with each one. The heat of your hands helps that mass together. Place each between two roles of baking and roll out the dough, forming a sheet of about 4 mm thick. Let stand in the refrigerator for at least three hours.
Preheat the oven to 175° C and make fiddle's baked in each deck you are going to use the cookie. Book
With a 5 cm round cutter, cut dough cookies. You have to cut one batch without hole and another hole so that we can then join them with jam.
Repeat the process with cutouts of dough to get all cut and matched biscuits (we need the same number of cookies with and without hole).
Bake each tray to 175 ° placing them at half height of the oven for 8-10 minutes, rotating the Pan halfway through cooking, until the cookies are golden brown on the edges.
Place the pan on a wire rack to cool and let cool for 5 minutes before transfer cookies directly to the grid so that they cool completely.
To build them, place the biscuits with hole on a plate and sprinkle icing sugar.
Catch them has no hole and fill with the Strawberry Jam by placing a teaspoon in the Center, leaving a border of 1 cm unfilled. It must be careful not to put too much because then it would come out of the cookie. Cover with a biscuit with hole dusted in icing sugar and press lightly to enjoy!
Tips and Tricks
They freeze well and stored in an airtight case for a couple of days, but you must be careful with moisture because they are just soft, although the texture is similar to the pastas of tea and all ways are delicious.
You can fill the biscuits with lemon cream or peanut butter
The dough can be kept in the fridge before baking a couple of days
Preparation time: 60 minutes
Difficulty: easy
Servings: 25 cookies