These mini lemon as well as being very rich paulovas are so beautiful. On my last trip to Belgium, returned to Bruges, one of the most beautiful and romantic cities I know, and went back to De Witte Pelikaan, shop Christmas decorations where you could lose me. There always find the most beautiful ornaments, and although we were out of season, I decided we had to take advantage.
So we arrived and as always, I got lost. But it turned out that in addition to the Christmas decorations (always have), also had Easter decoration. I bought a beautiful Easter egg for my niece, and a few nests that knew that it could be used in a recipe.
Since I bought them I have been mulling over what I could do to make it beautiful in the nests. So after giving many laps I decided that a mini lemon cream paulovas that simulate some open eggs could be well. Also, I love the paulovas and a long time ago that it was no so said and done.
In the middle of the recording of the video I had a mishap that made me repeat the lemon cream. and so you can see that I passed everything, I have left it. Let me know what you think of my mishap, and the recipe. Let's go for it!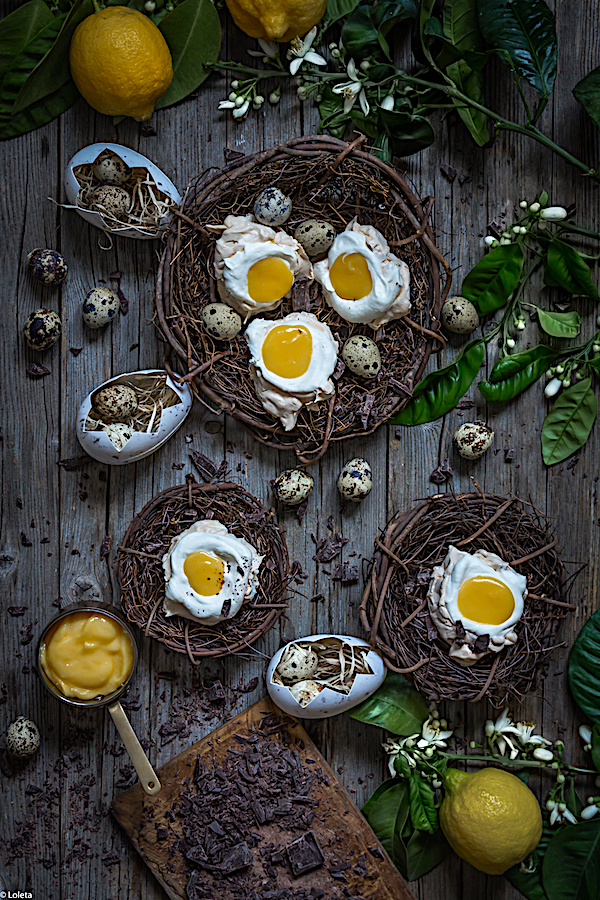 Ingredients
For the lemon cream
220 g sugar
100 g butter cde
zest of two lemons
150 ml lemon juice
1 egg
3 egg yolks
For the meringue base:
150 g large egg (about 3 egg whites)
150 g sugar
a pinch of cream of tartar
250 ml whipping cream
Directions
For the lemon cream, yolks and the egg with the sugar mix in a bool. Add the zest and lemon juice. In a saucepan bring water to heat. When it is hot, put the saucepan on it so that the yolks are set.
The water should lightly touch the pot but is more water vapor which will help thicken the cream. It must be done while the water boils because then the egg materialize.
Once the mixture has thickened, pass it through a colander or Chinese to remove zest and set aside in a bowl until completely cool.
If we have a thermomix, we can do it also. Put the zest of lemon with sugar and blend at maximum speed for 30 seconds. Add juice, butter and eggs and mix a few seconds at speed 6. After this, set 12 minutes at 80 degrees, speed 2. Put in a bowl and allow to cool completely.
Meanwhile, we will make our meringue. Preheat the oven to 150 degrees.
In bowl of electric mixer, put the egg whites and beat with a whisk. When whites begin to foam, add the cream of tartar and salt and then the sugar. Continue beating until a firm, glossy meringue.
On a baking tray covered with a paper of baking, make mounds of meringue, being careful with the wrong side of a teaspoon, an egg in the Center. In this gap, we will then put cream and lemon cream.
Bake 10 minutes at 150 degrees. Passed this time, lower the temperature to 100 degrees and bake another hour.
When the meringues are completely cool, fill with some cream leaving a hole in the Center. Put a teaspoon of lemon cream. Serve this with a little grated chocolate or what.
Tips and Tricks
Form two large disks instead of small
Fill with fruit jam
Difficulty: easy
Preparation time: 2 hours
Servings: 18 small paulovas or a large