Original entry of July 4, 2019
This Panna cotta of strawberries is the favorite dessert of my son lately. The House prepare it, well I should say it, prepares it because Javi Cook very well, but always prepared it vanilla. I like to put a splash of good Virgin olive oil extra sauce and a few shavings of truffle or chocolate.
But a few weeks ago I decided to prepare a different Panna cotta. It was Saturday and wanted to make Panna cotta vanilla, but had many strawberries already very mature in the fridge and didn't want to waste them. So, although in principle I thought about making it vanilla and use strawberries to the sauce, then I decided that it had too many and I prepared a Panna cotta that has become a favorite of these days at home.
The panacota is one of those desserts that always come out if you have well measured the ingredients. The proportion is important so that it does not remain either too chewy (what happens if we go over gelatin), nor too soft, which would make it not unmold well. After several tests I came to these measurements so I hope you do it and enjoy its taste as much as we do. I also leave you option without lactose and vegan Let's go for it!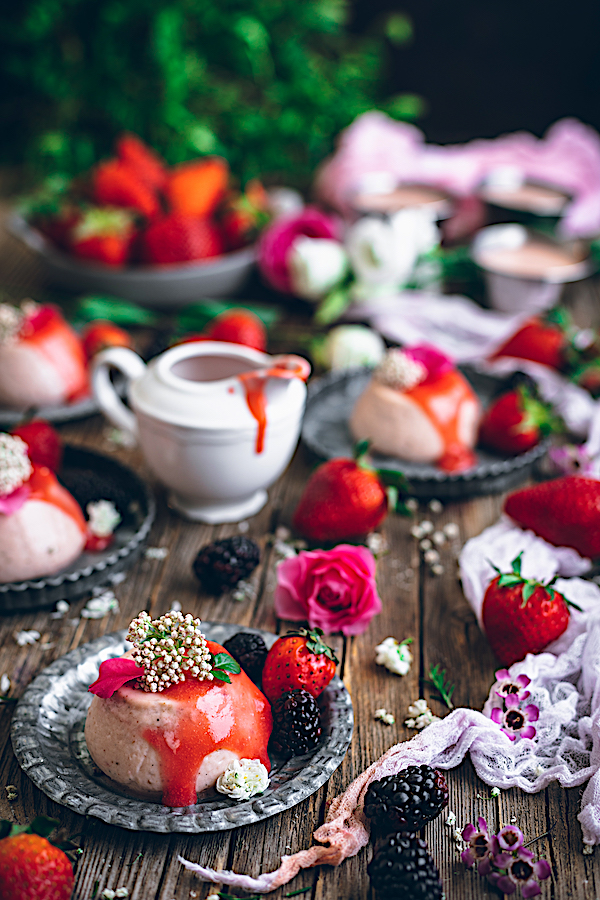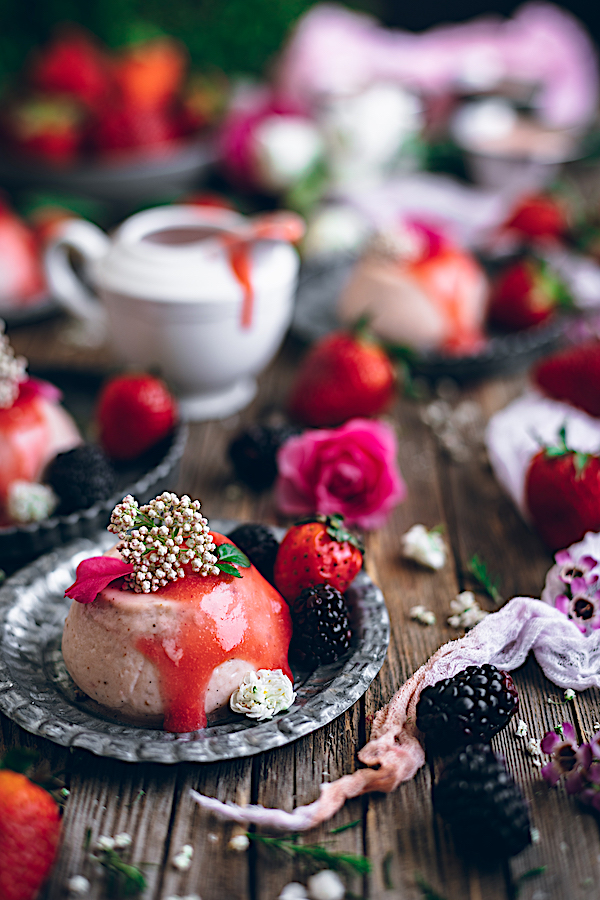 Ingredients
1 liter of liquid cream or lactose-free cream or vegetable cream
120 g sugar
1 tablespoon pure vanilla extract
9 leaves of gluten-free (or vegan) gelatin
250 g strawberries
For the strawberry coulis
90 g sugar
60 g of water
300 g strawberries
1 g of xanthan gum or 1/2 sheet of gelatin that we will add to the syrup (optional) – this will make the sauce thicken a little bit
Directions
With a drop of oil grease the molds that we are going to use. Book.
In a bowl put to hydrate the leaves of gelatine in cold water.
Using a hand mixer, blend strawberries until a puree. Book.
In a saucepan heat the cream co vanilla and sugar until it is very hot put. It is not necessary to boil but it is really very hot. Then remove from heat and add the drained gelatin leaves. With the help it gives a few rods or spatula stir until gelatin is dissolved.
Add Strawberry puree and mix well. fill our moulds with this mixture. Put them on a tray and leave to cool in the fridge to your hands for two hours. You can do it all night.
Meanwhile prepare the strawberry coulis. Begin by putting in a saucepan with the sugar water. Boil until the sugar is completely dissolved. This is the syrup that sweetened our strawberries.
Crush strawberries in a blender and using a fine mesh strainer, strain to remove the seeds. Add strawberries to our syrup and mix well. Add half a gram of gum xanthan gum if you want a thicker texture.
When the pana cotta completely curdled, unmold and serve accompanied by strawberries and some strawberries or red fruit coulis.
Tips and Tricks
You can replace strawberries with raspberries, blackberries or mango. You can also not put anything and you will sing a delicious vanilla panacota or add an espresso to have it with coffee flavor
Difficulty: easy
Servings: 8
Preparation time: 20 minutes plus 2 hours of refrigerator