This Dutch pancake is one of the favorite breakfasts, snacks or desserts at home.
So beautiful and so easy to prepare that you won't believe it and that you can also do tato in sweet version as in salty version.
The Dutch pancake, it is in principle a breakfast sweet similar to the Yorkshire pudding that s(e) is made with egg, wheat flour and milk, and is usually seasoned with vanilla and cinnamon.
This delicious Dutch pancake Is cooked in a metal frying pan (the best iron fryer), and comes down shortly after removing it from the oven. It is usually served with freshly squeezed lemon, butter and icing sugar, or as I like it, with red fruits and maple syrup, although today we serve it with ice cream because we will take it for dessert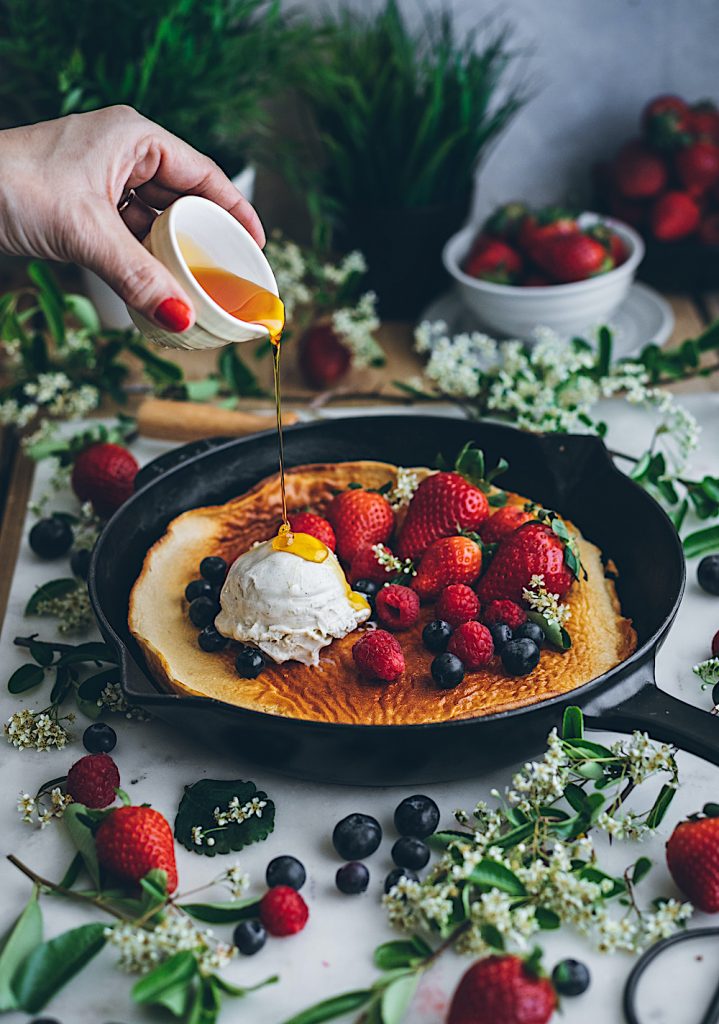 Ingredients
For Dutch pancake (you have lactose-free, gluten-free and sugar-free option in tricks and tips below)
4 eggs
180ml milk
1 teaspoon of vanilla extract
110 g flour (wheat, spelt or oatmeal)
1 teaspoon cinnamon (optional)
55 g sugar or erythritol or 2 tablespoons
To serve
a handful of red fruits
a balls of your favorite ice cream
a little maple syrup
Directions
Preheat oven to 240 degrees.
Put the eggs in the blender glass, and beat until well frothy.
Add milk, vanilla, sugar and flour and whisk again. We can also mix all the ingredients by hand taking care that there are no lumps left.
Grease a large iron pan (mine is 26cm, but if you don't have you can use an iron saucepan and if you don't have a pan or pan resistant to the oven but it will cost you more to climb). You can also make them individual (three small ones come out.
Bake our Dutch pancake for about 10 minutes (8 if small) and top with fruit and ice cream. These pancakes come down shortly after leaving the oven, so it's worth taking them freshly made even though at home we like them warm and let them cool down a little bit. They come down, but they're just as rich.
Serve the Dutch pancake with the red fruits, some maple syrup and a ball of your favorite ice cream.
Tips and Tricks
You can replace milk with your favorite vegetable drink and make a lactose-free version
You can replace wheat flour with wholemeal flour, spelt or oatmeal and make a gluten-free version
You can replace sugar with erythritol, 2 tablespoons honey, agave or maple syrup or a tablespoon of date paste to have a sugar-free version
Make the dough sugar-free, add herbs such as oregano, chopped rosemary or chopped fresh basil, a pinch of salt and breakfast, lunch or dinner with some ham and cheese and accompany them with chopped tomatoes or a salad
Difficulty: easy
Preparation time: 15 minutes
Servings: 6