There are monuments that end up becoming the image of a city or a country, but there are others who end up identifying a whole nation, and this is certainly the case of the Eiffel Tower.
The Eiffel Tower is an iron construction of 300 meters in height which was created for the Universal Exposition of Paris in 1889 by Gustave Eiffel. Currently is the most representative symbol not only of Paris if not the whole France.
Although it may now seem an incredibly beautiful building, initially there was much discussion about whether he should or not full the skies of Paris. Once completed, the artists of the time considered it an insult to the beauty of the city. This together with the fact that the tower was not too popular during the 1889 exhibition, it made that city hall want to demolish it. Luckily they didn't, because we would have not been able to enjoy it!
Today, the Eiffel Tower, is the most visited monument in the world with more than seven million visitors per year, and is a must stop for anyone visiting Paris (if you don't have vertigo!).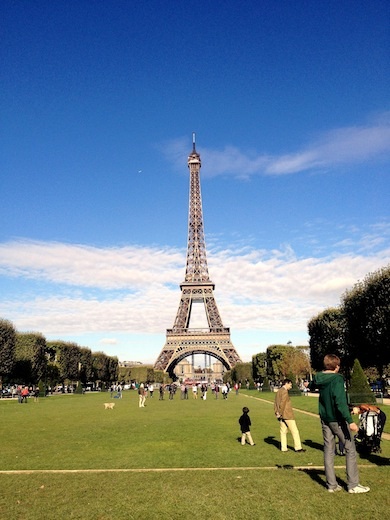 You can walk up to the second floor of the tower by the stairs and although it is a little cheaper than the elevator, is a tremendous beating (the first time I did it but never again ... too much effort). The view from the top is amazing and reaches across the city. There is also a restaurant to dine with breathtaking views
I was fortunate to visit it for the first time in 1989, when they commemorated the 100th anniversary of its opening, and when it lit up whole for the first time since its creation. That year they also commemorated 200 years of the French Revolution and all of Paris was a true experience I will never forget it.
During that first stay in town ( long, but shorter than I would have liked), I went to visit the Eiffel tower day and night, and although the day view is spectacular, the sunset view from the Eiffel Tower is an unforgettable sensation that accompanies me ever since then. Perhaps that is why it is a city that I really enjoy, no matter how many times I have been before.
And after this little walk, what about some macarons? But this time they will really surprise yousobrasada with goat cheese macarons!
Enjoy!