The first time I took these eggs rancheros was in Mexico. We just get to the peninsula of the Yucatan and although it asked me the body were a toast with some freshly cooked pastries there was no option. We were in Mexico and not the brave take those things!.
A morning of blue sky, turquoise and a stunning green jungle waters. The environment was just what had sounded and I had a hunger that I roared them guts. My first impulse was dream with juice of Orange and toasted with butter but my trip I had prepared a sorpreson that does not forget.
Decided to let us carry and us served these delicious eggs rancheros besides others things that I would have taken to eat but never for breakfast, but as you have said had hunger. And goodness, because I would have lost me! and it would have been a shame.
The experience turned out to be fantastic, and after breakfast, far beat jet-lag to me, I was all day without stopping. Not be if it was Chili, this delicious tomato sauce or eggs of hens of the lady who cooked them for us, but the truth is that these eggs rancheros were an unforgettable breakfast.
Have that confess you that these eggs them do more in house for dinner that for breakfast, but that not removed for a day I atreváis. You guarantee that with some tortillas of corn, ones beans and a bit of cheese is raise to the maximum power and will be the comfort in those days of cold that think that not going to power
And I call it the breakfast of the brave by which said the waiter who didn't want to get toast, and why some eggs are very spicy ranchero to raised you the mood. They are my version of these delicious eggs I took facing the Caribbean Sea and that I will never forget. Since that day are the a little corner in my backpack. So let's get them!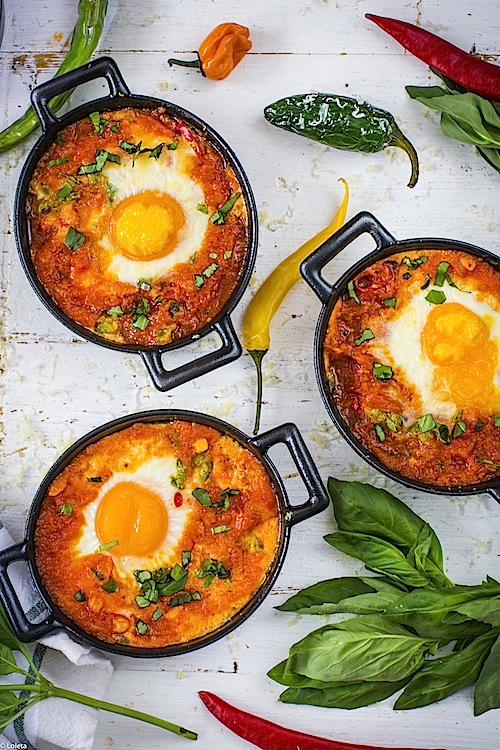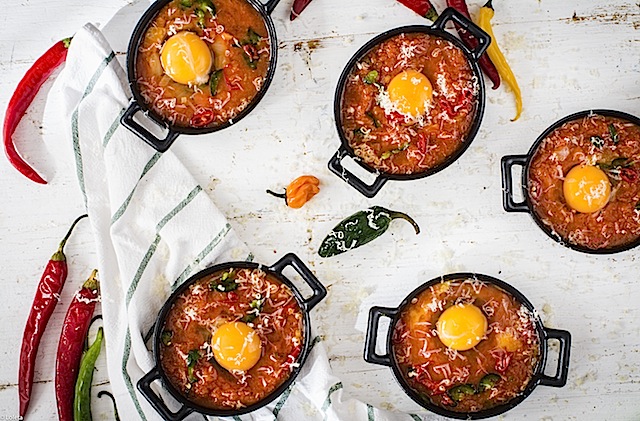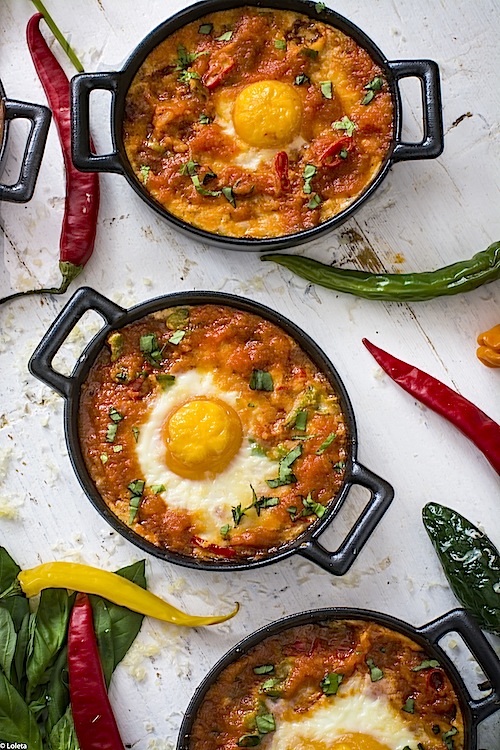 Ingredients
1 kilo of ripe tomatoes peeler and chopped or a pot of tomato crushed €1.80
60 ml extra virgin olive oil €0.24
1 onion chopped €0,20
2 cloves of chopped garlic €0.05
1/2 serrano chile €0.15
1/2 red chilli €0.15
salt and freshly ground black pepper €0.03
1 tablespoon of brown sugar €0.10
a bit of sauce Worcestershire 0.35 €
a bit of Basil fresh 0.45 €
a few slices of bread 0.40 €
4 eggs €1,40
60 g of Parmesan cheese (because here can not find the cheese so rich with in Mexico) €0.60
Total €3.33 that are €0.83 per each serving. A forceful and cheap breakfast. Now you see!
Dishes of baked used are of Revol, my favourite porcelain brand
Directions
1 fry the tomato. To do this in a large pot, put the oil with the chopped cloves of garlic. Brown and add the chopped onion and chopped chiles. When the onion is transparent, add the tomato and leave FRY about 30-40 minutes over low heat until tomatoes lose all the water and it is a good thick sauce. Add salt and pepper.
2. in an ovenproof container, place a slice of thin bread at the bottom. And I served them in individual servings in these precious Revol dishes that are also very useful to prepare creams and desserts.
3. cover the base with the tomato sauce. I prefer to make baked eggs because it is easier, faster and can do several at once. Crack an egg over each casserole. Put a touch of salt on the yolk and grate some Parmesan cheese.
4 bake to 200 degrees some 15 minutes until the eggs are cooked.
5. serve hot with some fresh basil chopped up
Tips and Tricks
You can fry the eggs if you prefer it rather than the oven
It is accompanied with some corn tortillas
Preparation time: 60 minutes
Difficulty: easy
Servings: 4