This gazpachuelo from Malaga is made in my version. There are ingredients that if you are from Malaga you will lack or maybe have leftovers, but it is the express and fast version that I usually make at home and that always puts a smile to mine at the table.
You can add peas, clams or even chopped ham, but here it is difficult to find churlas that are the small clams that we put to this soup in my land, so this has become my express version that I prepare with fresh fish as well as with freezer fish and that takes away the cold by putting the smile on our faces.
It is very simple to prepare and the secret and the most original is the mayonnaise that is integrated into the broth and that gives it an unparalleled silky texture. I hope you fall in love like all of us.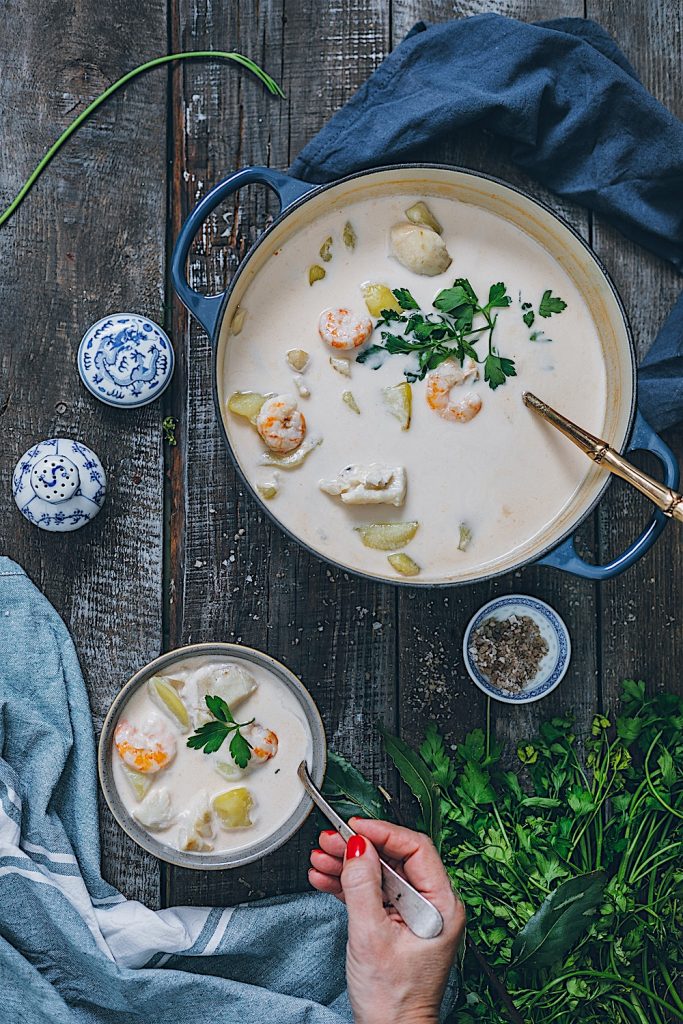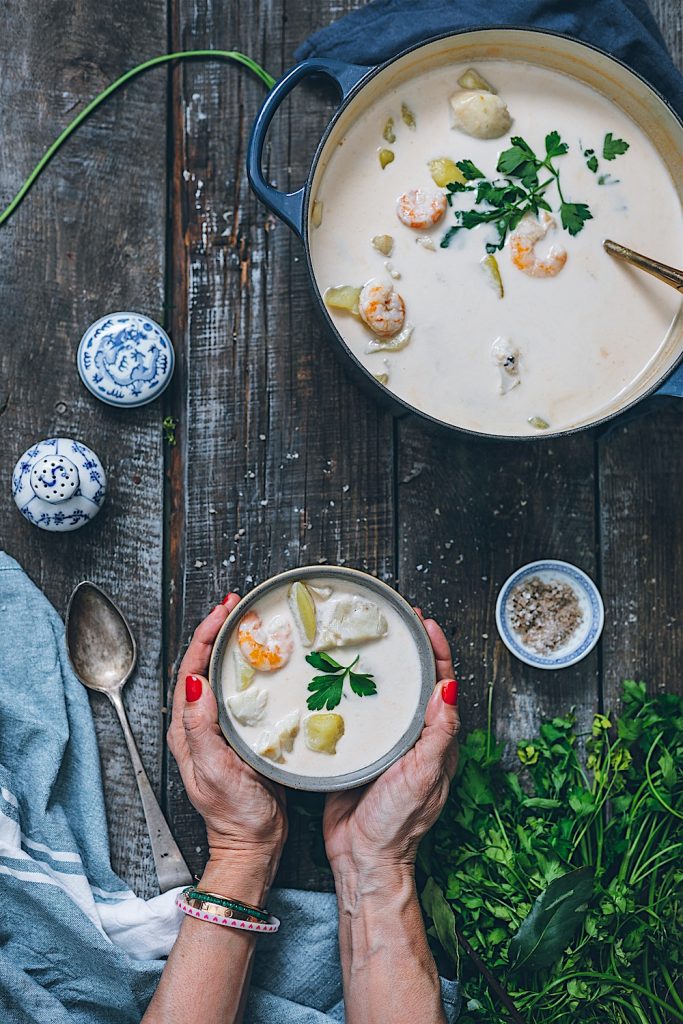 Ingredients
1000 g monkfish or hake
3 liters of water
250 g prawns or prawns
4 medium potatoes
A bunch of parsley
2 Bay leaves
a few black peppercorns
3000 ml homemade olive oil mayonnaise
Preparation:
In a saucepan we put the potatoes, the peels of the prawns, the head of the fish and its scrapes and a bunch of parsley, bay leaves and peppercorns. Cover with water and cook.
Once it has begun to boil, lower the heat, cover and let cook until the potatoes are tender (about 20 minutes). Foam the broth well removing all the impurities that come out on the surface and rectify the salt point.
When it is ready, strain and reserve the broth and potatoes discarding the rest.
Return the broth with the potatoes to the pot and add the prawns and the fish cut into pieces. Cook for five minutes.
And now we have two ways to incorporate mayonnaise. Both serve so use the one that suits you best:
1 Remove the prawns, potatoes and fish and reserve the broth on the fire. Add the mayonnaise and crush with the help of a hand mixer until the broth is smooth and without parts of unmixed mayonnaise. Now add the fish and prawns with the potatoes. Decorate with a sprig of parsley and serve hot.
2. Put the mayonnaise in a bowl grade and add broth little by little mixing with a few rods. In this way we will gradually match the temperature of the mayonnaise to that of the broth avoiding that it is cut
Serve very hot with a sprig of parsley on top
Tips and Tricks
This soup looks great with frozen fish because the broth takes the flavor of raspas and shrimp shells. It's a cheap but delicious soup
E Malaga we also added clams but I did not find
At home we always add a splash of fine wine or chamomile
Difficulty: easy
Preparation time: 30 minutes
Servings: 8