Today we prepared a few crackers with hummus to yuzu oil. Is a recipe wild card ideal as input to a meal or night of football so funny that we make at home and although I am not too Soccer beyond the classics and I really like the selection receiving friends at home
Increasingly ask me to make recipes with alternative flours, and my love to develop recipes and explore with new flours. I've always liked to use different flours and now I have the incentive to meet your requests to make different preparations.
These cookies today are an adaptation. The originals were some crackers from wheat and rye and to make them more healthful had to find an alternative to wheat.
I was tempted to use buckwheat, which even if it has the word wheat on his behalf, does not contain it and therefore do not have gluten, but as it had organic flour from whole-grain oats in use, I decided to use it and it was a success.
Cookies are delicious and have a crunchy texture, but for it is important to toast them well and keep them in a can as easily pick up moisture and become tender, and although they are still very rich, is not one's own. I used cumin to flavour them because I thought I was going to stay very well with the humus that would accompany, but you can use any other herb that you like.
Regarding the hummus is recipe I do since long time ago. It is important to oil use, which must be of the best quality olive oil because it makes all the difference. To me, I love to use olive oil with yuzu because its aroma and flavor are much more subtle and delicate than the lemon. The one I use is of OMED because it has exceptional quality and brutal flavor, and you can buy it HERE.
To finish it I always use with a bit of cheese feta and some toasted pine nuts, which you can replace with dried fruit that you like, and of course I like that olive oil with yuzu both. Enjoy!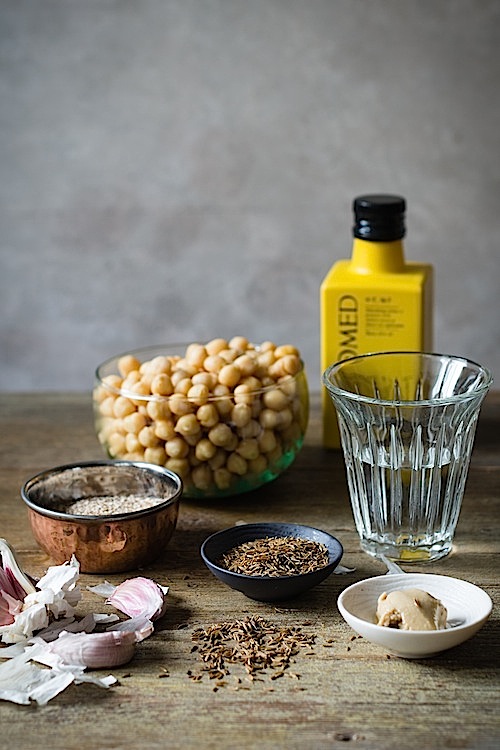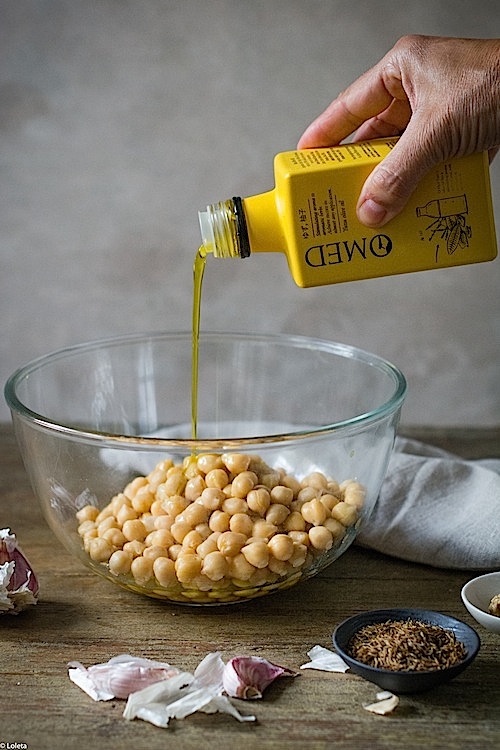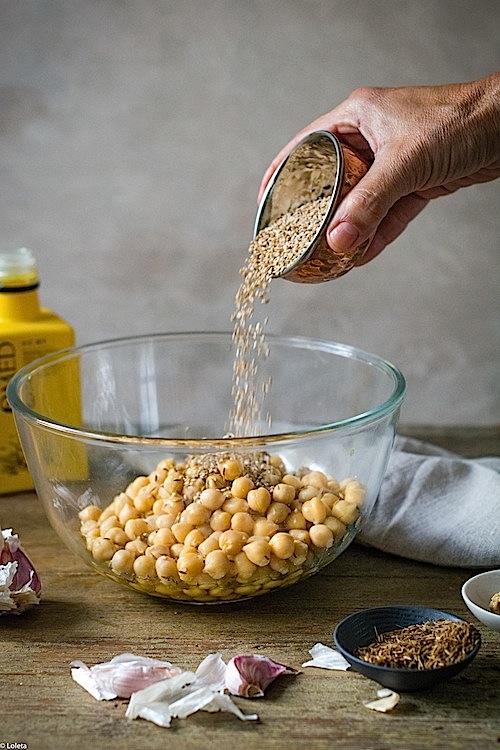 Ingredients
For hummus
400 g of cooked chickpeas (I use canned chickpeas and as we are going to crush we can buy them brand because you are not going to matter that they lost the skin)
70 ml of olive oil with yuzu O-MED
60 ml water
1 clove of garlic
1 teaspoon of ground cumin
2 teaspoons salt
40 g of toasted sesame (you can toast it at home in a pan in which we'll only Sesame and fire medium-low leave gently toast)
1 teaspoon of tahini (you can ignore it, but it gives a very distinctive and very good flavor. The boat costs 3, 50E and will last you life so it is worth it!)
To finish the hummus
For the rye crackers
125 ml milk
22 g of molasses, honey or syrup
100 g of organic whole rye flour
ecological comprehensive oatmeal 110 g
2 teaspoons coarse salt
2 tablespoons cumin seeds
1 teaspoon of baking powder
45 g of cold butter cut into cubes
1 egg
1 tablespoon water
Directions
Drain the chickpeas and add all the ingredients in a food processor Bowl. Blend at maximum speed to a thick puree smooth and fine. Grinding of salt and ground cumin if necessary (I always little more cumin because I love its flavor). Book.
In a small bowl, mix the milk and molasses (or honey or syrup)
Mix flour, half of the seeds of cumin, salt, and yeast in a bowl of electric mixer. Mix. Add the butter and mix until a fat sand forms.
Then add milk and mix until dough is smooth. Place the dough in a plastic wrap and shape of disc. Let the dough, wrapped in plastic wrap in the refrigerator for at least one hour.
Turn oven to 200 º ©. Remove the dough from the refrigerator and roll, forming a sheet of 1/2 cm thick. With a knife cut rectangles of 3 cm by 7 cm approximately.
In a bowl, combine egg and water with the help of a fork and with a kitchen brush, paint the entire surface. Drizzle over the rest of cumin seeds. .
Place a baking envelope paper a baking tray. Put the cookies on it and bake for 10-12 minutes. Let stand a couple of minutes on the Pan and switch to a grid where we leave them to cool completely.
When we go to serve him, toasting a few pine nuts in a pan without oil with care that do not burn. Crumble a piece of cheese feta over the hummus, sprinkle toasted pine nuts and a bit of fresh parsley and sprinkle a little of the olive oil with yuzu. Simply delicious!
Tips and Tricks
Substitute cumin oregano or thyme
If you prefer using only rye flour
Preparation time: 20 minutes over an hour of rest
Difficulty: easy
Servings: about 20 cookies