¡Ya tenemos ganadora! ¡Enhorabuena a… Cristina Santamaria! (me pongo en contacto contigo por mail para enviarte el lote de productos). Y para los demás, esto aún no ha terminado, tengo una grata sorpresa, el miércoles comenzamos… ¡otro sorteo con Lékué! (si, si… otro sorteo). Porque este años vamos a realizar uno por cada año del blog, así que tendréis dos oportunidades más de conseguir fantásticos premios ¡No te lo pierdas!. Os espero en el próximo, y siempre en Loleta, Life, Market & Cooking ¡Gracias por vuestra participación y estad atentos!, y ahora las galletas de chocolate blanco y coco con avena
Wthis recipe we start a new section in the blog and celebrate the first draw of the third anniversary of the blog. I had long wanted to incorporate this new section and it finally opens today. It's "Cooking for kids", and they are recipes that my son has prepared at home and want to share with all the children.
They are easy recipes that kids can make almost alone, and that when you need adult supervision, warns them so that there are no problems. My son has always like cooking and I am delighted to share today on my blog all his best recipes.
To start with, this cookies he prepares so well. They are easy, rich, very original and the kids will enjoy them.
We have put measures in grams and in American cups, which are very easy to use for children, so that you can help with the weighting, or provide the cups themselves measure quantities. It is a very useful way to learn proportions and enables them to prepare ingredients on their own. Very soon we will publish an article about the best utensils for children and the measuring cups will be at the top of the list.
But in addition, with this recipe, we present the new and fantastic Win BRA cookware to celebrate that the blog turns this month… to three!, so we will have many surprises dedicated to all fans of Loleta. It is the least we can do to thank you for your loyalty, your love and your continued support. To participate you must:
Become a fan of Cocina con BRA en Facebook
Hacerte fan de Loleta Life, Market and Cooking en Facebook
Share on your facebook wall this sweepstakes
Leave your comment to this recipe on the blog (don't need to add your email address since it will be automatically be registered)
With all this, you can take the magnificent batch of BRA products :
Efficient oven tray
Crêpière efficient orange
Iron Efficient 35cm with silicone handles
Efficient Orange 16cm saucepan
Game of bowls made of stainless steel 12-16-20 - 24cm
We'll do a draw within all the participants, the scope of it is limited to Spain, and if you're lucky, you will receive at home all this gift that BRA and Loleta want you for always being there. Cheer up! and it participates in this first sweepstakes of the ones to follow along this month and next to celebrate the third anniversary of the blog. We will keep this win BRA opened until Sunday, March 15. We are celebrating and we want to share it with you.!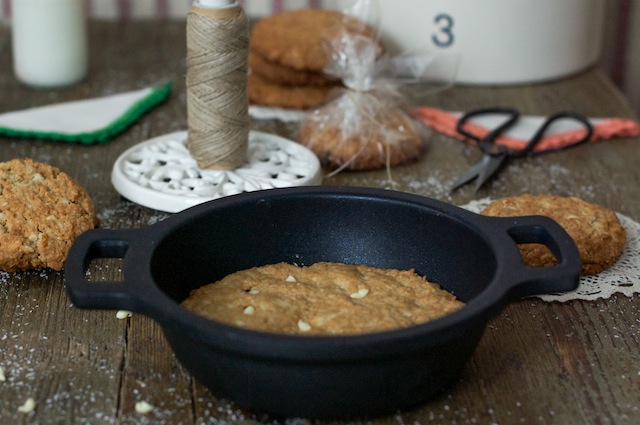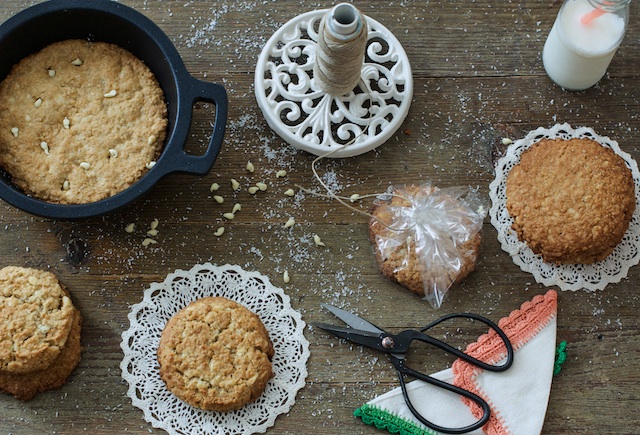 Ingredients
215 g (1 cup) unsalted butter, at room temperature €1,05
95 g (1/2 cup) sugar €0.09
110 g (1/2 cup) brown sugar €0,20
2 large eggs €0.25
1 teaspoon pure vanilla extract €0.15
250 g flour (2 cups) €0.12
1 teaspoon of sodium bicarbonate €0.10
1/2 teaspoon of baking powder €0.08
a pinch of salt €0.01
200 g (2 cups) of oat flakes €0,20
200 g (2 cups) of white chocolate of good quality seeds or chopped €2.16
80 g (1 cup) grated coconut 0.80
80 g (1 cup) of chopped walnuts (only if you want to put them) €0.90
Total €6.11 that divided by 40 cookies we can get are €0.15 per cookie Super cheap! don't you think?
Directions
1. turn on the oven to 175 degrees. In this way the oven preheats, is thus well temperatrurea when we are going to put the cookies.
2. The second thing to do always is to prepare all the ingredients. You must weigh them and put them in different bowls to then use them without having to wait when making the recipe. It is better to invest a few minutes to prepare it all and so then save us surprises and delays. This is called Mise in place (in French) and it is something that all the chefs make when cooking.
3. Put butter and the two sugars in the bowl of an electric mixer. Mix on medium speed until it is smooth and creamy, about 2 minutes. You can also do it with your hands by tightening the butter so it mix well with sugar, although it is easier to do it with a blender.
4 Add eggs one at a time and add the vanilla. Beat well.
4. Poner la harina, levadura en polvo, sal y bicarbonato en el mismo bol. Echamos una cucharada al bol de la batidora, y cuando se haya mezclado bien, añadimos otra. Así hasta que hayamos añadido toda la harina. Si le vas a poner nueces añádelas también. Añade ahora el coco rallado, la avena y el chocolate blanco y mezclar con una cuchara o una espátula bien hasta que esté bien mezclado.
5. To form the cookies ( I like them large) I use a spoon to make ice cream scoops and then crushed them with the palm of the hand or the back of a spoon.
6, Put them in the oven (asks for help to an adult) and leave them for about 17 minutes, depending on the oven until slightly browned. I like them soft inside,thus they are authentic American cookies, but if you prefer them crispy, leave them a couple of minutes more. When you see that they are golden brown and that the time has passed, ask an adult to remove them from the oven.
7 Let cool completely on a wire rack: be strong and do not eat them until they are cold, since otherwise your stomach can hurt later on!
8. invite your family to eat them and if you want to be the King of your school, take them to class. You'll make a lot of friends!
Tips and Tricks
You can put them in freezer bags and freeze. So you can eat them one by one whenever you want.
You can also keep them in an airtight container and they will be good for a few days (3 days or so)
Difficulty: easy
Preparation time: 1 hour
Seating: depending on the size, you will be among 18 cookies (if you make them grades) and 40 cookies (if you do them small)
Remember that I am also in the rest of the major social networks:
Thank you!