These homemade chocolate and tahini cookies I tried on my last visit to Paris at the pastry shop
These are one of the wonders we tried on our last visit to Paris. They are from Mokonuts, a café restaurant where you can have a coffee, eat very original food and above all try these delicious cookies that are to put a floor with balconies to the street.
Cookies have small pieces of chocolate (instead of large nuggets), dried blueberries, rye flour and a good amount of poppy seeds, to give it color, and above all to give it a unique crunchy texture.
What makes these cookies more special is that instead of baking a bunch of cookies in the morning and letting them rest all day, the Moko Hirayama baker bakes them practically on request, so they're soft and hot when you buy them.
There are plenty of flavors to which richer: tahini, wholemeal and chocolate, rye, cranberry and chocolate, miso-sesame, peanut butter and milk chocolate, and coconut with Cambodian black pepper. Visit super recommended if you go through Paris even if it is not within the tourist circuit. Here's my version with rye flour. I hope you like them very much.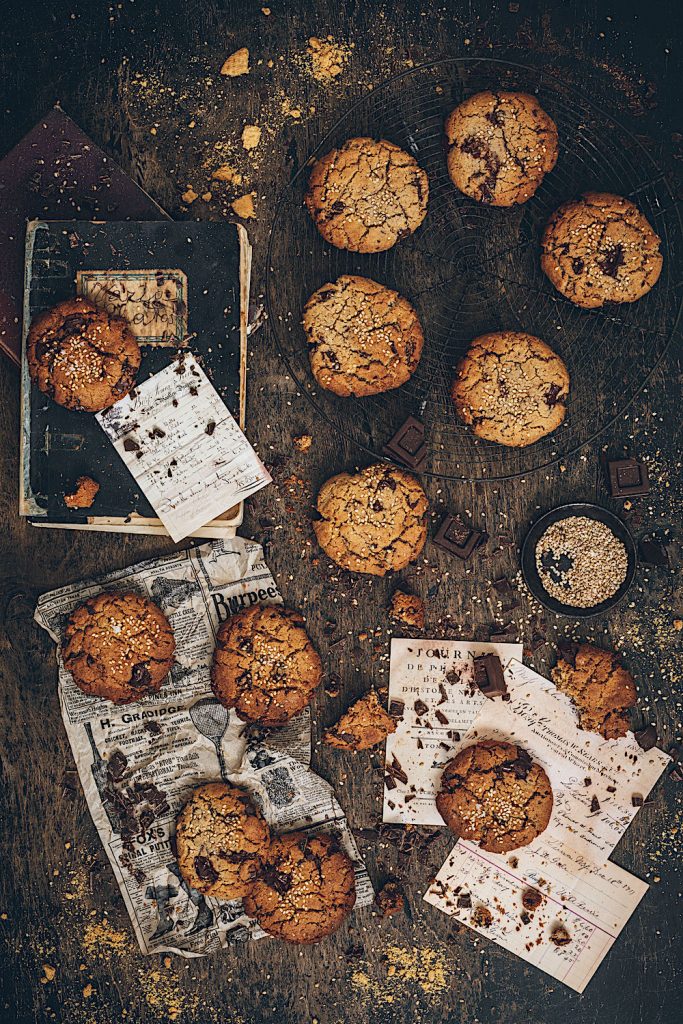 Ingredients
120g butter at room temperature
100 g tahini (sesame paste)
200 g sugar (I used half white and half brunette)
1 large egg
1 large egg yolk
1 teaspoon of vanilla extract
130g pastry flour
90g rye flour
1/2 teaspoon of baking soda
1 teaspoon yeast powder (Royal type or baking powder)
a pinch of salt
220 grams of chopped chocolate (I used 65%)
one tablespoon of salt flakes (Maldon salt) - optional
a handful of sesame seeds
Directions
In a bowl mix the rye flour, pastry flour, yeast powder, sea salt and baking soda and set to reserve.
In a bowl of electric mixer, with the shovel attachment, beat the butter and both sugars at medium speed for 3 minutes, until the mixture is frothy and has changed color. With the help of a spatula we lower what has been stuck in the bowl. Add the vanilla and tahini and mix again for a couple of minutes.
Add the egg and yolk and beat for 2 or 3 more minutes.
Stop the blender and add the flour mixture and beat at medium-low speed until the flour has been mixed well. Stop and add the chocolate in pieces. We take a couple of turns with the blender.
We form 15 balls (about 60 g each), and put them on a baking sheet with baking paper. Let stand in the fridge overnight (or at least 5 hours).
The next morning, we preheat the oven to 180 degrees and put 9 balls on a baking sheet with baking paper. Sprinkle with sesame seeds and salt flakes.
Let's bake the 9 cookies first (the rest we leave in the fridge) at 180 degrees about 6 minutes. After this time, we remove the tray from the oven and lightly crush the cookies if they are not extended, so that they are about 2 cm thick. We bake for 6-7 more minutes (in total it is about 12-13 minutes).
Let them sit for 5 minutes on the tray and then let them cool slightly on a rack. Tempered are absolutely delicious.
Tips and Tricks
Rye flour can be replaced with spelt flour, whole grain or white wheat flour and will be equally rich
If you prefer you may not put salt flakes or sesame seeds
You can freeze the dough balls and bake them directly (you'll need about 3 more minutes) or freeze the already baked cookies by storing them in a frozen bag
Difficulty: easy
Preparation time: 10 minutes + 1 night of cold + 12 minutes of oven
Servings: 15 biscuits of about 62 g each