This pear and gorgonzola cheese galette with walnuts is one of the appetizers that will not be missing on my table on the dates that come
Its combination of flavor makes it very original and its galette shape also makes it very beautiful and elegant, so this galette of pears and gorgonzola cheese with walnuts is delicious for everyone at home.
You can also swap pears for apples and gorgonzola for your favorite cream cheese like camembert, brie, or goat cheese and the crunch of the dough gives it an amazing texture.
But the best thing about this galette of pears and gorgonzola cheese with nuts in addition to its flavor, is that it is served warm or at room temperature which makes it possible to prepare it in advance without having to watch it in the oven until the last moment.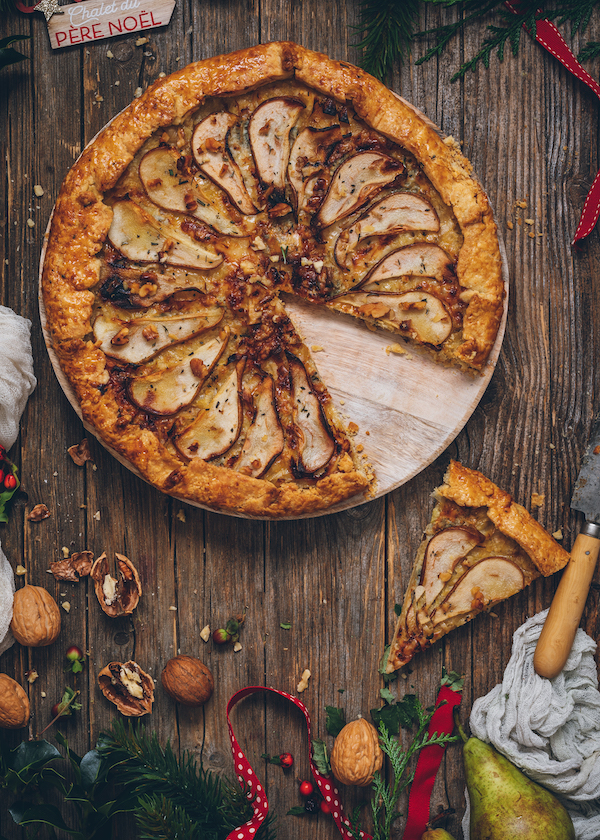 Ingredients:
For the dough:
325 g of flour
225 g butter unsalted, diced
1/2 teaspoon sugar
1 teaspoon salt
60 ml of cold water (it is possible that you are not done using the total amount)
1 teaspoon chopped fresh rosemary
For the filling:
1 tablespoon butter
2 medium leeks, clean and thinly sliced, only white parts
salt and freshly ground black pepper
1 tablespoon Dijon mustard
125 ml heavy cream
1 teaspoon chopped fresh rosemary
180g gorgonzola cheese
2 large pears, thinly sliced
60g chopped walnuts
1 egg beaten with 1 tablespoon water
Directions
To make the dough in a bowl, mix the flour, butter, sugar, rosemary and salt with the fingertips until most large pieces of butter are flattened or broken.
Incorporate the water cold in the flour until the mixture is a and forms a uniform ball.
Form a ball and then smash into a disc. Wrap in film and cool for at least half an hour.
For filling, melt the butter in a medium skillet over medium-high heat. Add the leeks and cook, until soft, about 5 minutes.
Season with salt and pepper, then add Dijon mustard, cream, 1 teaspoon rosemary. Cook until cream has been halved and mixture thick, about 5-8 minutes. We rectify salt and let temper.
We preheat the oven to 190oC. Cover a baking sheet with a sheet of baking paper.
On a floured surface, we extend the disc to a circle approximately 30 cm in diameter. Gently place the dough on the baking sheet (I do it with the help of a roller to prevent it from breaking).
With the help of a sharp knife, we cut the pear into thin wheels. It is easier to do with whole pear, skin included because then it looks much prettier. Then we cut each slice in half and put them on the cake until completely covered.
We spread the leek mixture evenly over the dough, leaving a 4 cm edge on the outside. We crumble the gorgonzola cheese on top, then place the pears on top. Sprinkle with the remaining teaspoon of rosemary, salt, pepper and chopped walnuts.
Carefully fold the piece of dough that we have left unfilled upwards and over the filling to form an edge of about 2 -3 cm.
Paint the edge with the beaten egg with a little water and bake for 35-40 minutes until the crust is golden. Allow to cool for 30 minutes before cutting. Serve warm or at room temperature.