Frutti di mare tastes like summer, sun uy beach and have fun. It is the mere one in which we usually take l asta in summer and is that next to the sea the seafood always tastes better.
YOU HAVE THE VIDEO BY CLICKING HERE
It is very easy to prepare and has all the flavor. The magic is made by butter and shrimp flambé. I hope you like it as much as we do.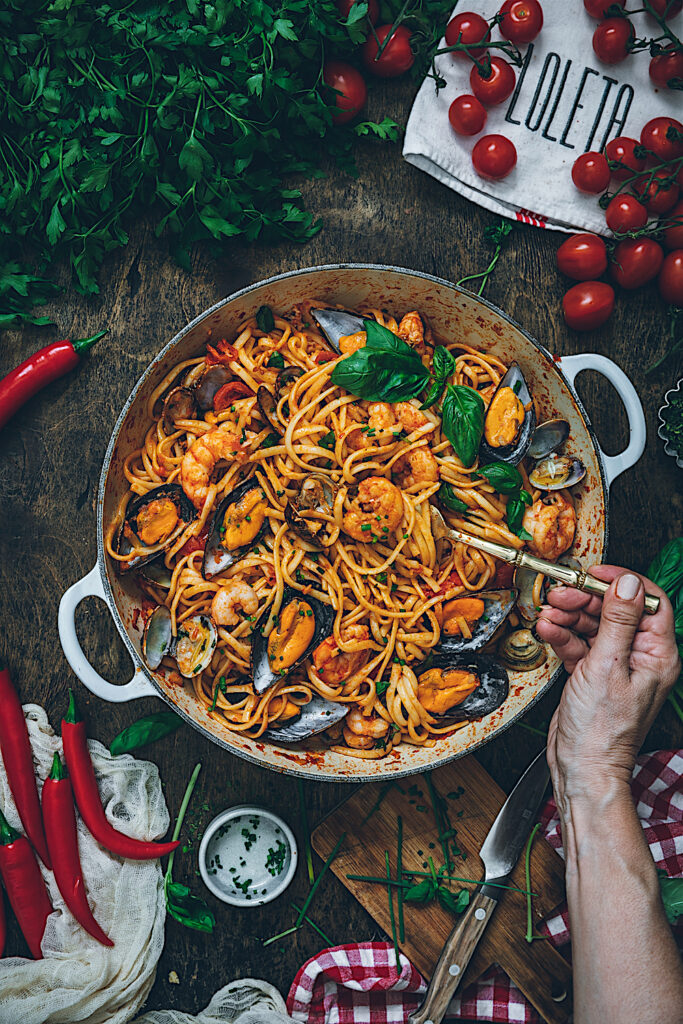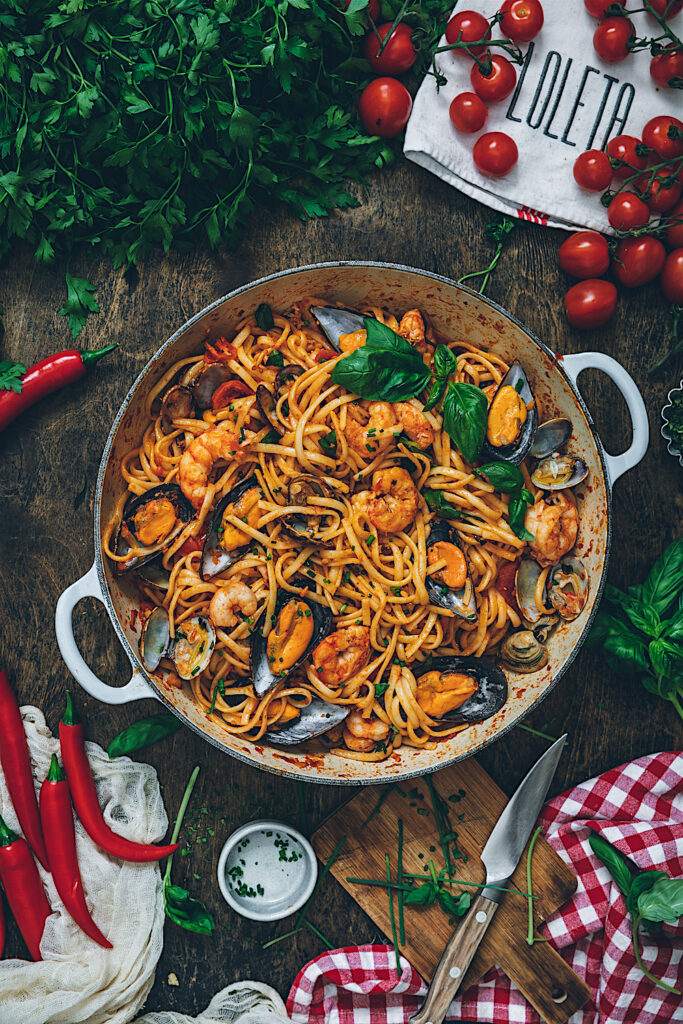 Ingredients
1 package of Linguini or your Favortia long pasta
250 g mussels
1 lemon 2 bay leaves
250 g clams
1 tablespoon oil
a little fresh parsley
1 garlic, minced
1/2 glass of white wine
500 g shrimp
100 ml brandy or cognac
200 g peeled prawns
1 guidilla
2 garlic cloves minced
20 g chery tomatoes
2 tablespoons homemade fried tomato
Directions
In a saucepan put the water and cook the pasta al dente. Keep a cup of the cooking water.
In a frying pan put the oil, and garlic and brown. Add the clams, parsley and wine. Cover and wait for them to open
In a saucepan we put two fingers of water, the juice of half a lemon with the half lemon already squeezed, the mussels and two bay leaves. Cover and wait for them to open.
In a saucepan put oil and the heads of the prawns. Add the cognac and set fire to flambear. We move and wait for the fire to go out.
Crush well so that they release all the juice. After a few minutes we remove the heads. In the same oil brown the garlic and chilli pepper and add the garlic, chilli and cherry tomatoes. Fry and add the prawns and prawns. We take a few turns and remove. E that same oil sauté the cherry tomatoes and when they are soft add the fried tomato. We return the prawns and prawns and move everything.
Add the pasta al dente and a cup of cooking water. We put the clams and mussels, move well and enjoy!