This focaccia of olive oil with olives black and red onion has become a favorite of family meals,
I had just bought the book of Otolenghi a few years ago, Ottolenghi The Cookbook, and unlike nearly everyone who focuses on dishes of vegetables and salads, to my I love how he prepares the breads and pastries. So looking for a recipe for this type to the book with this focaccia.
He prepares a recipe base and different ingredients placed on it. I've preferred to make the focaccia of olive oil with olives black and red onion because it was what I had at home (and be lucky that I had because the combination is brutal), but unlike him, use much extra virgin olive oil because I love the texture and the sa BOR that is the focaccia.
So I add twice the amount to the mass, and painted several times with Virgin olive oil extra focaccia between levados and rest and once out of the oven also. The result of the rest with olive oil is a super moist and tender olive oil focaccia and that stays perfect several days because it has several slow rest, so don't panic and encourage you because you'll love.
I think it is also a recipe ideal if going to the field, or to the beach and above all seems an ideal snack for family meals that are more complicated because they pave the way to you. I bake it, cut it into pieces and freeze it. The day of the meal, thaw it out of the refrigerator, and at the last minute return it to the oven a minute and as if freshly made!
The secret as usual, oil extra virgin olive, which, in my case, you know that it is of OMED because in addition to all the awards you have, it is luxury and is here. I've used the Picual, but which is freshly squeezed with a color and intense flavor that makes sure everything is impregnated with its flavor and color. Magic. That is what makes, pure magic in this simple olive oil focaccia. fancy? As we will.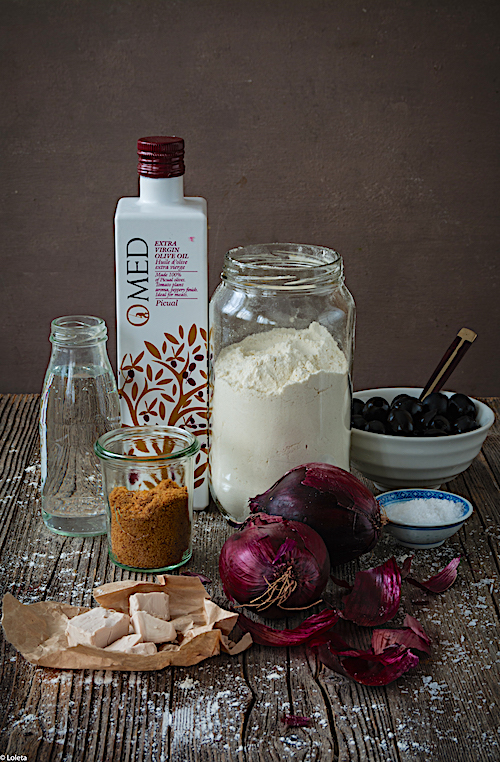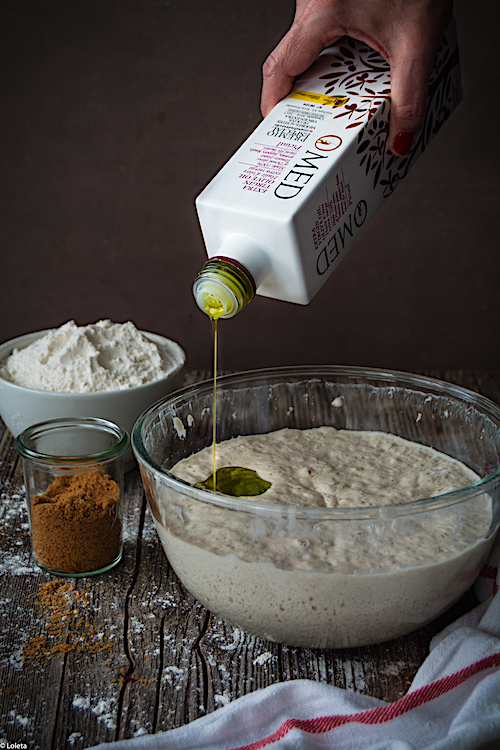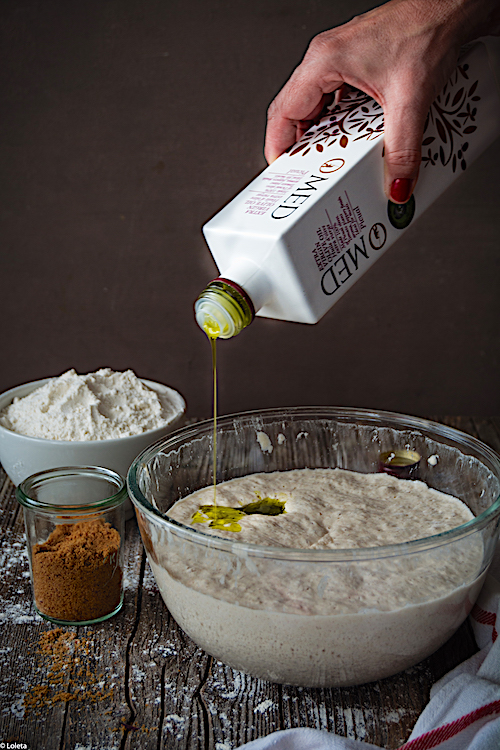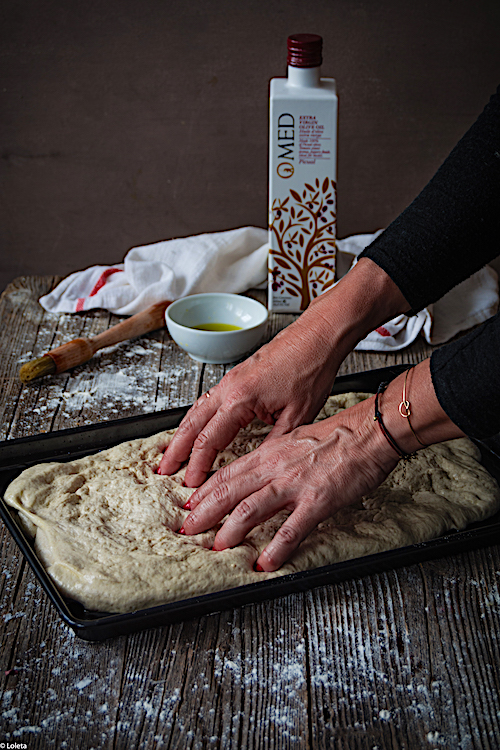 c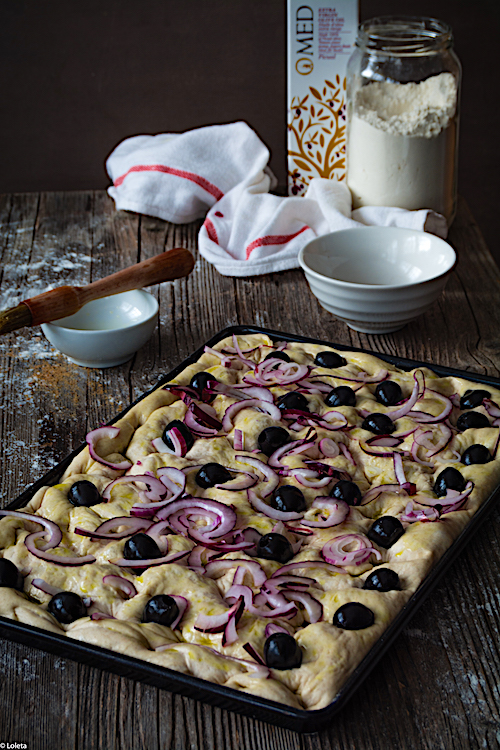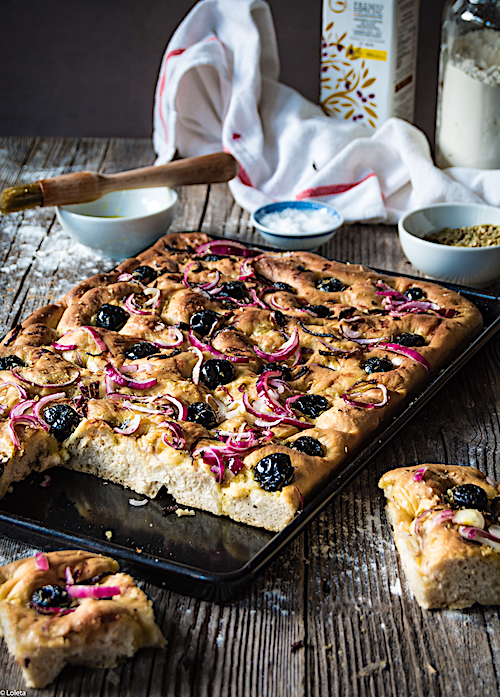 Ingredients
For the pre-ferment
1 teaspoon and a half of dry yeast for Baker or 15 g fresh yeast bakery
420 ml warm water
330 g of white flour strength
For the olive oil focaccia
330 g of white flour strength
1 tablespoon brown sugar
3 tablespoons extra virgin olive oil OMED Picual
1 tablespoon salt
In conclusion
45 ml of extra virgin olive oil
1 can of olives quality black
1 red onion
a tablespoon of dried oregano
a few flakes of Maldon salt
Directions
The first thing we will do is to prepare the pre-ferment. Mix the yeast with the water in a bowl until RID completely. With the help of a wooden spoon, we begin to incorporate the flour until they form as a porridge. We cover (as I always with my cap of plastic shower that I dedicate to my breads and masses that lie) and leave in a dry place away from streams to stand for 2 hours.
Past this time put it in a bowl of electric mixer with all the ingredients of the focaccia (flour, sugar, and extra virgin olive oil) and beat at low speed during 6minuts. Then add the salt and beaten 2 minutes at high speed.
We oil a bowl with a little oil and put the mass that we will paint with oil. Cover and let rest 1 hour. My dough rose very much. I turn on the oven to 50 degrees for a couple of minutes. I turn it off when it is only tempered and put the Bowl plugged with the CAP, inside the oven already off. I leave it to stand for one hour and the dough comes up fluffy and which gives very soft.
We while oil extra virgin olive oil oven plate. How much thicker and more despite better. If you have an iron skillet or a cast iron better than better because the heat will be distributed more evenly and that will make the focaccia to grow evenly.
We poured the dough first greased with extra virgin olive oil and with the help of the hands also oiled surface, stretch it and form a rectangle. So we pull the dough up and then down. When we have a rectangle, we took an edge the longest part and carry it to the Center, and do the same with the other end so that we will have a package.
We place it on the mold and with fingers stretched to cover all of the mold. I used a square of 39 cm by 29 cm. If yours is smaller you can form two Focaccia. Cover and let rest again for half an hour past this time and with the pads of the fingers, make sure that the basic mass all corners of our mold and return to cover and let stand for another half hour.
We turn on the oven at 220 degrees. Cut the onion into rings not very fine but not fat. If we cut it very thin is better to put it in the middle of cooking and that another man was the onion will burn. We paint again with olive oil focaccia, we deal well drained olives and onion rings. We went down the oven to 190 degrees and Bake 15-20 minutes until the focaccia is golden underneath.
Remove from the oven and repainted a couple of times with Virgin olive oil extra. Sprinkle with oregano and a few flakes of Maldon salt
Tips and Tricks
To lighten the day of baking, you can prepare the pre-ferment the night before and let it stay overnight in the fridge. We took it one hour before use of the refrigerator and continue with the procedure.
Try to get a sandwich with this bread and won't want to try other sandwiches anymore
Add a little cheese mozarella once baked and returned to Gratin. You will have an amazing focaccia
Preparation time: 4 hours
Difficulty: easy
Servings: 24 pieces