The best chocolate cake. That's what my son says every time we prepare him.
It is an easy but very rich cake that is very juicy and with intense chocolate flavor as it could not be otherwise.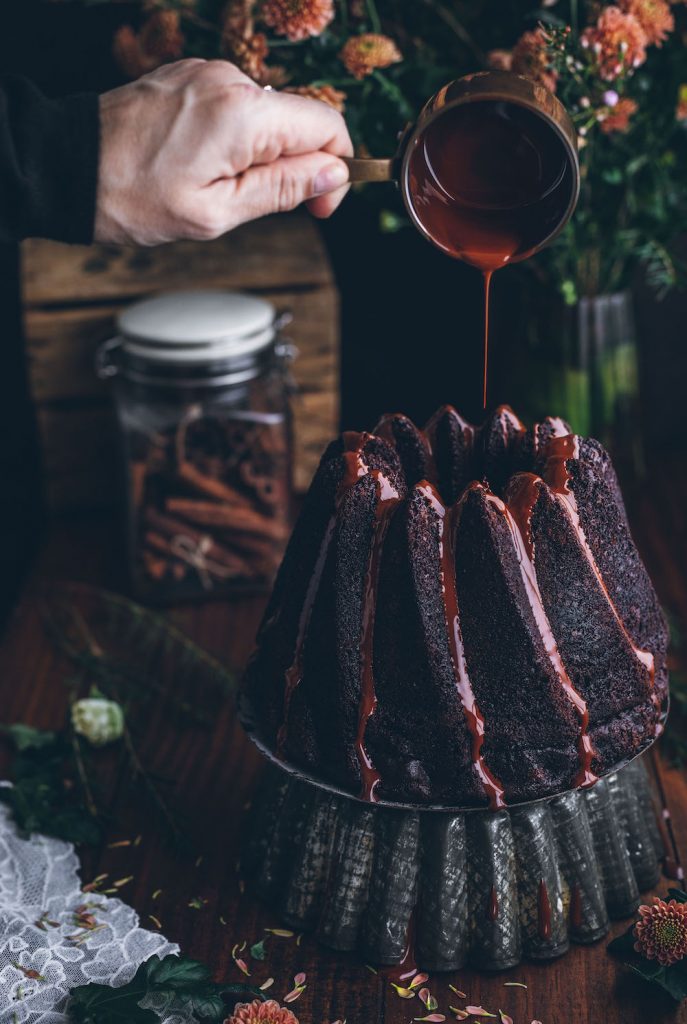 Ingredients
75 g of melted butter
300g brown sugar
250g scalloped or wheat flour
70 g of pure cocoa powder
7 g baking powder
7 g of sodium bicarbonate
1/4 teaspoon salt
3 large eggs, at room temperature
175 ml milk at room temperature
175 ml of coffee (or 175 ml of hot water with 1 teaspoon soluble coffee - you can use decaffeinated as me)
1 tablespoon vanilla extract
For the chocolate topping
100 g of dark chocolate
100 ml cream
a pinch of salt
Directions
Preheat the oven to 175oC. Grease our mold well.
Melt the butter and set aside.
Put the sugar, flour, cocoa powder, yeast, baking soda and salt in a large bowl and mix.
Add the melted butter, milk and eggs and beat until the chocolate cake mixture is fluffy and soft.
Add the hot coffee and beat at medium-low speed until the dough is soft (it will be very liquid but should be so).
Pour the mixture over the pan and bake for 35-40 minutes. After this time, prick with a toothpick and check that it comes out clean. If there are any traces of the dough left, then leave a few more minutes and we check again before removing it from the oven.
For the chocolate sauce, cut the chocolate into small pieces (chop it with a saw knife). We boiled the cream and poured over the chocolate. Move with the help of a small spatula until well mixed and the chocolate is creamy.
Let cool in the pan for 10 minutes. After this time, we unmould and let it cool completely on a rack. We poured the chocolate over the top.
Tips and Tricks
Dare to add a couple of tablespoons of peanut butter for extra flavor
Difficulty: easy
Preparation time: 1 hour
Servings: 10