I have long wanted to prepare this pumpkin cream and roasted tomatoes with basil. I really like to use pumpkin in creams and the combo with tomatoes and peppers make this cream a winner now that the cold begins.
I really like its flavor and if you leave it thick it will be an incredible sauce for your meat or pasta dishes.
This is the recipe I have come up with after several tests and is based on the recipe that my Turkish friend, Belkis, gave me last year after she put this hot soup on us when I arrived at her house in Brussels on a rainy day, and it conquered me. I hope you do too.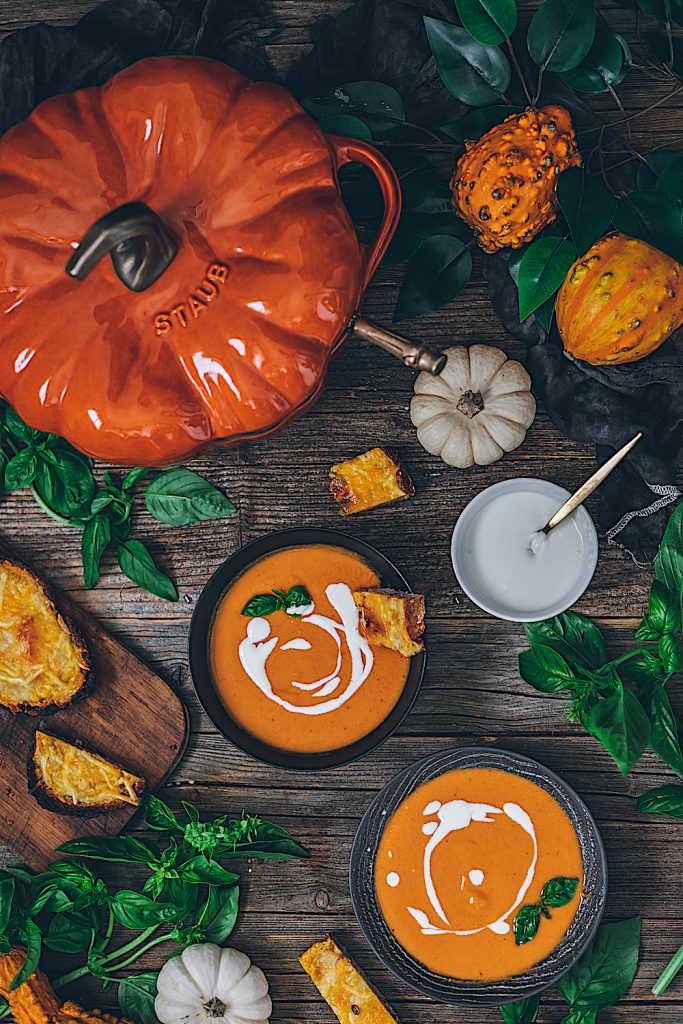 Ingredients
1.5 kg ripe tomatoes
1/2 peanut squash
1 red pepper
1 head of garlic
2 medium fresh onions
1 teaspoon salt
a tablespoon of extra virgin olive oil
70 ml extra virgin olive oil
1/4 teaspoon chili powder (optional)
1 tablespoon ground coriander
1 tablespoon oregano
1 tablespoon dried rosemary
1 bunch of fresh basil
salt
freshly ground black pepper
2 onions
For emulsion
200 g cream cheese
1 liter of chicken stock
For toast
2 slices loaf bread
Your favorite grated cheese
Directions
Preheat oven to 200 degrees.
In a bowl mix the herbs.
Wash and cut the tomatoes in half. Cut the red pepper and remove the seeds. Cut the pumpkin in half. Put all the vegetables on a baking sheet placing the tomatoes upside down. and season adding the dried herbs (save a tablespoon).
Turn the tomatoes over and finish with the rest of the dried herbs. Wrap the red pepper in aluminum foil (this will make the skin come out easily once baked) and also wrap the garlic head cut in half). Drizzle well with extra virgin olive oil.
Bake for an hour (I first roast the pumpkin for 10 minutes in the microwave and then bake everything for half an hour, so I save time and energy), but if you don't have a microwave you can do it all in the oven for an hour.
Remove the skin from the pumpkin and red pepper. We put everything in a food processor or crush with the help of a hand mixer. When the vegetables are crushed add the cream cheese, olive oil and broth little by little until you get the desired texture (more broth will make the cream more liquid, and less broth will make it thicker) and some basil leaves.
While toasting the bread and covering with the grated cheese. Bake on the grill until the cheese melts.
Serve very hot with a little olive oil on top and a little liquid cream.
Tips and Tricks
It freezes very well
Take advantage of the vegetables you have in the fridge to roast them all together and thus save time and energy
Preparation time: 45 minutes
Difficulty: easy
Servings: 6