This oven-roasted cauliflower is made in 20 minutes and has an incredible flavor and texture and is also suitable for all audiences.
With this recipe I have finally managed to burn son eat cauliflower and is that with the sauce, the crunchy texture and the flavor one could believe that it was cauliflower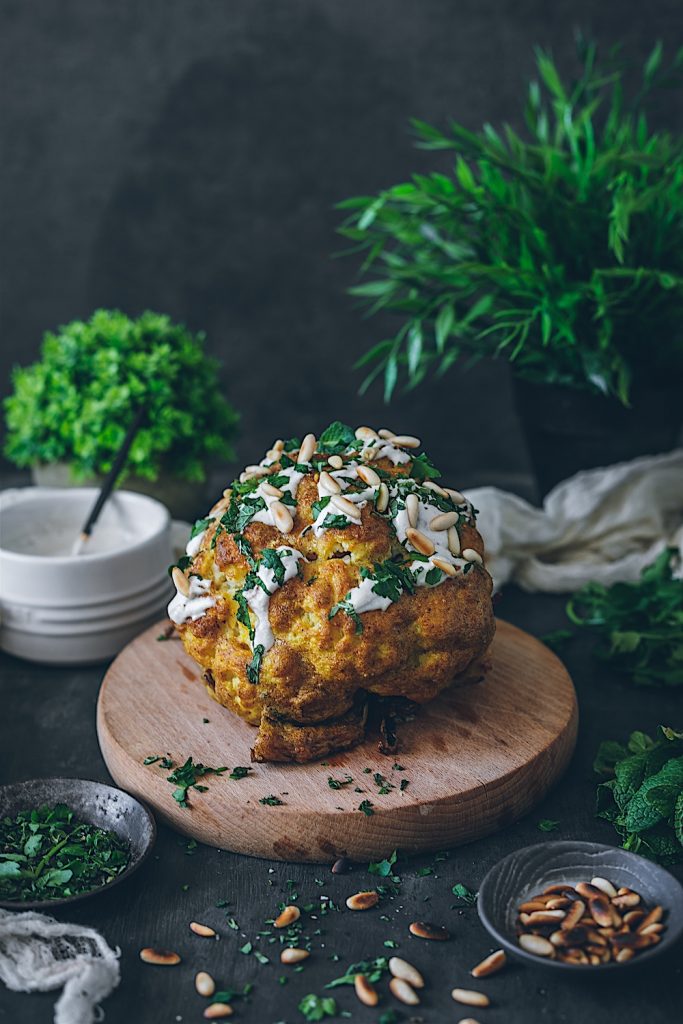 Ingredients
1 whole cauliflower not very large
6 tablespoons homemade or purchased mayonnaise
1 teaspoon of ground cumin
1 teaspoon turmeric or tumeric
1 teaspoon hot or sweet paprika or chili powder (which is what I put on it)
1 teaspoon ground or fresh cilantro, chopped
salt
a little grated grana padano or parmesan cheese
To finish it
3 tablespoons Greek yogurt
a little chopped parsley
a little chopped peppermint
1 tablespoon tahini
a few drops of Tabasco (optional)
some pistachios or toasted pine nuts
Cook the cauliflower in plenty of boiling water for about 6-8 minutes until pricking it with a knife is tender. We pass it to a tray or container suitable for the oven and let it drain and evaporate the water.
Mix all the spices with the mayonnaise.
With the help of a kitchen brush or a spoon cover all the cauliflower with a thin layer of cauliflower with spices and sprinkle with the grated cheese. Bake at 220 degrees for 15 to 20 minutes until the cauliflower is golden.
Mix the yogurt with the tahini and drop it on the cauliflower. Add the chopped fresh herbs. We finish with some golden pine nuts in the pan and enjoy!