This Coca de San Juan is my husband breakfast his holy day. It is a very typical sweet in Catalonia and this year I decided to prepare it.
It is not leave but fell surrendered at the feet of these bowling reminding me much the sweet buns that prepares my mother at home, although these have the bonus of cream which is the most.
I followed the recipe for Xavier Barriga, a Baker from the best thing in this country (Turris is must-see if you go by Barcelona), but I, for a change, I have endeavored to give them a twist, adding a bit of Jam's rhubarb and strawberries before filling them with cream. I made some with pine nuts, which is the classic version, and others with pistachios, although I admit that the sprockets are phenomenal.
They are very fast and although they have two levados, they are very easy and safe out. As all the buns are good freshly made and you same day. At this time to bring cream, should store them in the fridge by the cream if you want to take them the next day, so they lose softness with the cold of the fridge.
But as they baked in just 10 minutes, I would keep the dough in the refrigerator without baking and them when you want to take, the pushing out of the refrigerator an hour and then you bake, and in a while you have your buns or cakes of San Juan freshly made in house.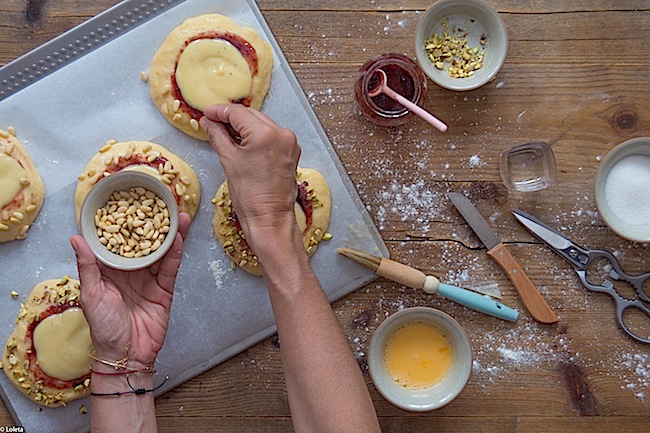 Ingredients

For the cream
500 ml milk (I used semi-skimmed)
2 teaspoons pure vanilla extract
1 egg and two egg yolks
125 g sugar
60 g cornstarch
For the cake
500 g of flour strength
120 ml milk at room temperature
12 g of Baker's yeast
a pinch of salt
100 g sugar
3 eggs
85 g soft butter
50 g pine nuts
50 g of chopped pistachios
1 egg to paint the cake before baking
a bit of moistened sugar (2 tablespoons sugar moistened with a few drops of water)
Directions
Start with the mass of cocas. In a large bowl mix the flour, yeast, salt, sugar, milk and eggs. In an electric mixer with attachment (hook) kneading dough for 5 minutes until everything is well integrated. Let stand for 15 minutes.
Now gradually add the butter at room temperature. We must integrate well before adding another part. I added it in three times. Remove the dough from the bowl. Soak it well butter and return the dough to it. Cover with a cloth and let stand 1 hour. I already know that I cover the bowl with a shower CAP that I have for the masses and put the bowl in the oven closed but off so mild draught-free.
Past that time, separate the dough into 9 pieces of approximately 95 g. form balls and place on a baking in a baking paper. return to the oven for an hour.
If you want to make a large Coke only you must form a rectangle. You do not use roll, the hands are sufficient. Let stand an hour
Meanwhile, put to heat the milk. In a bowl with the help of some electric rods, beat the sugar, egg and egg yolks and vanilla until well foamy (about 3 minutes in which the mixture will become also pale). Then add cornstarch and mix with electric rods again.
When the milk is beginning to boil, slowly pour onto the bowl, and mix with a hand rods, mixing well.
Return the mixture to the saucepan and continue cooking over medium heat without stopping to beat until cream has thickened and is smooth, well. Remove from heat and move until mixture loses heat. Go to a sleeve disposable pastry and set aside.
Over time of rest of the cake, preheat the oven to 200 degrees.
Sink with hand somewhat the center of the cake. With the help of a spoon to put a bit of jam over the custard with the help of the manga that we will make a cut (don't need nozzle). Brush with egg and sprinkle the edges with pine nuts and pistachios, and moist sugar. Bake for 10 minutes and enjoy!
Tips and Tricks
You can put your favorite dried fruit and nutella
Keep the dough in the fridge for the next day and they will have even better tasting
Preparation time 30 minutes more 2 hour of rising
Difficulty: easy
Servings: 9 cake