These gluten-free cod fritters are the first ones I made at home once married. Some friends came to dinner and one of them is celiac.
As we were in Lent and I always cook fritters at this time, I decided to try this version, and I have to tell you that they were a resounding success. So here you have them. I hope you like them too. The difference with the traditional fritters, is that they do not carry flour but cooked potato loquee gives them a different texture but delicious.
You can batter them in whipped egg white or do without the egg if you do not have or do not want to use it. I leave you the recipe because I know you have they will love it.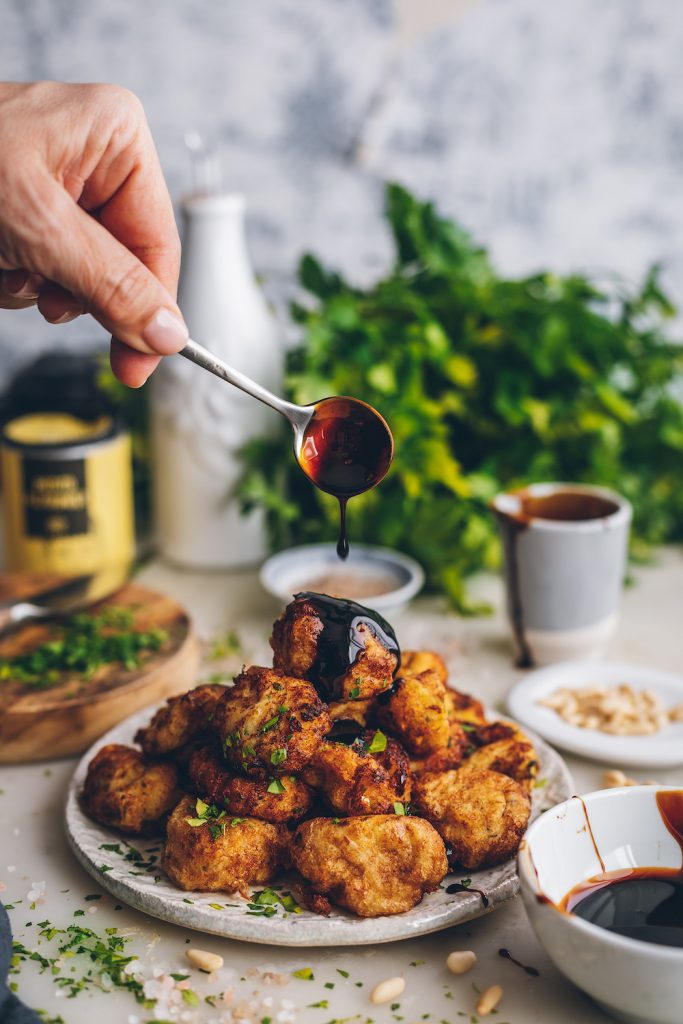 Ingredients
3 large cooked potatoes
1/2 teaspoon garlic powder
crushed pink pepper seeds
a little chopped chives
a pinch of ground black pepper,
a pinch of nutmeg powder.
a bunch of very chopped parsley
30 g pine nuts
150 g desalted cod
salt to taste
2 eggs
extra virgin olive oil for frying.
A little sugarcane honey to accompany them
Directions
Cook the potatoes with skin in a saucepan with plenty of water and a pinch of salt. Let cool a little and peel them.
Mash the potatoes until you get a puree. Add the spices and parsley very chopped. Let cool slightly and add the desalted and crumbled cod.
Toast the pine nuts over low heat in the pan (with nothing else) until golden brown.
When they are ready we add them to the mixture of potatoes and cod.
Add the egg yolks and mix little by little until you get a fine and light paste.
We rectify salt.
We form the fritters with the help of two spoons or we can slightly moisten our hands and make balls with our hands.
We pass them through the whipped whites and fry them in plenty of hot oil until they are well browned.
Serve with a little cane honey and enjoy!
Tips and Tricks
If the mixture is not bound you can add a tablespoon of almond flour or ground almonds
If you do not want to use egg you can do without it perfectly and fry the fritters directly. They will come out crispier and less humid but equally rich
Difficulty: easy
Preparation time: 25 minutes
Servings: about 20 fritters