Today I bring you my fish recipe for these holidays. A recipe made with cod and Iberian palette, a sea and mountain perfect for these holidays.
It is a very simple recipe to prepare and that you can leave ready a few days before. The garnishes are cooked potatoes but you can accompany it with your favorite vegetable.
To prepare it I used desalted cod that allows you to make the recipe without having to leave it 24 hours in water, which these days for me is an advantage. If you want you can use the salted cod, but you will have to soak it at least 24 hours changing the water every 3 or 4. I hope you enjoy it as much as you enjoy it here at home.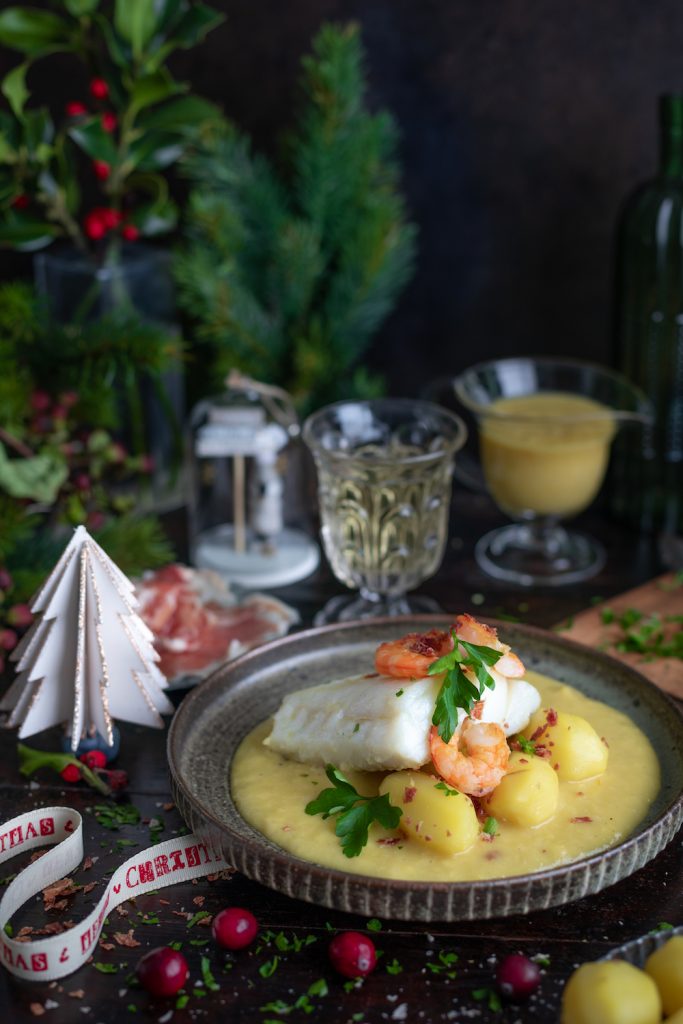 Ingredients:
4 loins of desalinated cod
100g Iberian palette
3 tablespoons of olive oil
2 leeks
200g prawns
300g side potatoes
300ml cava
300ml fish broth
For the velouté, in a saucepan we saltethe the leeks. Add the cava and fish broth and reduce.
Crush the sauce and remove it from the saucepan. Fry a tablespoon of flour in the same saucepan, gradually add the sauce hot until thickened and get a creamy sauce. If there are lumps to pass a hand mixer to crush it. Book.
Cook the potatoes and sauté the prawns. Book.
Dry some slices of Iberian palette in the oven or microwave until you get some chips. To dry them in the microwave, we put them between two kitchen papers and let them cook at maximum temperature in the microwave for 60 seconds. Then 30 more and so until the slices of ham have been dehydrated and crisp. You have to wait until they're cold to find out if they're crisp yels or not.
In a frying pan mark the cod loins. Heat the pan with a tablespoon of olive oil. We put them with the skin down and let them toast. After a few minutes we turn around and leave for a few minutes.
We take them out of the pan and return them to the sauce. Leave on a gentle heat for 10 minutes and serve with potatoes, prawns and crispy ham on top.
Tips and Tricks
Prepare it the day before
Serve with your favorite vegetables
Preparation time: 30 minutes
Difficulty: easy
Servings: 4