At home we are super fans of pasta with Bolognese vegetable since my friend Tere, of The kitchenettes Maria I discovered it a couple of months ago. Tere makes a very healthy cooking and mixing many unprocessed foods. An intolerance over the past year has led her to experience new foods and new ways to cook and when you have a friend throughout the day dale that you hit, ultimately enter you want to try. And that has happened to me with this vegetable Bolognese.
At home we are super lovers of Italian cuisine and traditional Bolognese, and especially of the ragu, but it is true that there are times where care warmly is a pleasure and so today's recipe.
My Bolognese as you say, is based on Tere's Although it I've modified ingredientes.he added some and removed others because I think that Javi, my child, will be taking without problem with these changes. So instead of using a base of lentils, I decided to use vegetables, lots of vegetables and if I tell you the truth the result may not like me more.
As my son is a little thought, the truth is that I thought in crush list once. However, I was fortunate to prepare bolognaise while he was ahead. He came home and just saw it in the already finished pan while boiling the pasta.
He fenced, he sniffed it, said that he would not eat it. And I said nothing to me. Shortly after he returned to the kitchen and this time picked up a spoon. "You going to try it," I thought. But as if nothing I didn't you case. tested it and said nothing, and that in their language when we speak of vegetables means "ummm is rich".
So as this Bolognese entered fully into our lives because I have found in it an ally so Javi eat a lot of vegetables without finding out. A shot of vitamins that I always thank to Tere. I hope like you as much as Javi.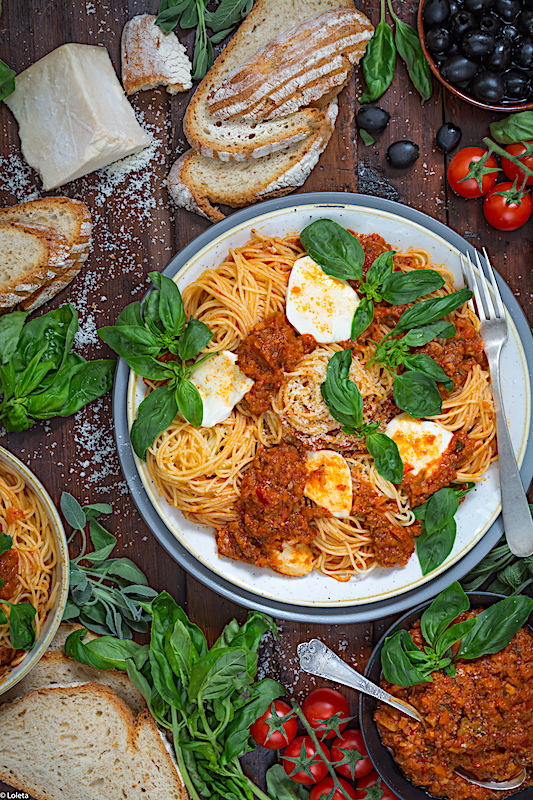 Ingredients
800 g of tomato puree (I use mark Mutti that you know that I love because it has 99% natural tomato and 1% salt)
1 onion
1 green pepper
1/2 red pepper
3 carrots
1 Zucchini
100 g portobello mushrooms
100 g of shitake mushrooms
100 g of Oyster Mushrooms
300 g of cauliflower
60 ml of OMED extra virgin olive oil variety
2 tablespoons chopped fresh basil leaves
1 teaspoon salt
1 teaspoon freshly ground black pepper
1 kilo of pasta (I used thin spaghetti, but you can use which suits you)
1/4 cup Parmesan cheese
1 mozzarella
Directions
With the help of a food processor, finely chop all the vegetables. We should do it separately to incorporate them in order according to your cooking time. If we don't have a robot, you can grate them with a grater.
In a saucepan, heat the oil. Sauté the chopped onion and when it starts to become transparent, add the carrot and the two types of pepper. Let Cook two to three minutes and add the zucchini.
Finish by adding the tomato paste, mushrooms, mushrooms and cauliflower and leave several minutes until water evaporates and is a thick sauce.
At that point add the Basil and add salt and pepper to taste. Take a few turns and serve over pasta with grated Parmesan cheese and a bit of mozzarella on top
Tips and Tricks
Make double the quantity and store in jars. It freezes very well
If you prefer you can crush it and serve it with rice, meat and fish.
Difficulty: easy
Preparation time: 25 minutes
Servings: 10