These cod dumplings are the newest addition to my traditional dishes of Easter this year. Always I really enjoyed the cuisine, and at home they touch me Palms when I prepare any of these recipes, because we love to alternate them with dishes of international cuisine. You know that as in everything in life, in the kitchen I am add and do anything rather than subtraction and choose.
But above all, have become of my favorites because these cod dumplings are super simple. I love them because I can prepare them with desalted and remain as well. There are other dishes that need the taste of salt cod, cod a la vizcaína, however I have noticed that when it comes to recipes that take the flaked cod, it is not necessary, and I can thus decide to make them one time for another, because they are very quick to prepare and not take complicated ingredients.
On the other hand, also very well, something important for my Easter in which processions, inputs and outputs, crazy schedules at the end I don't have long to cook. But I like that we eat at home, so I prepare dishes that I freeze and you crave then warm during the week.
In addition, already I have made these for my son for school lunches and they have caused sensation, so I am very happy. I try to eat fish every week at school, and it is not always easy. The texture that takes the fish when heated in the microwave non always looks good. but these meatballs are phenomenal. I freeze them in freezer bags that I occupy less than in tupper. I write the recipe name and date and put them on top of each other, so that almost do not occupy me space. Then bag the freezer and put them in a container with a lid with chosen lining (normally cooked rice or potatoes, because I don't like to put fried). I think the secret is the sauce that I invented it on the fly and that was super.
It is a locked onions and fried bread and without tomato sauce because I didn't want that tomato plugged the delicate flavor of cod. White wine and Vermouth did magic on it. Once it had been boiled and reduced the sauce became thick and full-bodied, with an aroma and taste delicious and very easy to for all palates, and above all, without tripping so Javi takes it without protest. We ended up with a little chopped parsley which gives a color beautiful pigeon and ready! Everybody's happy at home: Javi with its tupper for the cole, Juanje with its Monday meatballs Santo and I because I don't have to cook at Easter. I hope like you very much also.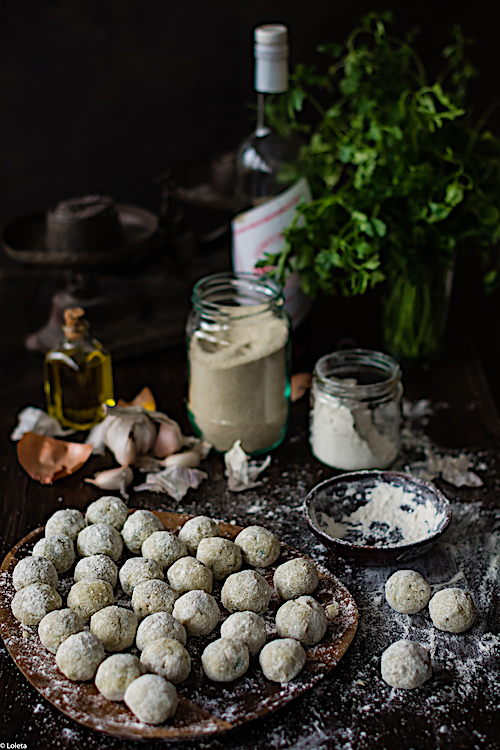 Ingredients
For the meatballs
600 grams of desalted cod
1 egg
60 grams of grated bread
30 grams pine nuts
1 clove of garlic
chopped fresh parsley leaves
3 tablespoons flour
olive oil for frying
Ingredients for the sauce:
3 tablespoons olive oil Virgin extra2 slices of bread
1 large onion
2 cloves of garlic
150 ml of white wine
40 ml (3 tablespoons) of Vermouth
chopped fresh parsley leaves
100 ml of 1 tablet sde fish stock or fish stock
Preparation:
To prepare the cod meatballs sauce, heat the oil in a pan. Fry the bread slices until they are well browned. Remove from pan and reserve. Lower the heat and add the chopped onion along with the cloves of garlic to the pan. Let Cook over low heat until the onion is soft.
Using a hand blender, or a food processor, grind the onion along with the oil and the fried bread to a fine puree. Return to pan and add the white wine, Vermouth and the fish stock. Leave to reduce until the sauce is thick.
Meanwhile prepare cod meatballs. To do this, crumble the cod and leave it without skin or spine. I prefer to buy it now desalted because it takes me much less, but you can buy it salted and desalt it and House.
Once removed the skin and the bones and grind it along with the garlic and parsley. Add an egg, pine nuts and bread crumbs. If it is too dry, add a tablespoon of milk, and if the dough is too soft, add a little more than bread crumbs.
Knead until it is a solid mass with which to form meatballs. Pass them in flour and FRY in hot oil.
Then add cod meatballs to the sauce that already will have thickened and cook for 10 minutes over low heat.
Tips and Tricks
Serve these meatballs of cod with potato chips or with a little bit of cooked rice
They freeze very well
Preparation time - 30 minutes
Difficulty: easy
Servings: 25-30 meatballs