These artichokes with laurel in extra virgin olive oil is one of those seasonal recipes. I love cooking with seasonal products.
I hope that you arrive the peaches, mangoes or as in this case the artichokes, but I'm always looking for ways to enjoy them all year round.
In the case of fruit I do jams or freeze already clean fruit to make year-round ice creams and mouses, and in the case of vegetables always do canned: you pickled or in such olive oil, vegetables keep their flavour and are perfect for months.
The important thing when working this type of canned is raw. Vegetables should be first, but must also be Vinegars in the case of Marinades or in the case of canned olive oil.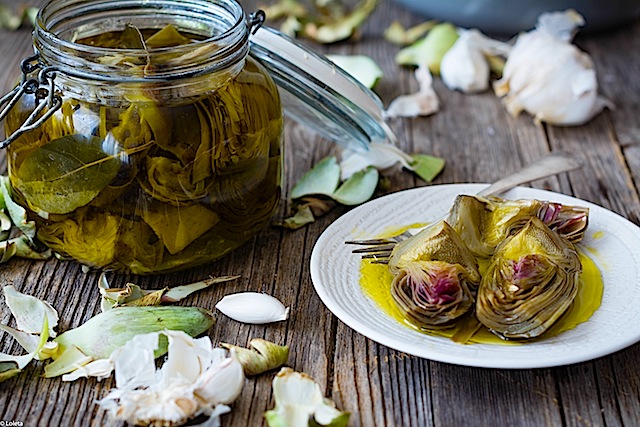 Ingredients
10 artichokes
half a litre of O-MED organic extra virgin olive oil
1 bouquet garni (a sprig of parsley, thyme and a few leaves of laurel in a mezzanine)
1/2 litre of white wine
250 ml of water
a few black peppercorns
1 clove of garlic
3 bay leaves
1 lemon
1/2 liter of water
Directions
1. prepare a bowl with a lemon cut in quarters and clean the artichokes.
To my I like to clean them by removing all the hard leaves and leaving only the most tender. Short ends and then open them in half. Quito around the inner Centre which is full of hairs and leave only the heart. Cut again in half so that each artichoke will be 4 parts
Put the artichokes in the bowl with water and lemon, this way will not rust and will not go dark.
2. in a saucepan heat 2 tablespoons of oil. Add the artichokes, white wine and let simmer a few minutes. This past time, add 250 ml of water and leave to gently Cook for about 40 minutes until the artichokes are tender (the leaves are that most take to soften but soft fire will that finally they are tender). Leave to cool in the pan.
3. last this time, drain the artichokes well. Transfer to a jar and add some leaves of laurel cover completely with Virgin olive oil extra. I used organic extra virgin olive oil of O-MED for my has been a great discovery. He had not used it before but it is true that its flavor and color me has conquered.
4 cover and keep as room temperature up to 3 weeks. Once you open the pot, keep in the fridge
Tips and Tricks
You can flavored with Cumin beans or grains of fennel
It is accompanied by a white wine and some crusty bread toast
Difficulty: easy
Preparation time: 50 minutes
Servings: 8