These meatballs with express tomato sauce are the most repeated at home in summer. Its color already takes me to summer, to the time of tomatoes, to the color on the plate and the smell of the sea that my summer memories bring me.
It is a recipe enriched with a little Grana Padano cheese in the meat that come out very juicy because they also have 3 types of meat mixed: veal, pork and fresh sausages.
Here I touch my palms every time I prepare them so I hope you like them as much as here.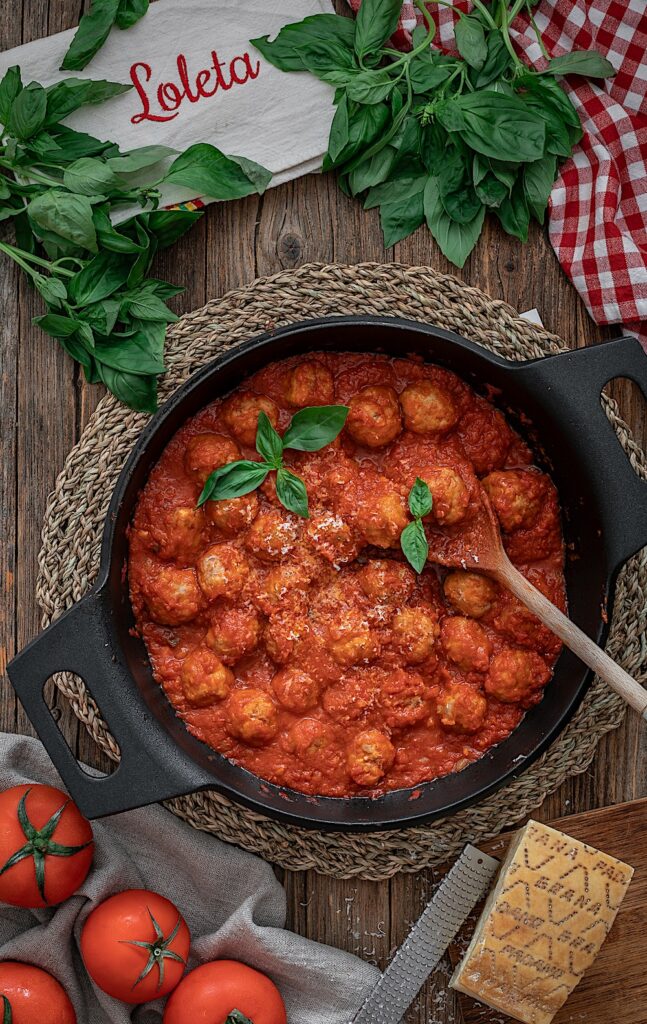 Ingredients
For the tomato sauce
2 tablespoons oil

2 garlic cloves minced

1/2 onion, chopped

a pinch of sugar

1 sprig of fresh basil

Salt and black pepper

2 tablespoons Grated Grana Padano
For the meatballs
1 kg minced beef and pork

4 fresh sausages or fresh sausage without gut

1 slice of bread

3 tablespoons milk

2 eggs

2 cloves of garlic

4 tablespoons grated Grana Padano cheese

salt and freshly ground black pepper

1 teaspoon of Walnut nutmeg ground
Frying them
2 tablespoons flour

olive oil for frying
Directions
For the tomato sauce in a saucepan sauté the garlic with the onion. When it is tender add the crushed tomato, salt, a little sugar and fresh basil, and let fry over medium-low heat for about 30 minutes until the sauce is thick and the tomato water has evaporated.
Meanwhile, we start with the meatballs: we grate the Grana Padano cheese with a grater. In a bowl, put the slice of bread with the milk and set aside.
In a bowl mix all the ingredients of the meatballs: meat, sausages without gut, eggs, spices, bread dipped in milk, garlic and grated cheese. Mix with your hands until you get a homogeneous dough.
Form the meatballs the size of a golf ball and place them on a tray with baking paper. With the help of a strainer, distribute the flour on top and moving the tray cover the meatballs well in flour.
Heat the oil over medium heat in a deep saucepan (so the oil will not jump when frying the meatballs) and fry the meatballs in batches until they are well browned.
When they are ready, put them in the saucepan with the tomato sauce. Add a bunch of leafless basil and bring to a boil over low heat. We ended up adding more grated Grana Padano and enjoy!
Tips and Tricks
We can use prepared tomato sauce

The meatballs freeze very well both with the sauce and separately

Difficulty: easy

Preparation time: 30 minutes

Servings: 8