These meatballs with Swedish sauce is a recipe that Javi asks me again and again since he discovered them on our last trip together to Copenhagen. And it is that Danish cuisine has very rich flavors and textures that are mixed all the time with the cuisine of Sweden and Norway forming a Scandinavian cuisine that is delicious and very varied.
These meatballs are a recipe originating in Sweden but are served throughout Scandinavia and are delicious. It is a healthy recipe because it has almost no fat and we can also make it in a gluten-free and lactose-free version.
The trick is to make a light béchamel with broth and add just a little cream that is also light to give the creamy touch to the sauce. So we replace the original cream of the sauce with a lighter sauce that we can also make, more gluten-free and lactose-free. I hope you like it.
You have the full video by clicking on this link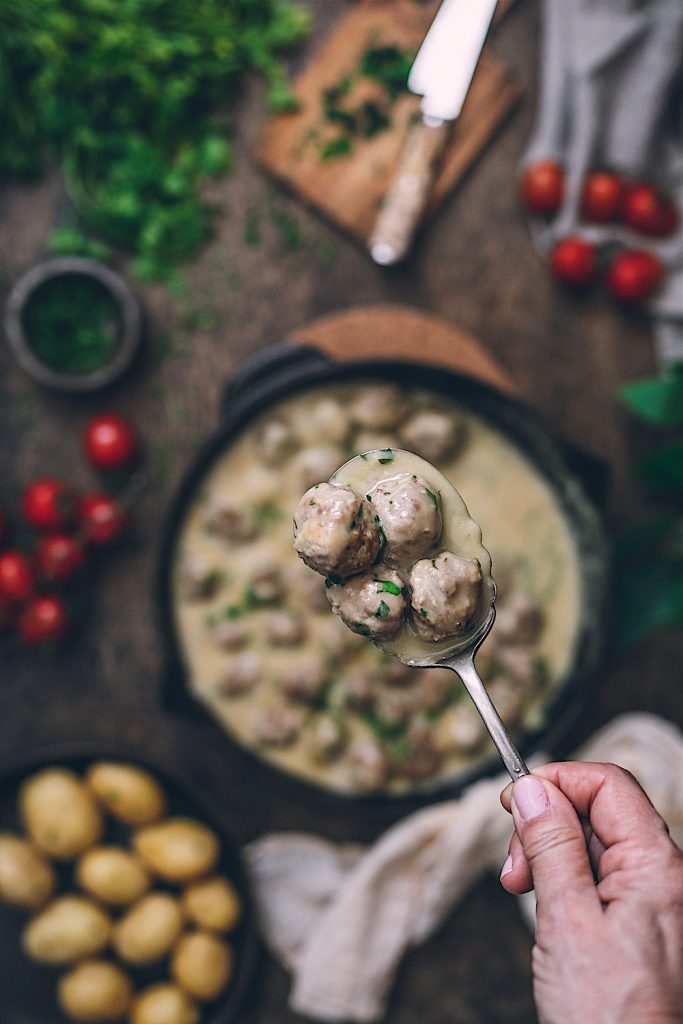 For the meatballs
1 thick slice of white bread, without crust (note below)
80 ml warm milk
1 small onion
1 tablespoon chopped parsley
1 clove of garlic
1 teaspoon of a mixture of nutmeg, cloves, cinnamon and black pepper
1 egg
600 g minced meat (note below)
1 teaspoon salt
1/2 teaspoon black pepper, freshly ground
1 tablespoon olive oil, to drizzle
For sauce
45 g (3 tablespoons) olive oil
30 g (3 tablespoons) flour (note below)
500 ml beef or chicken broth
60 g liquid cream** note below
1 tablespoon chopped parsley
Directions
Preheat the oven to 200 °C with hot air or 220ºC with heat up and down. Prepare a baking tray with baking paper or the basket of the air fryer
In a bowl, mix the bread cut into small pieces, warm milk, chopped onion, garlic and chopped parsley. Add the spices and egg and mix well.
Add the meat and mix everything. Season and knead until you have a uniform mixture. Form the small meatballs (about 3 cm in diameter) and place them on the baking tray and bake for about 10-12 minutes.
For the sauce, heat the broth in a saucepan. Meanwhile, in a frying pan heat the oil over medium heat. When it melts, add the flour and stir well with a wooden spoon so that it roasts well. Cook for 5 to 8 minutes or until the flour is golden brown being careful not to burn it. Add the hot broth stirring non-stop and let it boil for 3 minutes.
Add the cream and season with salt and pepper. Add the meatballs and let them simmer for another 6 to 8 minutes. Serve with chopped parsley and dill and accompany with some boiled or roasted potatoes. Feast of feasts.
Tips and Tricks
* I have used half pork half beef because I love how the meatballs look with the mixture, but you can use the one you prefer: turkey, chicken, duck ...
** We can use whipping cream but I prefer to use here cream for cooking that has less fat, you can also use evaporated milk without fat or lactose-free cream
For a gluten-free option we can use cornstarch and gluten-free bread
The original recipe has meat concentrate but it seems to me that using meat broth you do not need to aramaic anything
Difficulty: easy
Preparation time: 30 minutes
Servings: about 30 meatballs