Without a doubt this Italian ragout is one of my favorite meat stews.
All types of ragu found in the cuisine of Italy, the best known are the Ragout Bolognessethat is made with minced meat of pork or veal and which is produced the famous Bolognese Sauce, and the The Neapolitan ragout which is made with beef.
Both are made with tomatoes but have different vegetables: the bolognese also has onions, carrots and green peppers, and the Neapolitan ragout has onions and I have also put carrots
I hope you like this recipe as much as around here that raises passions every time you see me prepare it.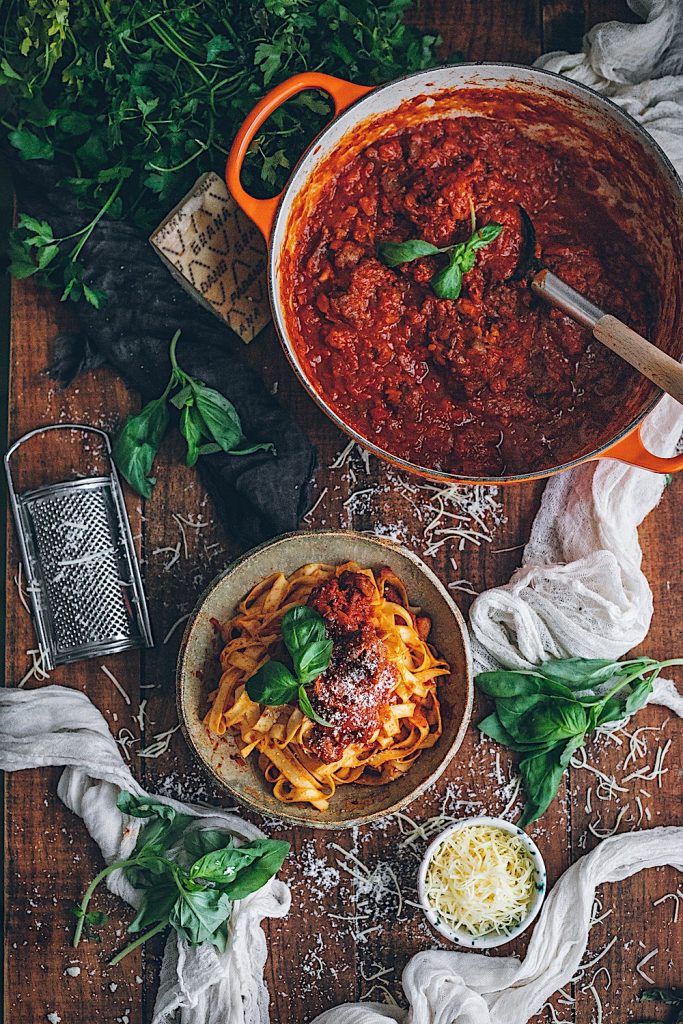 Ingredients
800 g of beef in small pieces for stew
300 grams of pork belly in pieces
2 medium onions
2 medium carrots
2 kilos peeled and seedless red tomatoes or two cans of peeled whole tomatoes
3 tablespoons tomato concentrate
50 ml extra virgin olive oil
1/4 liter red wine
basil
salt and black pepper
Directions
Chop the onion and carrot. Reserve
Heat the oil in a saucepan over high heat. When the oil is hot, add the meat and bacon also in pieces. Sauté with the help of a wooden spoon until golden color. This will seal the meat and help it keep its juices. Add salt and freshly ground black pepper.
From this moment we will only use a wooden spoon to cook our ragout, and always lowering what remains on the walls of the pot so that everything is well done. Remove the meat from the pot.
In the same saucepan, add the chopped onion and poach (sauté) in the juices of the meat until soft.
Then add the meat back to the saucepan. At this point we add the wine. Scrape with the wooden spoon the bottom of the saucepan. This will help to peel off the saucepan all the juices of the meat and onion. Boil over medium heat until part of the liquid has evaporated.
Add the tomato concentrate and peeled tomatoes. Turn up the heat so that the sauce boils. Rectify salt and pepper. Once it has boiled, lower the heat to a low heat, letting it cook covered until the meat is tender (depending on the meat it will take between 40 minutes and 80 minutes)
It is necessary to move it from time to time taking care that what is deposited in the saucepan is lowered so that the cooking is uniform.
Once this time has passed, the tomato will have been very thick and the meat totally tender and ready!
Tips and Tricks
It freezes very well
I always use hip tip because it is a very tender meat that cooks very soon.
You can use it with pasta or serve with potatoes or cooked rice
Difficulty: easy
Preparation time: approximately one hour
Servings: 8