This soup miso Shitake and tofu has become a weekly at home soup since we returned a few weeks ago in Japan. And that it has been a surprise to discover this soup in its different versions. this today is my version and has five ingredients. In each ingredients I have put a link so you can find them, but can be purchased at any Asian grocery store because they are common ingredients. This fantastic soup base miso Shitake and wakame with tofu, is a broth of dashi, a broth that is very easy to prepare that it will serve as a base to your soups miso.
The miso is a fermented paste made from grains, tofu with rice, barley, millet, wheat... and has a lot of flavor. It is pure umami: something salty, acid and with many scents. There are many varieties that depend on the time of fermentation and the ingredients that make up. Basically it can be red (aka miso), white (shiro miso) or black (hatcho miso) that can be taken alone or mixed together. It is one of the ingredients of Japanese cuisine and is high in B vitamins, minerals, carbohydrates and proteins, and many nutritional properties and anti cancer.
The other ingredients of the soup depends on the taste of the consumer. We have taken them with different ingredients but my the mushrooms the tofu with wakame and shitake seem a great combination. Shitake mushrooms have an incredible taste and are very easy to find in almost all supermarkets and markets.
Tofu is a cheese made with soy drink has many proteins, so many that the vegans and vegetarians take it many times as substitute of animal protein and is also high in Omega 3 and minerals. (The seaweed wakame is a seaweed rich in minerals and many antioxidant properties, rich in calcium) 10 times more than milk) and fibers that help reduce cholesterol.
The last ingredient of our soup miso is water and as in the rest of the ingredients, how much better is its quality, better will be the flavor of our soup. In Malaga, although water has improved, even its flavor I don't like. So I me not complicated and use filtered water BRITA, because it is also the easiest to have at home.
The purchase of bottled water took me to having to sacrifice much space in the kitchen to have some stored bottles, and also fired the number of plastic bottles every week we had to pull. The BRITA pitcher does not occupy more space the account and I can have as much water as you may need at home. With the filtered water can cook with less chlorine, less cal and we can drink water with a much more good taste that what comes out of the tap.
So get ready to have a new favorite soup that can put or remove vegetables to your liking. . Ready your soup miso?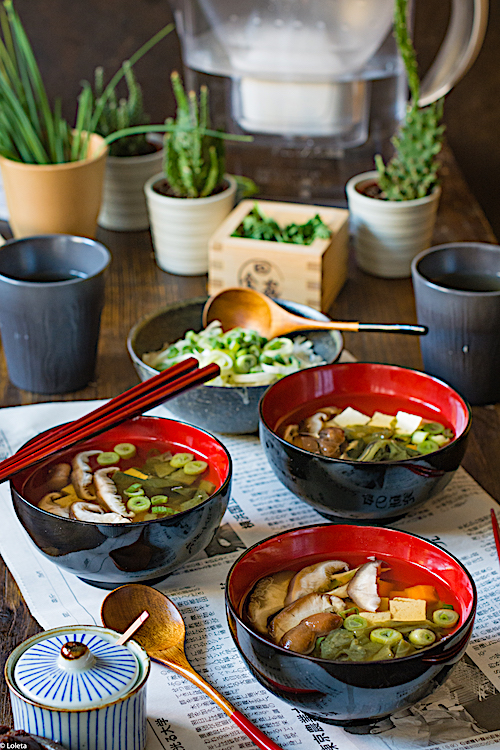 Ingredients
For the dashi stock
For the soup
Directions
In a saucepan put the water and seaweed kombu cut into two pieces. Let stand at least 30 minutes in the refrigerator.
Meanwhile, cut the tofu into cubes of 2 cm and put the wakame in soak in a bowl with water for 5 minutes to moisten. Cut the mushrooms into strips and set aside.
When the alga has rested half an hour, put to heat to temperature average water unless it comes to a boil. When you go to break to a boil remove the kombu alga and add the katsuobushi and boil.
Remove from heat and let stand 10 minutes and we already have our dashi broth.
Bring to a boil the dashi stock. When boiling add the tofu and mushrooms and cook for a minute to fire medium low. Add the miso and the water wakame and move well.
Remove from heat and serve hot.
Tips and Tricks
It replaces the dashi broth for vegetable or chicken broth
It ends with a little fresh spring onion or a little chives
Preparation time: 40 minutes
Difficulty: easy
Servings: 4
* British-sponsored Post