These raviolo with mushroom sauce with 3 cheeses is the creamiest sauce I've had in a long time. It does great for all kinds of pasta and is even perfect for a lasagna so I hope you are encouraged to prepare it.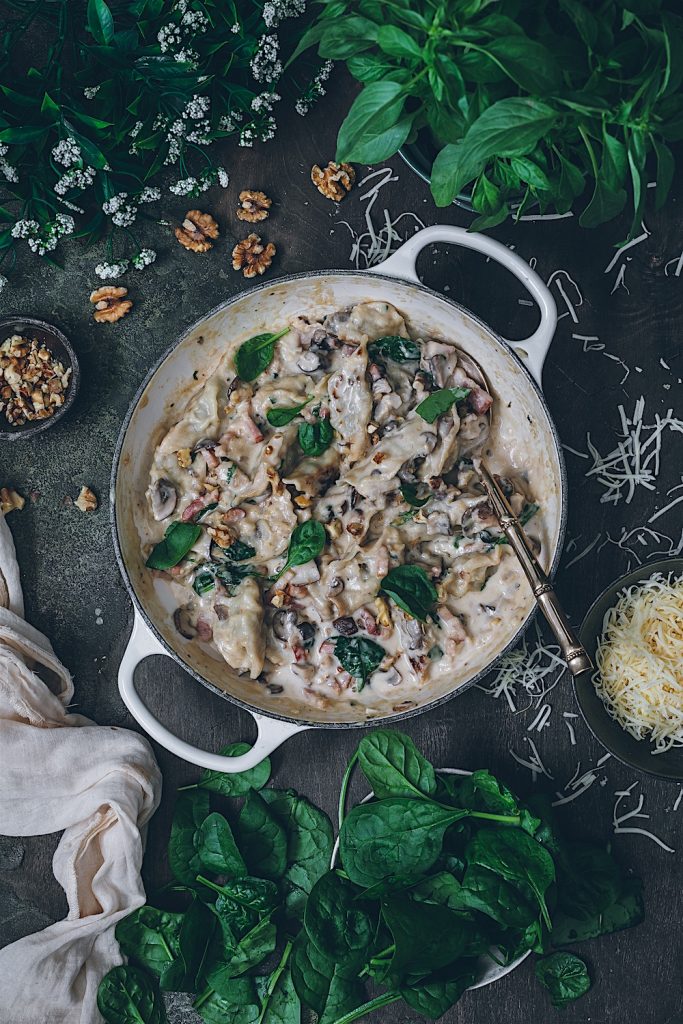 Ingredients
250 g mushrooms: portobello, shitake and all you find are great for this sauce
70 g bacon
3 cloves garlic minced
2 tablespoons of olive oil
1 tablespoon of flour
200 ml very hot water
50 ml of liquid cream
60 g emmental cheese
60 g gouda or cheddar cheese
60 g grated grana padano cheese
100 g of your favorite pasta
A handful of spinach
freshly ground black pepper
a little salt
a bit of fresh basil
even handful of chopped walnuts
Directions
Boil the pasta and reserve the pasta and 250 ml of the cooking water.
In a saucepan sauté the bacon with the mushrooms. Reserve.
In the same saucepan put the oil and sauté the chopped garlic. Add the flour and brown lightly. Add the cooking water of the very hot pasta and stir until you get a light béchamel.
Then add the liquid cream, stir and add the cheeses. Stir until you get a smooth cream.
Return the mushrooms to the saucepan and add the spinach. Add the cooked pasta, rectify salt and add a little black pepper.
Finish by adding a little chopped basil and some chopped walnuts to give a crunchy touch and enjoy!
Tips and Tricks
Replace the bacon with ham or do not put it if you do not feel like it
You can use pistachios instead of nuts
Difficulty: easy
Preparation time: 15 minutes
Servings: 4