These crispy quesadillas of shredded chicken carnitas have become a wild card for dinners and light and quick meals at home.
The secret is a chicken filling very easy to prepare but with all the flavor. And it is that although we make them in the heat of a saucepan and not in the oven, we get that there is a very tender and soft meat and with all the flavor of the carnitas.
You can heat them with oven or air fryer so that when you finish they will be crispy and you will want to eat two or three because you will not be able to stop.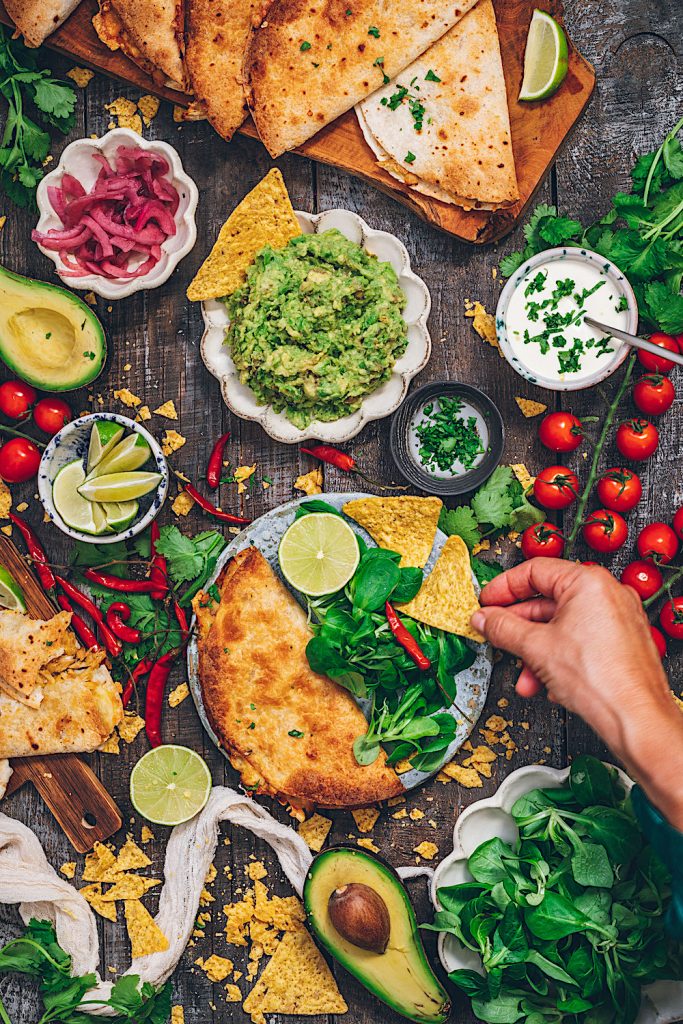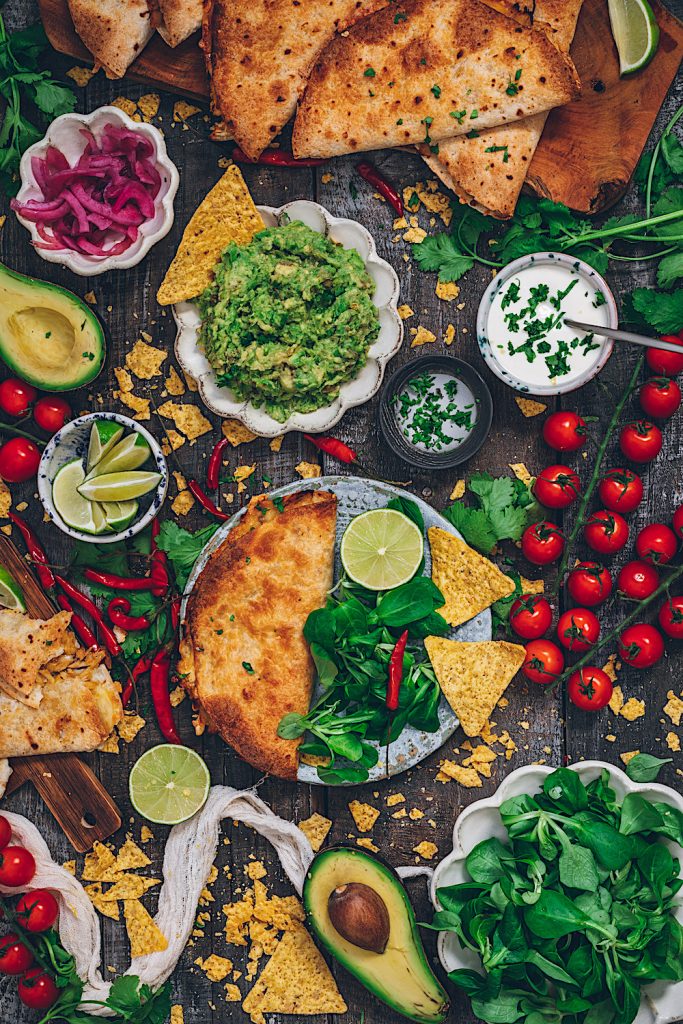 Ingredients
1 kg chicken (or pork) breast, see notes below)
2-3 bay leaves
2 tablespoons finely chopped pickled jalapeños
1 teaspoon of ground cumin
1 teaspoon garlic powder
1 tablespoon salt
1 teaspoon black pepper
1 teaspoon sweet paprika
1 onion, chopped
500 ml of natural orange juice
A splash of olive oil
To assemble the quesadillas
100 g grated dried mozzarella
50 g grated cheddar cheese
Olive oil to paint tortillas
8 wheat tortillas
an avocado
200 ml crème fraîche
Directions
Cut the meat into pieces of 5 cm and put it in a large saucepan with a lid, (better if it is cast iron type cocotte) with a little oil.
Add the bay leaves, chipotle, cumin, garlic, salt, pepper, onion and orange juice. We boil and cover. We leave the fire covered for about 45 minutes until the chicken is tender and can be cut with a fork without making force (mine took only 30 minutes because it was in steaks).
Remove from the oven and boil with the lid open for about 10 minutes so that the sauce concentrates and evaporates the liquids.
Remove the meat with the help of 2 forks or a spoon fray it. Water with a little olive oil. Strain the sauce and put half over the meat. Gratin in the oven for 5 minutes.
We end up adding a little more sauce if necessary and we have it ready to use.
Preheat the oven to 210C or heat an air fryer to 200 degrees. If we are going to use the oven we will put a baking paper on one of the trays. If we use the air fryer we put a baking paper on the basket.
We put an omelette on the countertop. On one half we put a layer of mozzarella cheese, cover the cheese with the crumbled meat and on top of that we put the cheddar cheese, fold the part of the tortilla that has nothing on the part with the cheese and meat. We crush a little so that it does not open. Paint with oil on the outside and place on the baking tray or on the air fryer basket.
Bake about 7 minutes. We turn them over and let them bake for another 7-8 minutes until they are well browned.
Tips and Tricks
Replace the chicken with leg pork preferably, although in that case you will need half an hour more at least so that the meat is tender and can fray easily.
Serve with pickled red onion
Difficulty: easy
Preparation time: 30 minutes plus 2 hours of oven
Servings: 10 tortillas