These chicken skewers give another dimension to the chicken breast and with them we inaugurate a series of recipes in which we will transform the chicken breast into a majar with different flavor each time.
This time we give it a spicy touch with a red chili sauce that comes from Korea and that I discovered on my last walk through an Asian supermarket here in Madrid.
They are super easy to prepare and have that spicy touch that I like so much. You can have them prepared in advance and I have also prepared them in the oven that makes it much easier because I do not have to be aware of each of them in the pan, they are all made equally and are so beautiful.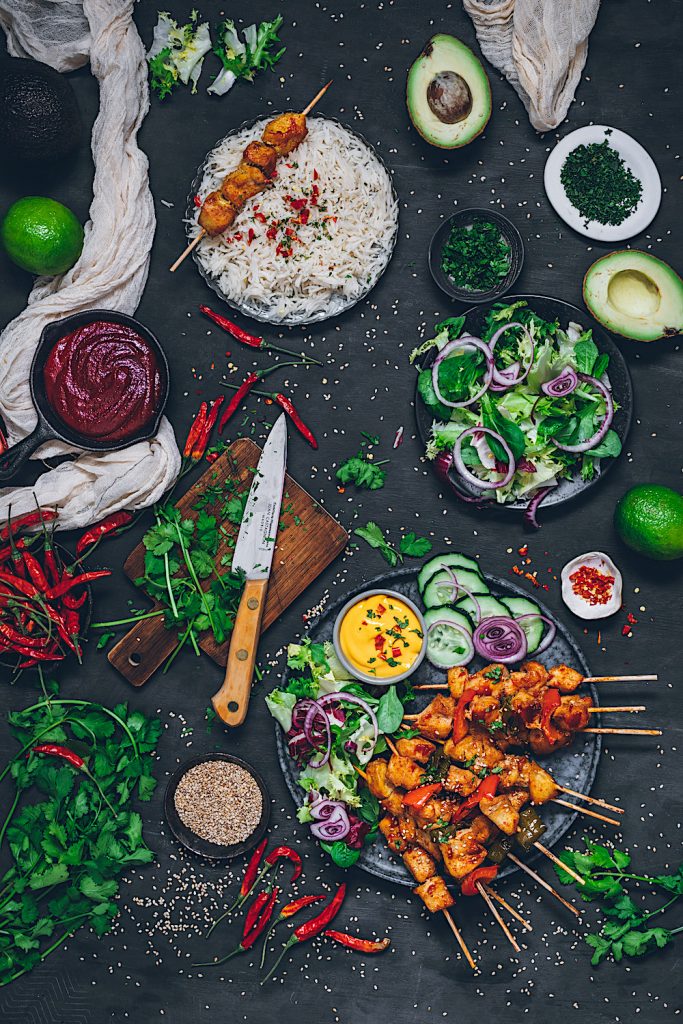 Ingredients
1 kg of boneless and skinless chicken (I used chicken breast)
1/2 teaspoon of hot sauce. I've used gochujang, a Korean fermented red chili paste but you can replace it with any spicy)
1 teaspoon of flower honey
1 teaspoon of ras-el-hanut (or a mixture of ground cumin, black pepper, coriander and turmeric)
1 tablespoon of soy sauce
a little salt
Directions
Preheat the oven with heat up and down to 190C. Prepare an oven tray with a baking paper. reserve.
Cut the chicken into tacos of about 3 cmx 3 cm.
Put the chicken in a bowl and add all the ingredients. Mix carefully so that all chicken pieces are well impregnated.
Assemble the skewers on wooden sticks. I like to alternate chicken with vegetables but Javi doesn't, so I always do half and half.
Place the pinchitos on the prepared oven tray. Bake for about 10-12 minutes until well browned.
Tips and Tricks
Your don't like the spicy don't put the Korean sauce and serve with mayonnaise
Difficulty: psycile
Preparation time: 15 minutes
Servings: 12 pinchitos