This pibil cochinite chicken breast has become one of my favorite express dishes thanks to pickled onions.
Today we inaugurate a series of recipes that I will prepare with the Zwilling Fresh & Save Kit, so that you can know the different uses and all the advantages that this small device offers.
Normally these beautiful pink onions that always accompany the cochinita pibil, take at least 12 hours to macerate properly, however with fresh & save, in just one hour we will have tender and soft onions. The vacuum makes the marinade penetrate the onions very quickly and especially in such an easy way that I keep using it all the time.
The kit consists of a vacuum pump so easy to use that you won't believe it, but rather than tell it it is best to see it recipe after recipe because you're going to fall in love.
These onions are also never missing from my fridge, and they accompany salads, meats and sandwiches one day yes and another too. Come on, I'll show you how to make them along with the cochinita pibil chicken breast. A perfect tandem, don't you think?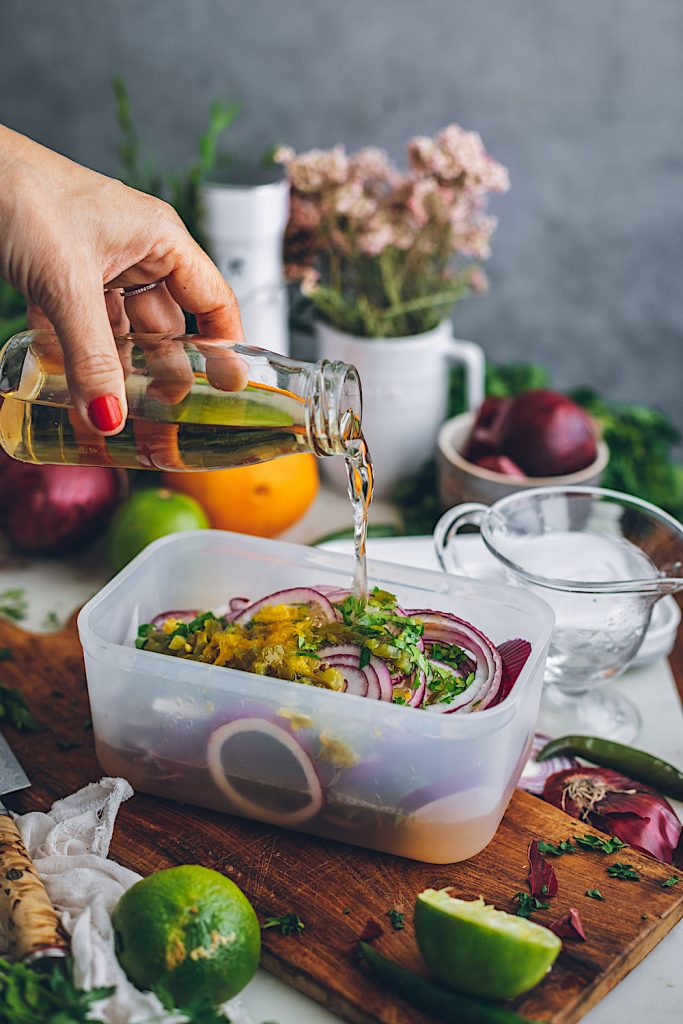 Ingredients
For onion
6 habaneros chillies
3 large purple onions
1 cup lime juice
1 cup orange juice
1/2 cup chopped fresh coriander
3 cloves garlic minced
1/4 cup white wine vinegar
For the chicken
1k chicken breast
1/2 cup lemon juice
1 cup orange juice
1 teaspoon ground cumins
1 tablespoon oregano
1 teaspoon white pepper
1 teaspoon black pepper
1 teaspoon of cinnamon powder
1/2 cup white wine vinegar
125g oil
Directions
We start by chopping the very fine onions and very small garlic. Chop the chillies into as small pieces as possible. In a Fresh and Save vacuum taper we place the onions.
Add the chopped habanero chili, orange and lemon juice, chopped garlic vinegar and chopped fresh coriander. We close with the double sealing cap and vacuum with the vacuum pump. This is going to make the onion pickle much faster. Normally the onion takes a full day (at least one night) however, using Zwilling's Fresh & Save kit, we only need a short hour.
While the onion is marinating, in a bowl add the lemon and orange juice, vinegar and spices and mix well.
In a Staub saucepan we brown the chicken breasts. When well browned, add the juice and spice mixture and cover the chicken well. Cover and leave to poach over medium-low heat for an hour until the breast is soft and disposed of with a simple fork.
If we do it in the oven, we will do it at 190 degrees in iron saucepan by covering the chicken and it will take 30 minutes.
We let the meat temper and with our hands we fray the breasts.
We open the taper that has the onions and we can check that they are completely soft and have taken all the flavor of the marinade.
We serve on some wheat tortillas accompanying the chicken breast.
Tips and Tricks
If you want more flavor add an achiote pill
watch out for chili that stings a lot. If you don't like spicy don't put it on
You can replace chicken with your favorite meat
Difficulty: easy
Preparation time: 1 hour
Servings: 8