These extra crispy potatoes are very easy to prepare, suitable for all audiences and are tantric that at home we also take them alone.
Of all the recipes I've tried, they're the richest and quickest to prepare. You can cook them, but you can also use microwave potatoes that sell in bags and that in just a few minutes leave them tender.
They are the richest potatoes I have tasted in a long time and as they carry Grana Padano they are lactose free and low in fat because this cheese is semi fat.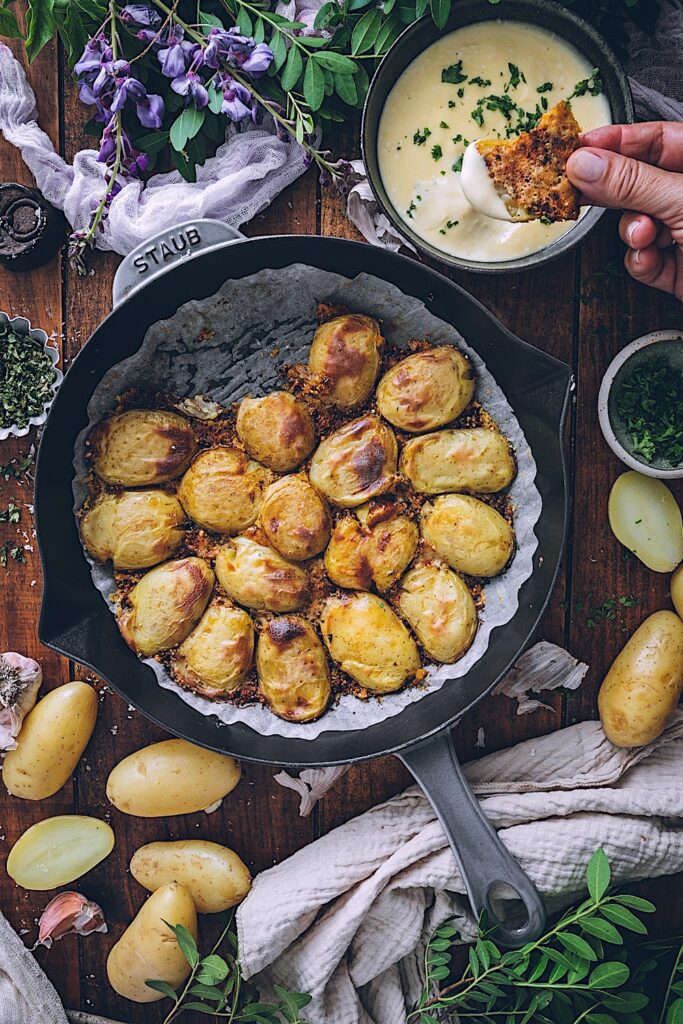 Ingredients
400 g small potatoes
1 teaspoon oregano
1 teaspoon sweet or spicy paprika
1 teaspoon onion powder
100 g Grana Padano grated cheese
For the mayonnaise
1 egg
1/2 head garlic
200 ml olive oil
2 tablespoons grated Grana Padano cheese
Directions
Cook the potatoes in plenty of salted water until tender, or put them in the micro 7 minutes
Preheat the oven to 220 degrees.
Cut the potatoes in half. Put a baking paper on a container suitable for the oven. I use an iron pan because it takes a lot of temperature and that makes the cheese then very crispy, but if you do not have, you can use a baking tray.
Grease the paper with a little oil. Cover the bottom with plenty of grated Grana Padano cheese (there should be a uniform and dense layer that covers the entire bottom) and sprinkle on top with the spices. I have left you the list of those I have used in the ingredients but you can use the ones you like the most
Put the potatoes on top with the skin facing up covering the bottom well.
With the help of a glass, lightly crush the potatoes so that the entire bottom is well covered by them.
Cut a head of garlic in half and put half a head of garlic on a sheet of aluminum foil. We wrap it and put it together with the potatoes in the oven. Bake at 220 degrees for 8-10 minutes until the potatoes are golden brown
To prepare the sauce, in a bowl we crush the roasted garlic, the oil, the grated Grana Padano cheese and the egg, and with the help of a hand mixer, we make a mayonnaise. Rectify salt if necessary.
When the potatoes are tender, take them out of the oven, serve them with the sauce and enjoy!
Tips and Tricks
We can make a mayonnaise without garlic or flavor it with fresh herbs
They are delicious freshly made
Difficulty: easy
Preparation time: 30 minutes
Servings: 4