This Falafel with tzatziki sauce is the crunchiest you're going to try. The trick is in the Grana Padano cheese that I have added both to the dough and especially to the falafel already formed and that makes it extra crunchy and super tasty at the same time.
The base recipe is that of Ottolenghi, one of my favorite chefs and who specializes in Israeli food (parents from which he is originally although he lives in the United Kingdom). I never miss his books and his shops in London are a must every time we visit the city.
They like all audiences, large or small and besides being a fantastic starter or appetizer, I love to take them in sandwiches or tacos like today.
It also has a lot of vegetable protein thanks to the chickpeas for which, in addition to liking everyone, they will be a perfect lunch wherever you are.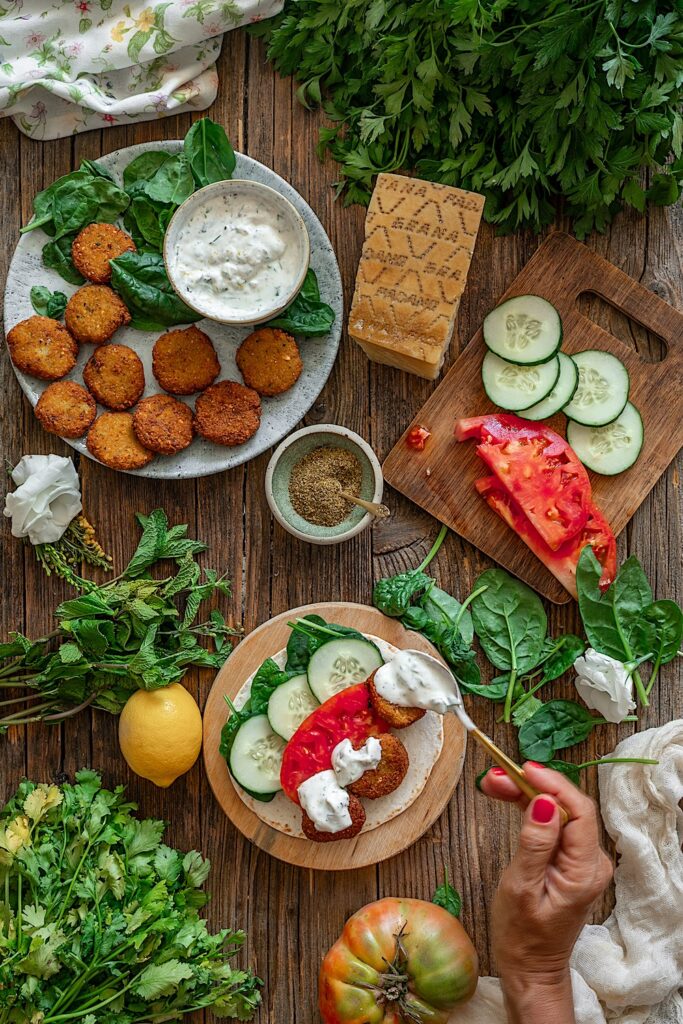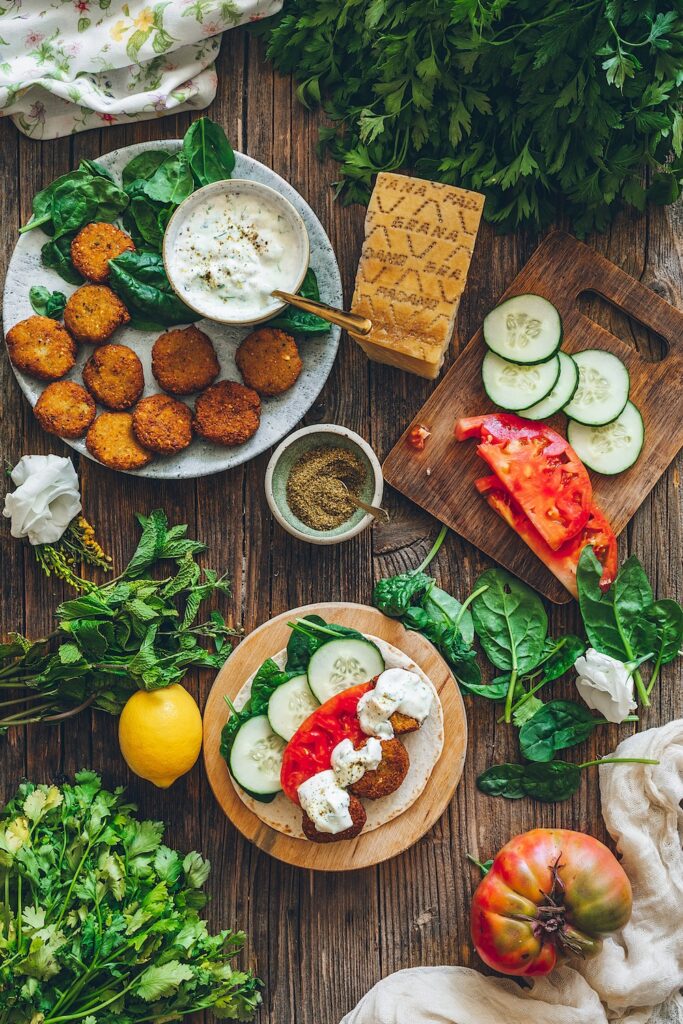 Ingredients
250 g dried chickpeas
1/2 medium fresh onion, finely chopped (80 g in total)
1 garlic clove, crushed
1 tablespoon finely chopped parsley
2 tablespoons finely chopped cilantro
1/4 teaspoon cayenne pepper
1/2 teaspoon ground cumin
1/2 teaspoon ground cilantro
1/4 teaspoon ground cardamom
1 tablespoon flour (I used gluten-free but you can use whatever you want)
2 tablespoons grated Grana Padano
1/2 teaspoon salt
50 g grated Grana Padano cheese to cover them once formed
For the tzachiki sauce
1 low-fat Greek yogurt
1 bunch of fresh cilantro
1 bunch of fresh good grass
1 little fresh parsley
zest of 1 lemon
1 teaspoon of ground cumin
1/2 teaspoon chili powder (optional)
Approximately 750 ml of sunflower oil for frying
1/2 teaspoon sesame seeds, batter
Directions
Put the chickpeas in a large bowl and cover with cold water at least twice their volume. We booked overnight
The next day, drain the chickpeas well and in a blender glass put them together with the onion, garlic, parsley and cilantro. Crush the mixture in several batches, pulsing each one for 30 to 40 seconds, until it is finely chopped, but not soft or pasty, and holds together. Once processed, add the spices, baking powder, salt, Grana Padano and 3 tablespoons of water.
Mix well by hand until smooth and uniform.
Fill a medium, deep and thick-based saucepan with enough oil and heat (it should be about 180 degrees)
With your hands wet in some water, press 1 tablespoon of mixture into the palm of your hand to form a mini-burger, or a ball the size of a small golg ball. We press well so that they do not break.
Sprinkle the balls with a small amount of Grana Padano, turn them over, sprinkle again with more Grana Padano, and fry them in batches for 4 minutes, or until they are well browned, and well cooked. It is important that they are cooked inside, because the chickpeas are being used raw, not cooked, so they must be in the oil for enough time. Drain on a plate with absorbent kitchen paper and serve.
For the tzaxiki sauce, mix all the ingredients and serve with the sauce as a dip to dip them.
I love to assemble them as a sandwich or as tacos with cucumber, natural tomato and spinach leaves.
Tips and Tricks
Replace the spices with a tablespoon of curry powder
Replace zucchini with your favorite vegetable
You can have the prepared sticks frozen and bake them directly. In this case you will need a couple of minutes more
Difficulty: easy
Preparation time: 5 minutes plus baking time
Servings: aperitif for 6