This meatloaf or cottage pie has accompanied me at home since I learned how to make it havce for many years there on one of my first study trips in Little Neston, a small village near Wales on the Wirral peninsula in the county of Cheshire (one of my favorites) in England.
It is a very easy cake that is very similar to the Shepherds Pie that is made with lamb meat and that is covered with a crunchy dough, but this is made with veal.
I have prepared it with beef and vegetables I have eliminated the celery because I did not have it when I started cooking, but what a great life in this recipe.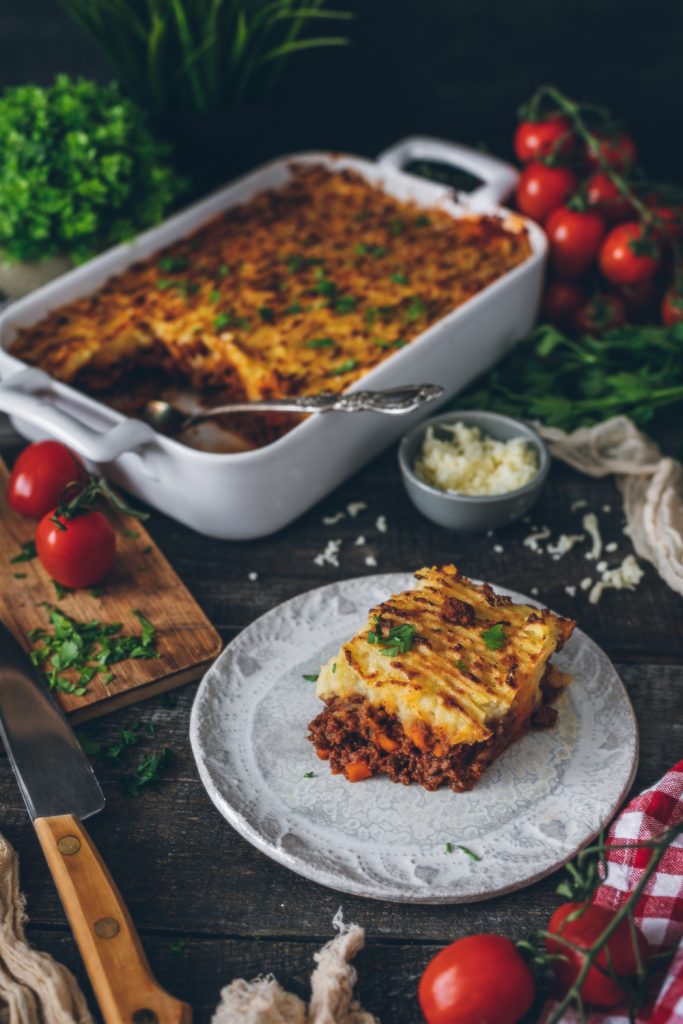 Ingredients
2 onions
2 large carrots
2 tablespoons of olive oil
1 celery branch
700 g beef (or half beef and half pork)
some thyme
a bit of oregano
2 tablespoons tomato concentrate
1 glass of red wine
For mashed potatoes
700 g cooked potato
100 g butter
a little salt
100 ml of liquid cream (we can use light cream with less fat
a bit of nutmeg
1 egg yolk
70 g grated cheese
50 g grated grana padano cheese
Directions
Boil the potatoes with skin until soft.
In a pan or saucepan, sauté the onions and carrots in the oil. Add the minced meat and let the meat be made for 5 minutes adding the thyme and rosemary. After this time add the tomato concentrate and red wine and let it cook until the wine has evaporated almost entirely and we have a tender and juicy meat.
For the mashed potatoes, once the potatoes are very soft, add all the ingredients except the grana padano, and mix well.
In a baked container, put minced meat. Top with the mashed potatoes and finish with the grated grana padano cheese.
Bake at 190 degrees for about 10 minutes until the puree is lightly browned.
Serve hot
Tips and Tricks
You can use the meat you refer to but with beef it is super rich. You can use turkey or chicken meat, pork or a mixture of them. The only important thing is that it is minced meat.
Freezes very well even if it has potato
Difficulty: easy
Preparation time: 30 minutes
Servings: 8