These sweet popcorn makes home theater take on another dimension.
Since I was little I've loved cinema with all my desire. Getting into someone else's life with the lights off and for a while it's something I've always found magic.
My grandfather Vicente had a cinema I went to without fail every week. The Lope de Vega was called and for years it was our flat every Friday when leaving school and every Sunday. I remember the joy of climbing the steps, the excitement of the lights in the room, and my eyes wide open at the start of the film.
The Sunday morning it was fixed as long as friday there was premiere as well. We went with the schoolmates, with my cousins and of course all the brothers. Come on, we were always a gangster.
And it is that being the grandchildren of the owner guaranteed us in addition to the best armchairs, popcorn and conguitos. And I don't know if I was more excited about the movie or popcorn. So they weren't like fresh now. They sold them in ready-made Packages of the Blas brand and I still remember how they smelled when they opened the bag.
When I started studying law, my grandfather had already sold the cinema, but I met a college classmate who liked the seventh art as much as I did, and every week we went together.
Going to the movies every week gives you a cinematic culture that you don't get the premieres. Alternative cinema, European, some good and some not so much, but all those films, made my love for cinema continue to increase during those five years.
From then until today it has rained a lot, but my passion for film and popcorn has only increased.
I know there are people who think popcorn is distracting, but to me, a home theater doesn't seem complete to me without them.
And while the Popcorn salty are great, sweet popcorn has always been my favorite.
The great thing about this sweet popcorn recipe is that they will last you perfectly for several weeks. Just store them in airtight jars where you protect them from moisture.
So take advantage to make enough because they are also a fantastic gift to take the teachers of the school or as a detail at a dinner.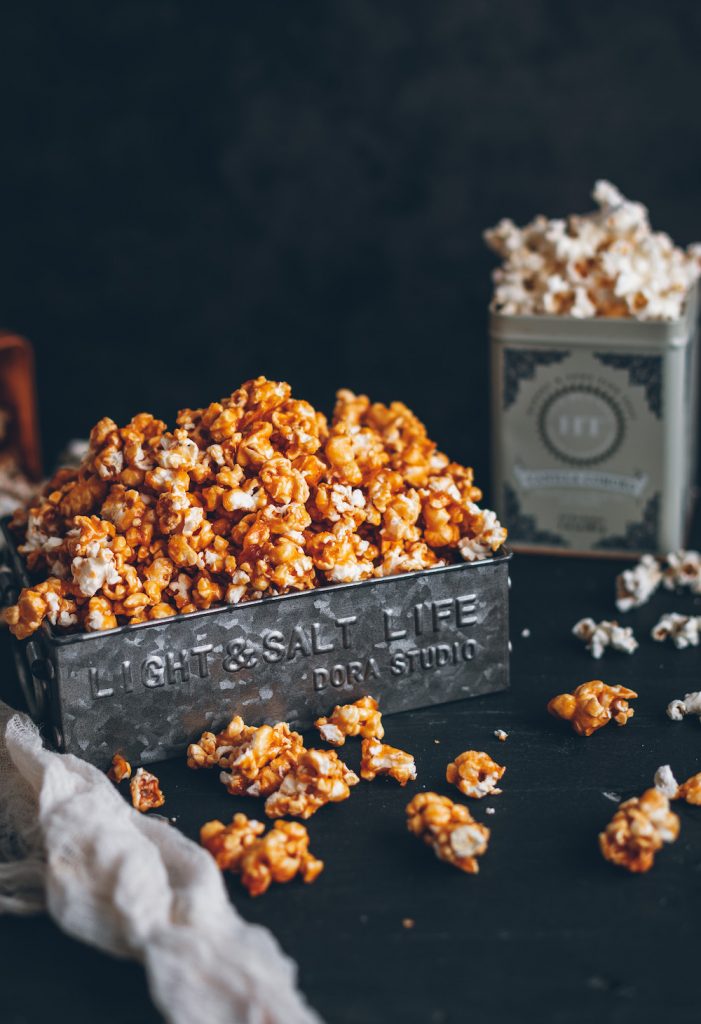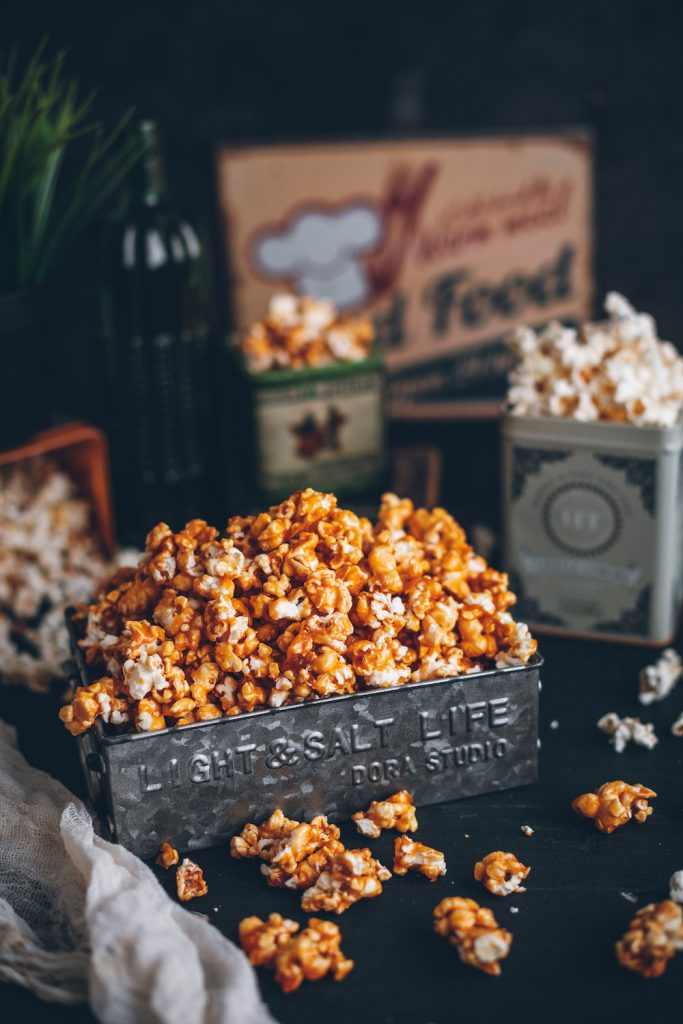 Ingredients
For popcorn
60 m vegetable oil (not necessary if we make them in the microwave)
70g popcorn corn kernels
For candy
100g unsalted butter
220g brown sugar
170g agave syrup, maple syrup, corn syrup or glucose
1/2 teaspoon salt
1 teaspoon of vanilla extract
1/2 teaspoon of baking soda
Directions
Heat the oil in a large saucepan over medium heat. To see if it's hot enough, add a few corn kernels. When they jump into popcorn, we remove them and add the rest of the corn kernels taking care to distribute them well. Cover up and let all the grains explode by gently moving the pot so that everyone jumps.
When they stop exploding, we remove them from the heat and pass them to a large bowl. In the microwave, put the corn in a bowl and cover. We heat to maximum power for 3 minutes being attentive in case they stop jumping earlier.
For the caramel, we preheat the oven to 110oC. Melt the butter in a saucepan over medium heat. Add the sugar, agave syrup and salt and move well.
When it starts to boil, let it cook for 4 minutes without moving.
Remove from the heat, add the vanilla and baking soda, move quickly and flip over the popcorn, moving well so that the caramel is well distributed.
Put the popcorn on a baking sheet with baking paper and spread them as much as possible. Put the tray in the oven and bake for 40 minutes, moving every 10 minutes so that the caramel covers all the popcorn completely.
Tips and Tricks
You can make your own glucose syrup with 400 g of sugar, 160 ml of water, 1/4 teaspoon tartar creme and a pinch of salt. Mix the sugar, water, tartar cream and salt in a saucepan over medium heat, stirring until the sugar has completely dissolved and starts to boil. Then leave to cook over a gentle heat for 20 minutes until it reaches 118 degrees C.
Add two handfuls of peanuts for fantastic cracker Jack