These mini chocolate cakes or Gugelhupf are the first recipe that I bring you directly from Switzerland after our trip.
We tried them in Zurich, in the pastry shops Spruengli, a pastry shop at 21 Bahnhofstrasse that makes some incredibly juicy chocolate cakes.
The trick as one of their pastry chefs told me is that they add part of almond flour to their recipe and two types of sugar. I have also added a mixture of butter and oil, so there I have been trying for you until I have found what seems to me a cake very similar in flavor and texture to the one we took there.
What makes these different biscuits is:
We mix oil and butter to achieve more juiciness
We mix wheat and almond flour to achieve more moisture
We mix two types of sugar to achieve a smoother texture
Add a little coffee to achieve a more intense chocolate flavor
Also to grease you know that I always use this spray because it saves me time and mass.
They are very easy to prepare and are very very rich, so be careful because they are highly dangerous because of their addiction. I hope you like them very much so let's go for them!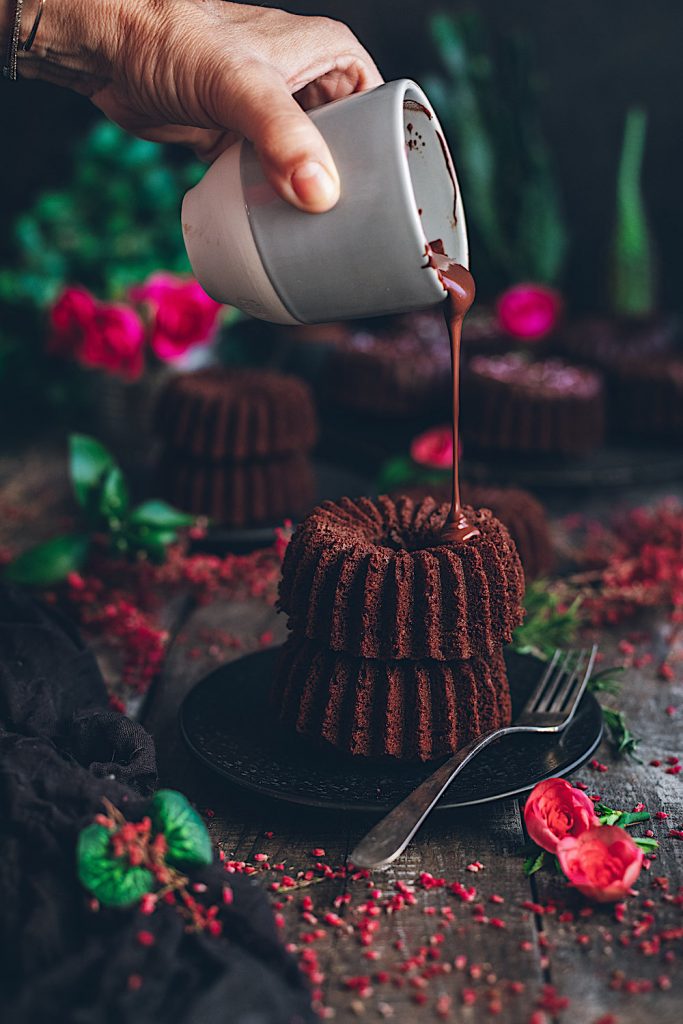 Ingredients
For biscuits
120 ml creamy plain yogurt
50 ml milk
1/ teaspoon lemon juice
130 g butter
100 ml of sunflower oil (the olive oil will give more flavor to oil that I do not like in this recipe)
150 g white sugar
150 g brown sugar
150 g flour
150 g almond flour
60g pure cocoa powder
1 teaspoon of baking powder
1/2 teaspoon baking soda
1/2 teaspoon salt
50 ml of decaffeinated hot coffee – the coffee does not flavor coffee but serves to enhance the flavor of cocoa so that the cake is delicious
3 eggs at room temperature
2 egg yolks at room temperature
1 teaspoon pure vanilla extract
Para el glaseado de chocolate
200 ml of liquid cream
200 g Swiss dark chocolate
Directions
Preheat the oven to 180 C. Generously grease our mold of individual biscuits (or one of 23 cm)
In a bowl put the milk and yogurt with lemon juice and set aside.
In a standing mixer equipped with the shovel accessory or in a large bowl and with a hand mixer, beat the butter and the two types of sugar at medium-high speed until it is creamy and soft, about 2 minutes.
Then add the oil and beat for about 3 minutes, until the mixture has a light color and about twice the volume.
Lower the speed to medium-low and add the eggs and yolks, one at a time, mixing each one until it is incorporated before adding the next one. With the help of a spatula, scrape the walls of the bowl after each addition.
In a medium bowl, mix the dry ingredients: flour, cocoa powder, baking powder, baking soda and salt until they are well combined.
Add 1/3 part of the dry ingredients to the butter mixture and mix until they combine well. With a spatula, scrape the walls of the bowl and add half of the milk mixture and half of the coffee, mixing until they combine. Repeat with another third of dry ingredients, the remaining milk mixture, and then finish with the dry ingredients by scraping the bottom and walls of the bool well so that nothing remains unmixed.
Divide the dough into the prepared molds and hit the molds on the countertop to remove the air bubbles.
Bake up to about 30 minutes until when pricking the center of the molds with a toothpick, the toothpick comes out clean. Let the cakes cool in the molds for 5 minutes, then unmold and transfer them to a rack to cool completely.
For the chocolate galley, chop the chocolate with a knife.
Heat the dark chocolate chopped with a knife in a bowl in the microwave and batches of 30 seconds. it is important not to heat it anymore because we could burn it. Move with a spatula until you get a smooth and shiny cream. Cover the biscuits and let cool completely.
Tips and Tricks
Freeze very well with or without the chocolate on top
Preparation time: 45 minutes
Difficulty: easy
Portions: About 12 biscuits or a large one comes out