These chocolate muffins are the ones I have prepared to celebrate Easter this year and I have prepared them with my niece.
Cooking is always a pleasure, but when it is done in the best company then it becomes one of the things I enjoy the most. For years I have enjoyed the kitchen with Javi. We could spend hours in her cooking, and I'll never forget her face getting her hands in the dough, trying new flavors and decorating dishes. Now that he's older, we enjoy cooking together but in a different way.
So now it's my nephews who take over from those little faces of surprise and excitement when cooking. Seeing the enthusiasm with which children get into the kitchen, how they taste each new flavor, is one of the most rewarding things there is for me.
That is why I have chosen this recipe this year, so that if there are children at home, you can enjoy with them the pleasure of cooking delicious things.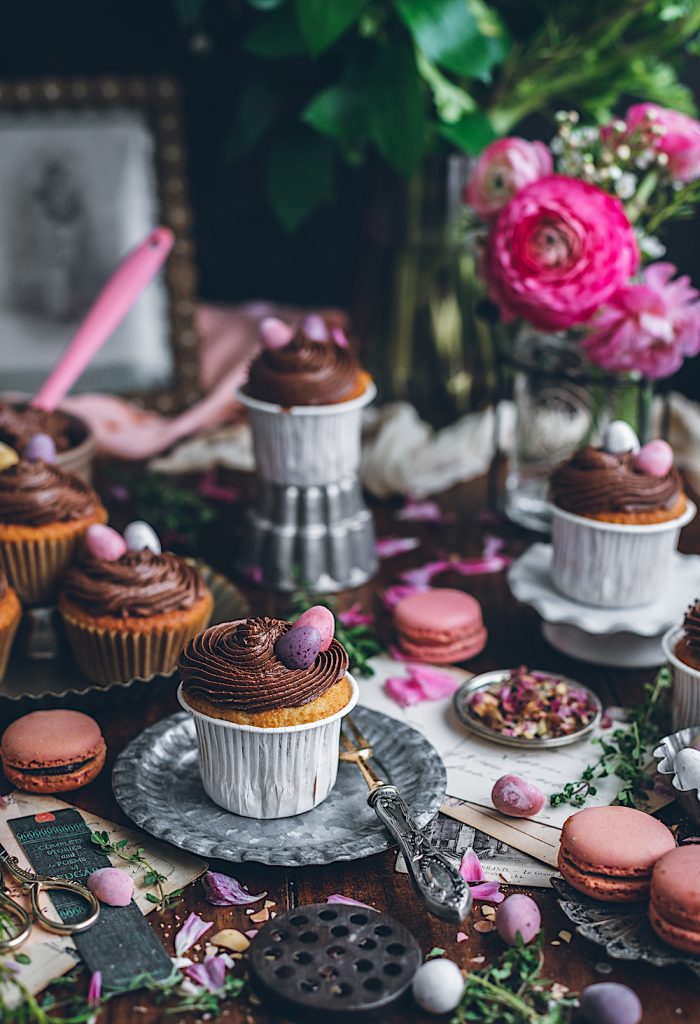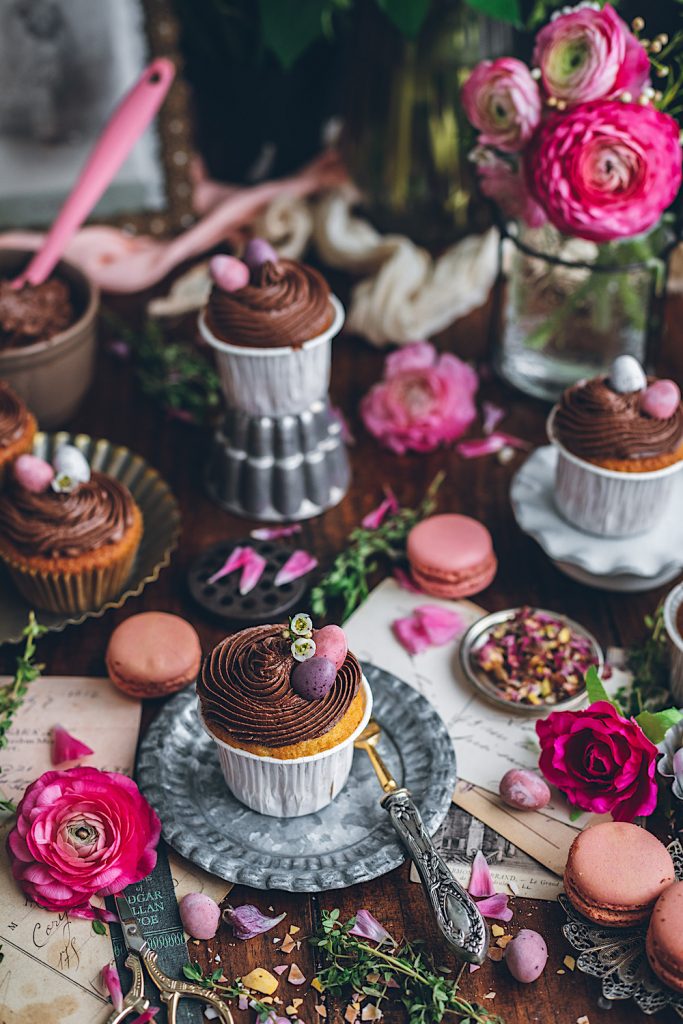 Ingredients
For the mass of the cupcake or cupcakes:
240ml milk
240g flour
280 g white sugar
2 and a half teaspoons baking powder dessert
80 g of butter without salt at room temperature
2 eggs
1 teaspoon pure vanilla extract
For the frosting or coverage:
30 g dark chocolate
300 g butter at room temperature
200 g icing sugar
2 tablespoon of vanilla
8 tablespoons of pure cocoa powder (to give a darker color is essential)
Directions
Turn on the oven at 170º.
In a bowl, put the sugar, and butter at room temperature in a bowl. Beat at low speed until they have cleared and are frothy.
Add the flour and yeast and beat until a kind of fat sand has formed.
Add the milk and vanilla little by little and beat until a soft cream has formed. Scrape with the help of a spatula the cream that has been stuck on the walls of the bowl.
Add the egg and beat well.
Distribute in paper capsules for muffins and bake for about 15-20 minutes until they are a little golden. If we prick them with a needle it should come out clean. If it comes out with remains, you have to leave the muffins in the oven a little more. Remove from the oven once they are ready and let cool.
Now we prepare our chocolate cream or frosting to decorate. Put the chocolate in a microwave bowl and melt at intervals of 30 seconds at medium power. Move well with the help of a spatula so that all the pieces melt well and set aside.
In a bowl of electric mixer put to beat at medium speed the butter for about 4 minutes, until the butter has changed to a lighter color and is fluffy and soft.
Stop the blender and add the icing sugar. We start the blender carefully again at low speed and once it is all well incorporated, we climb at medium-high speed for 4 more minutes.
Then add the already cold dark chocolate and vanilla and beat until everything is well integrated.
Finally add the cocoa powder and beat until everything forms a homogeneous mixture.
Move to a pastry bag with a 1M nozzle and we can decorate our cupcakes by forming a circle around our cupcake starting from the outside and ending in the center.
Enjoy!
Tips and Tricks
You can freeze them decorated or undecorated
You can add 3 tablespoons of pure cocoa powder to the muffin mixture and turn them into chocolate muffins
Difficulty: easy
Preparation time: 40 minutes
Servings: 20 muffins