For a long time that he dreamed of a romantic getaway in Provence. I wanted to explore the fields of lavender, enjoy the cuisine and the beautiful villages in the area, so last year, we celebrated our wedding anniversary (Yes, at my house so we celebrate everything and more), we went a few days.
We took a direct flight to Marseilles (since many cities there are direct flights), and there we rented a car. The area is worth a getaway, landscapes and villages are precious and eats very well, even if the budget is reduced can spend unforgettable days.
The first destination was Aix-en-Provence, just 45 minutes drive from Marseille. The village is a delight, hotels charming, but expensive, so we decided to stay at a hotel outside the Centre, but only 10 minutes walk from it. Hotel Rotonde, simple, but adequate.
We were late because our flight landed at 8 and a half in the afternoon to Marseilles, so when we got to Aix, many restaurants had closed the kitchen. At the hotel recommended us the Rue Espariat as a reference to find something open. It is the most touristic and we were lucky, because that night there were opera and some restaurants delayed the time of the closing of the kitchen, waiting for the spectators of the theatre, so we could dine at the Brasserie Les Deux Garçons where we took a liver of duck mi-cuit It was not too bad.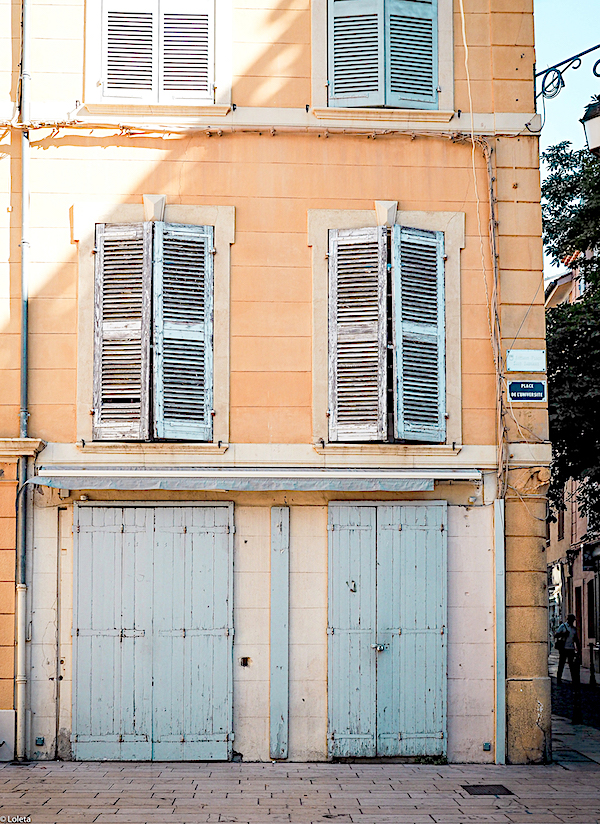 The villages of Provence are small, travel is to walk at all and have no particular cultural interest, but are quite wonderful, and full of charm. And so Aix en Provence. A small town with a nice market, to which we were on Sunday morning. We have breakfast at Webel, a pastry shop where could stay locked up thinking that I'm in the sky, with a few ham of ten. And right in the same square, was the market, colorful and full of local products where we took the opportunity to buy some cheese and bread to make a lovely picnic in the field some time later (my dream, was taking a picnic in the middle of the field with a lavender background (, sorry but I am so heavy, and the best thing is that I got it).
This is a way to know the cuisine of a country which I love: go to their markets gives you deep insight into how you eat and cook their inhabitants, and allows you to buy nearly always handmade local products. We bought cheese and sausages and a precious mantel-manta - bedspread blue stripes in cotton craft, very typical of the area, which made our picnic outside in addition to rich, beautiful, and cotton in the area is magnificent.
From here we start our route by car to Valensole, the place of lavender fields. One believes that it will be a place aislad
or, where you'll be on your own, but the truth is that in the areas of easy access is crowded, so we decided to escape on secondary roads (as secondary if we were standing in the middle of nowhere an a path of goats), but was worth it for l as laughter and photos. The luck was that we just caught parties of lavender in the village so we bought some sweets (no dessert no food), and leave a bottle of wine at a supermarket we saw open. very nice lady (people in France tends to be quite nice).
Hence we went Borge road and on a secondary road stopped to take our super picnic in the middle of the field in the shadow of a giant banana looking at the fields of lavender and with birds in the background. Romantic and perfect for me and in the best company. got challenge
That afternoon we walked the road up to l´isle-sur-la-Sorge, stopping in Manosque, Roussillon and Gordes. All to which more beautiful but about all Gordes which seems is perched on the mountain about to fall off. Our next stop, my wonderful L'isle-sur-la-Sorge, but that left it for another day.